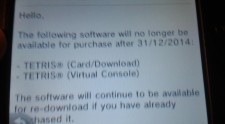 4 hours ago
By
Brian
(
@NE_Brian
)
0 Comments
Nintendo is pulling two Tetris games from the European 3DS eShop at the very end of this year. You have until December 31 to purchase the 3DS retail game Tetris as well as the classic Virtual Console release.
It's unclear why the Tetris titles are being removed at this time. As far as we know, there are no similar plans for North America.
Thanks to Simonsskidor for the tip.