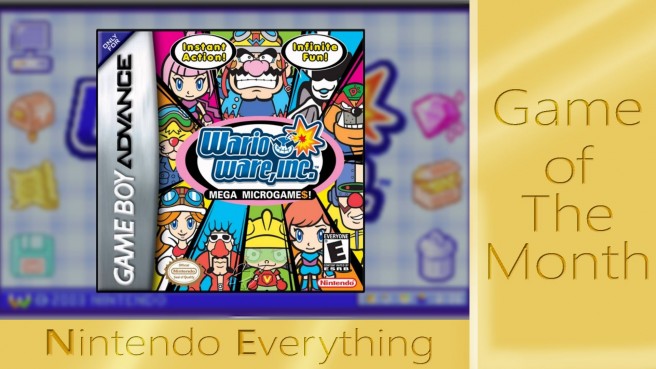 An unfortunately truncated Game of the Month for January because the holidays left us a bit lazy and unworkable, but we're here nonetheless and we've got a truly wonderful game for you: WarioWare, Inc. Mega Microgame$!. Released back in 2003 for the GBA, it has spawned plenty of sequels on many different platforms using many different gimmicks, so we've tasked our staff writers– Vincent, Kira, Jonathan, Patrick, and Scott– to shed some light on the series as a whole, their thoughts on it, or any other interesting things they might be able to pull out related to the game or its development.
We don't have a concrete schedule for you, but here's a short list of some of what you'll be seeing on the site over the weeks of January:
– Vincent with "A History of WarioWare"
– Scott with "WarioWare's Characters and the Minigames Behind Them"
– Podcast Gang with "Why is WarioWare so Wonderful?"
– Patrick with "WarioWare's Heritage on 64DD"
The first article will be going up tonight, with all the rest coming over the course of the month.
Do you like writing and have something interesting you'd like to share about WarioWare? Email us using the "Contact Us" form with your idea and we may select you to have an article published on the website as part of our Game of the Month feature!
Just wanted to send out a reminder to everyone that we are recording the 103rd episode of the several-months-absent "Here's a Podcast" this week, so if you were a fan and you want to get an email read on the show in case we never make another episode again, please send it off to [email protected]. If you have no interest, no worries! This is for the people that were fans who may have missed the memo that another episode is coming.
Topics we'll be talking about should include Super Smash Bros. 4, amiibos, what we've all been playing, and then whatever is brought up in listener questions mail. We're going to do out best to read all of them on the show, so be bold! Be extravagant! Be interesting!
~ Austin, Jack, and Laura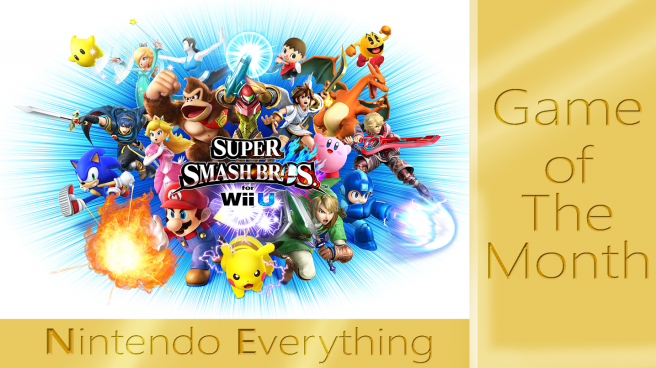 Comment: Game of the month? Austin, are you saying that you're giving Super Smash Bros. for Wii U an award for being the best game that came out in December?
Absolutely not! I'm announcing a new feature for the website that we're calling "Game of the Month", where most staffers on Nintendo Everything creates some piece of content relating to a particular game as a sort of homage to its quirkiness, quality, or cultural significance. The very first game of the month we'll be choosing is Super Smash Bros. for Wii U as a tribute to its release last month, and starting next weekend we'll be bringing you a feature topic on that game every week. Opinion pieces, historical analysis, reviews– everything is fair game during Game of the Month!
Current GOTM Schedule
Dec. 13 – 'Me and My Amiibo' by Kira
Dec. 20 – 'Namco Roulette: An Introduction to Pac & Pals' by the Pat-man
Dec. 27 – 'The Wonder of Smash' by Vincent
Additionally, in the future I'm considering allowing readers to submits ideas for articles about the game of the month that they would write and then have featured on the website. If we decide to do something like that for this month I'll let you all know soon! Get some ideas brewing about Smash for Wii U in the meantime, and look forward to these upcoming feature articles.