In a recent issue of Nintendo Power (249), the magazine interviewed famous members of the gaming industry in honor of the DS's fifth anniversary. Koji Igarashi, producer of numerous Castlevania games, had this to say about the system:
"If [you want] to have the sharp gameplay that only 2-D games can provide…Then I think DS is the only hardware [for which it is] acceptable to publish such a game."
I have to admit, the DS has housed some truly beautiful and high-quality 2-D titles. The Castlevania games have especially worked well on the handheld.
Arcade Sports (Wii) – E
Monster Rancher DS (DS) – E
Shadow Dacner: The Secret of Shinobi (Wii) – E10+
Sonic & SEGA All-Stars Racing (DS) – E
My Fitness Coach 2: Exercise + Nutrition (Wii) – E
4 Travellers – Play Spanish (DSi) – E
The King of Fighters '95 (Wii) – T
Disney Alice in Wonderland + DGamer (DS) – E10+
Scrabble Classic (DSi) – E
Scrabble Slam! (DSi) – E
Scrabble Tools (DSi) – E
Escape GO! (DSi) – E
GhostSlayer (Wii) – T
Viral Survival (Wii) – E
There were a bunch of trailers shown during the Spike TV VGAs, but I'm only posting the ones of games that I think could end up on the Wii…

Tron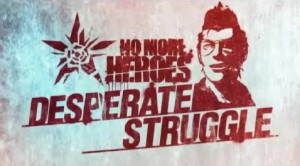 Normally I wouldn't post up an ESRB description that doesn't reveal new information about a game, but I felt like this is one of those instances where exceptions should be made. It's a bit lengthy, so I'll put most of the rating after the break.
No More Heroes 2: Desperate Struggle

Platform: Wii

Rating: Mature

Content descriptors: Blood and Gore, Intense Violence, Partial Nudity, Sexual Themes, Strong Language
The Spike TV Video Game Awards have received a lot of attention as of late. Geoff Keighley, the man in charge of the show, has been pumping up the event with teases over the past few days. The VGAs will be taking place later today, but Keighley has one final tease for fans before it all starts. On his official Twitter, he wrote that the biggest surprise in the history of the VGAs will be shared, and it'll be revealed basically as soon as the show starts.
"Do not miss the first five minutes of the VGAs for our biggest surprise premiere in VGA history!"
I don't really think this will be Nintendo-related necessarily, but it should be interesting if you're a fan of gaming in general.
According to Amazon, these two titles will be released in North America on March 14, 2010.