In a recent interview, Activision Blizzard CEO Bobby Kotick confirmed that DJ Hero does exist. The game had been rumored to be in development from a few sources, but nothing was confirmed by Activision up to this point. Unfortunately, Kotick did not discuss platform details. However, that information should be known in the near future.
"We have the product called DJ Hero that's coming out later this year which is a turntable that you can actually play competitively and spin discs and mix songs."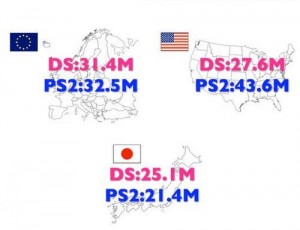 "What we are looking at are the cumulative Wii and DS sales through the end of 2008. Wii has been selling at industry's record pace so far, and with new customers acquired by the gaming population expansion efforts, it is not impossible for Wii's total sales to exceed the final install base of PS2. Wii still has much more room for expansion. We can expect more sales of software in the next fiscal year than in the current year. With what kind of software is Nintendo going to achieve this goal? Well, it will be shown at E3 to be held in the U.S. this June."

Okay, so who wants to start guessing what software will be present at this year's E3? I'm not entirely sure myself, but at least we know Nintendo will probably have a more exciting show this year than they did last year.


Light up Your World and Download the Demo of the Upcoming Nintendo DSTM Title from SouthPeak Games

Friday, January 30th – SouthPeak Games is pleased to announce that a demo of Arkedo Studio's Big Bang Mini for Nintendo DS™ is now available as a free download via the Nintendo Channel on Wii™. The explosive demo gives players a first taste of the unique shoot-'em-up before it launches in Europe.

The demo of Big Bang Mini includes a selection of levels from three of the game's worlds, including Hong Kong, Aurora and Luxor. These are just a handful of the full version's nine uniquely themed locations, which see players travelling all over the globe blasting waves of enemies using spectacular firework displays. Featuring 90 challenging levels of play, tough boss battles and seven different modes, Big Bang Mini is the perfect game for Nintendo DS owners looking for their next action fix.




"I think it is true that new information penetrates through the Japanese market very quickly and that Japanese people tend to get tired of something new very quickly. It is also true that the population is smaller when compared with that of other major markets, so it is inevitable that the market starts to feel saturated earlier than others. I don't think any hardware can enjoy eternal life. Someday, we'll need a new platform for sure, and of course, Nintendo is always preparing for that. However, now that our customer base has expanded this drastically, we do not think it's appropriate to conclude that past platform lifecycle theory can or should be applied to the current generation." – Satoru Iwata

"Third party titles sold more [in the U.S.] on Nintendo hardware than on any other platform for two consecutive months. As the hardware expands the installed bases, we are starting to see a cycle where more titles from the third parties are making the million-seller list." – Satoru Iwata
It would be rather silly for Nintendo to release a new console at this point, but that's just stating the obvious. I can actually see the Wii remaining on the market for quite some time.


Nintendo Wii
North America:
1. Wii Fit (Nintendo)
2. Mario Kart Wii (Nintendo)
3. My Fitness Coach (Ubisoft)
4. Wii Play (Nintendo)
5. Active Life: Outdoor Challenge (Namco Bandai)
Japan:
1. Taiko no Tatsujin Wii (Namco)
2. Wii Fit (Nintendo)
3. Wii de Asobu: Mario Tennis GC (Nintendo)
4. Mario Kart Wii (Nintendo)
5. Wii Sports (Nintendo)
UK:
1. Wii Fit (Nintendo)
2. Mario Kart Wii (Nintendo)
3. Wii Play (Nintendo)
4. Family Ski (Namco Bandai)
5. Mario & Sonic at the Olympic Games (Sega)
Nintendo DS

North America:
1. Mario Kart DS (Nintendo)
2. New Super Mario Bros. (Nintendo)
3. Brain Age (Nintendo)
4. Club Penguin: Elite Penguin Force (Disney)
5. Brain Age 2 (Nintendo)
Japan:
1. Final Fantasy Crystal Chronicles: Echoes of Time (Square Enix)
2. Wagamama Fashion: Girls Mode (Nintendo)
3. Rhythm Tengoku Gold (Nintendo)
4. Megami Ibunroku: Devil Survivor (Atlus)
5. Pocket Monsters Platinum (Nintendo)
UK:
1. Professor Layton and the Curious Village (Nintendo)
2. Dr. Kawashima's Brain Training (Nintendo)
3. More Brain Training (Nintendo)
4. Junior Brain Trainer (Avanquest)
5. 42 All-Time Classics (Nintendo)




– Use the Stylus to Dash to Your Date on Time in 'The Chase: Felix Meets Felicity', Atari's Original Platformer on Nintendo DS™ –

New York, NY – January 30, 2009 – With The Chase: Felix Meets Felicity, Atari takes cupid's bow in hand and fires an arrow of platform gaming love into the hearts of anyone who's ever been in a rush to meet up with their new crush. With a fresh approach to platforming on Nintendo DS™, The Chase: Felix Meets Felicity encourages passionate players to navigate their way through bizarre obstructions, interruptions and mishaps by using the stylus to draw a path to their sweetheart. This Valentine's Day, don't say it with flowers, chocolates or a cheesy card – woo your beloved with something original and say it with a video game. The Chase: Felix Meets Felicity, rated E for Everyone, is available in stores now, perfect timing for Valentine's Day gift shopping.

Budding Romeos and Juliettes the world over will step in the shoes of young buck Felix or hot chick Felicity in a mad dash across town to make their date on time. The pick up and play gameplay makes brilliant use of the Nintendo DS stylus to draw platforms to climb and hop across, dodging the obstacles and loveless misanthropes who get in the way. Run, jump, dodge and slide through hectic scenarios while desperately trying to stay ahead of the clock and rainy weather. At the start and end of each level, heat up your love life with some cheeky mobile phone flirting with the object of your affection, spurring on the desire to reach your romantic, ice-cream filled rendezvous on time.