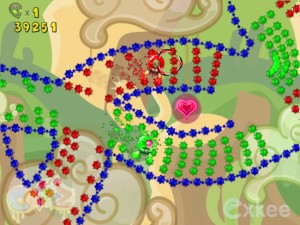 – Action/puzzle game
– Takes place in an alternative world
– Has round + colorful elements
– Terrible event has disturbed the citizens
– Virus polluted universe, created thousands of Microbes
– Drive UFO to clean different planets


1. Mario Kart w/ Wheel (Wii)
2. Wii Fit w/ Balance Board (Wii)
3. Wii Play w/ Remote (Wii)
4. Super Smash Bros: Brawl (Wii)
5. Grand Theft Auto IV (Xbox 360)
6. Grand Theft Auto IV (PS3)
7. Call of Duty: World at War (Xbox 360)
8. Brain Age 2: More Training in Minutes a Day (DS)
9. NHL 09 (Xbox 360)
10. Gears of War 2 (Xbox 360)




Summary:
Grand Theft Auto: Chinatown Wars is in stores now exclusively for Nintendo DS™ and with it comes the opening of the Chinatown Wars area at Rockstar Games Social Club.
Social Club members who own Chinatown Wars will be able to track detailed game stats and compare them with their Friends on Social Club. Also exclusive to Social Club members are hidden missions waiting for the player to unlock. Find the two missing Guardian Lion statues in the game to gain access to this secret content via Rockstar Games Social Club. More secret in-game unlockables will be announced soon, exclusively accessible to Social Club members.
Getting Started:
To gain entry to the special features for Chinatown Wars, you will first want to obtain a Friends Code and link your account. This will allow you to connect your game to the Social Club and enable future stats syncing. Detailed instructions can be found at the new Chinatown Wars Account Linking tool in your member Profile settings – click here to access (must be registered, logged-in member).


Nintendo Invites Fans to Play, Purchase or Have a Chance to Win the Anticipated Pokémon Platinum Version Game before Official Release Date

–(BUSINESS WIRE)– Nintendo:

WHAT:
To mark the much-anticipated release of the Pokémon™ Platinum Version video game for the Nintendo DS™ system, Nintendo is pulling out all the stops for an unforgettable launch! Eager consumers will have the chance to purchase Pokémon Platinum Version in advance of its official March 22 release date, and some of the first consumers in line will be randomly selected to receive a copy of the game autographed by Game Producer Junichi Masuda and Game Director Takeshi Kawachimaru.

Rockefeller Plaza will become a Pokémon paradise with interactive game demonstrations, costumed character photo opportunities, great giveaways and showings of the newest Pokémon Movie, Pokémon: Giratina and the Sky Warrior. Among the new game's new features is the Wi-Fi Plaza, a virtual Pokémon amusement park where players can connect online with fellow fans around the world and compete in fun mini-games. Nintendo encourages fans to come dressed as their favorite Pokémon characters. Costumed Pokémon fans may qualify to participate in the "Pokémon Platinum Plunge" challenge, where brave consumers and Pokémon fans can dive into a 10 foot vat of colorful balls for Pokémon Platinum Version games and exclusive Giratina™-branded Nintendo DS systems.


Club Nintendo is already proving to be much better than the program that it replaced (My Nintendo). Those with platinum status on Club Nintendo may receive a special email to preview the DSi. Members of Club Nintendo should be receiving emails to have a first look at the system, depending on their location in North America.




Take Aim for the Top Online Leaderboards Score in this Instant Classic Arcade-Style Shooter

El Segundo, Calif. – March 16, 2009 – Konami Digital Entertainment, Inc., announced today that Gradius ReBirth™, the latest entry into the Gradius game franchise, is now available for download on WiiWare™. Making its original debut in arcades in 1985, the Gradius franchise is reborn in this latest addition to the arcade classic franchise. Gradius ReBirth enables players to blast their way through many levels full of alien space ships and other space creatures in this action packed side scrolling shooter.

Gradius ReBirth features a robust arsenal of upgradable space-aged weaponry that will aid players in their challenging missions to defeat the alien hordes. Watch out for the epic boss battles as they will test your shooting skills in classic, retro arcade style. Players will be able to post their high scores to worldwide leaderboards and see where they rank against all the other Gradius ReBirth players.


U.S. District Court Judge Says No Need for Jury Trial

REDMOND, Wash.–(BUSINESS WIRE)– A U.S. District Court judge has summarily dismissed a patent-infringement lawsuit against Nintendo brought by Fenner Investments Ltd. Fenner had alleged that the Wii™ console and its controllers, as well as the Nintendo GameCube™, infringed on one of its patents (U.S. Patent No. 6,297,751). Judge Leonard Davis of the U.S. District Court in Tyler, Texas, dismissed the case on Monday, and ruled that there was no need for a jury trial.

"We are very pleased with the court's decision," said Rick Flamm, Nintendo of America's Senior Vice President, Legal & General Counsel. "Nintendo has a long history of developing innovative products while respecting the intellectual property rights of others. We also vigorously defend patent lawsuits when we firmly believe that we have not infringed another party's patent, despite the risks that this policy entails. I would like to express our sincere appreciation for the tireless efforts of our legal team, which represented us so well."