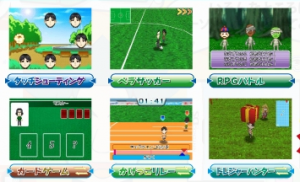 – Mini-game collection
– Can create your own paper avatar
– Put face on the avatar if you have a DSi
– Earn parts by playing the ten mini-games
– Games include Treasure Hunter, Touch Shooting
– Also has an RPG battle game with paper characters
– Over 1,000 parts that can be collected
– Coming out in Japan this fall, Interchannel talking with publishers for a possible North American release

Simulation RPG Unites Real-Time Strategy and Adventure into an Enchanting Storyline

Torrance, Calif., (July 21, 2009) – XSEED Games and Marvelous Entertainment USA announced today that Little King's Story for Wii has shipped to retailers across North America. Little King's Story is a highly-acclaimed, epic adventure title that unites life-simulation, real-time strategy, and adventure elements along with a captivating storyline to offer a unique gaming experience.

After 35 years of life without a ruler, the one true king has finally arrived. Once a shy, timid young boy, the time has come for King Corobo to take his throne and restore prosperity and wealth in the destitute land of Alpoko. Using his dominant powers of persuasion and his royal scepter, King Corobo can easily assign the lazy citizens of his run-down kingdom to a variety of tasks and job classes. From Animal Hunters to Hardworking Farmers, bring your kingdom to life by putting these "Carefree Adults" to work digging holes, treasure hunting, fighting UMA (Unidentified Mysterious Animals) and constructing bridges in order to access new lands.

Ubisoft has been one of the few developers to be making use of the unique features available for the DSi, with games such as Rabbids Go Home and My Cooking Coach topping the list. While the company has yet to make an official announcement, Jam Sessions is getting a sequel and will support DSi-specific functions as well. Some of the game's features are listed on the Jam Sessions 2 website. Make sure to check them out below.
# Fun music challenges in Gameplay mode: Play through a diverse array of licensed songs to build levels. Each challenge is unique – players are not merely going faster they are developing and reinforcing the skills necessary to fine tune their electric guitar skills and write songs.

# Learn & Play with diverse guitar driven bands like: REM, Heart, The Ramones, The Clash, Doobie Brothers, Plain White-T's, The Black Crowes, The Pixies and more!

# Immersive Experience: A 6 string interface, a streaming note chart, hundreds of guitar chords and sounds make for an authentic electric guitar experience. Choose to learn on any of the following electric guitars – Stratocaster, Telecaster, Acoustic, Old Electric & Les Paul.

# User created content: Players can freestyle sections of featured band's songs and make them their own. With a push of a button, players' created works can be added to the game's set list and instantly converted into a playable level.

# Express creativity: Personalized artist's profiles can be created and customized to track all achievements. Players can select their album cover and launch their debut album.

# A community of budding musicians: Improvisations and creations can be shared with players' songs pushed into gameplay mode along side songs of famous artists.

# Song Creation Tools: Contains powerful multi-track song editing software that makes producing high quality music easy, intuitive and fun. Create a song and have your friends play it through song sharing!

# Contains DSi features to enhance sound effects while playing.

This email was sent by Eric Nofsinger over at High Voltage Software to fans…
Over the past year or so we have continued to receive a steady stream of fan feedback on our game, The Conduit. This relationship with gamers has allowed us to integrate much of the feedback and make a better product. We cherish the relationship with our fans and in keeping with tradition; we are now able to fulfill another request.

Today, we are excitedly writing to you to announce the grand opening of the High Voltage Software online store. The website for the new store is located at http://www.high-voltage.com and features a variety of Conduit-branded clothing and apparel. We just received some amazing stuff including t-shirts, hats, and a wicked hoodie. Quantities are limited and we expect the first shipment to go fast, but we will absolutely fulfill every order placed.

Finally, we wanted to thank you for your amazing support for our team and for The Conduit. Your support means everything to us and we are anxious to see you sporting some Conduit gear, so when you do purchase something please take a picture of yourself wearing the gear and send it our way!
Thanks to Jake for the news tip!

One of the Most Anticipated Music Video Game of 2009 to Include "Twist And Shout," "Sgt. Pepper's Lonely Hearts Club Band," "Revolution," "Yellow Submarine" and More
Guildford, UK – July 21, 2009 – MTV Games and Harmonix, the world's leading developer of music-based games and a part of Viacom's MTV Networks (NYSE: VIA, VIA.B), today revealed 15 more of the 45 on-disc tracks that will be featured in The Beatles™: Rock Band™. A gameplay trailer featuring eight of the 15 newly announced songs can be viewed by visiting www.thebeatlesrockband.com.

Following the world premiere of The Beatles: Rock Band at the Microsoft press briefing at the 2009 E3 Media & Business Summit last month, the newly announced 15 songs represent a cross-section of hits and favorites that span The Beatles' storied career from Can't Buy Me Love and Paperback Writer to With A Little Help From My Friends and Yellow Submarine, bringing the total number of announced songs to 25.

Thanks to Ross M for the news tip!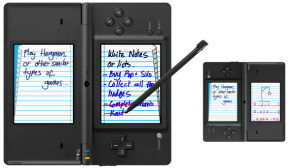 Nnooo said awhile back that they were working working on a series of applications for DSiWare. It looks as though that turned out to be myLifeCollected. The first tool that the company has pulled back the curtains on is myNotebook and the first details are below.
– 32 pages that you can draw on
– Can choose between squared/lined paper for each notebook
– Unlock 18 paper styles
– Press lined or squared icon to change paper type
– Choose from different tools to edit data with toolbar at the side of a page
– Can use either a pencil or pen thickness
– Option to clear a page/use eraser to remove portion of the page
– When you turn a page, the last pages are automatically saved
– After you reboot the app, it'll go to your last page

Recently, a few gamers came across a triforce that was embedded in a Google logo. Upon further inspection, however, the Zelda symbol could be detected in a majority of other atypical images that the company once used in honor of special holidays/events. If you were to look now though, it appears as though all traces of the triforce have vanished. So, there was obviously something there that Google picked up on and have since changed the logos slightly as far as we can tell.
You might be wondering, how do we even know that's a triforce? Well, the artist of the Google images, Susie Sahim, has a blog that certainly points to the use of the symbol in each of her pictures as a nod to the classic Nintendo franchise. A trio of Zelda drawings can be viewed on the website and there is also a picture of Ms. Sahim dressed in a Link costume. We obviously cannot say without absolute assurance that the design is in fact a triforce, but the chances are very high.