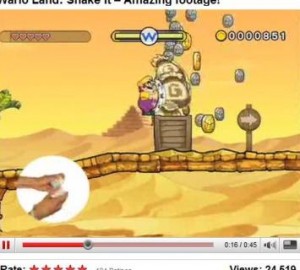 I was actually a bit taken a back when I first saw this advertisement…I wasn't expecting it, to say the least! Make sure you get a chance to watch the YouTube video here

Walking On Sunshine – Aly & AJ
It Takes Two – Rob Base & DJ EZ Rock
If You're Gonna Jump (Paul Oakenfold Remix) – Natasha Bedingfield
Push It To The Limit – Corbin Bleu
I Want Candy – Bow Wow Wow
On Top Of The World – Boys Like Girls
The Great Escape – Boys Like Girls
Godspeed – BT
Gonna Make You Sweat (Everybody Dance Now) – C+C Music Factory
Eye Of The Tiger (Sunset Crew Radio Mix) – Crew 7
Come Clean – Hilary Duff
Unbelievable – EMF
Calabria 2008 – Enur feat. Natasja
Star – Erasure
Perfect Day – Hoku
That's The Way (I Like It) – KC & The Sunshine Band
I Say Hey – Kinky
Footloose – Kenny Loggins
Bodyrock – Moby
Born for This – Paramore
Our Time Now – Plain White T's
C'mon N' Ride It (The Train) – Quad City DJ's
I'd Do Anything – Simple Plan
Jump – Simple Plan
Stamp Your Feet – Donna Summer
Whoomp! (There It Is) – Tag Team
In This Diary – The Ataris
Groovy Train – The Farm
The Power Is On – The Go! Team
Huddle Formation – The Go! Team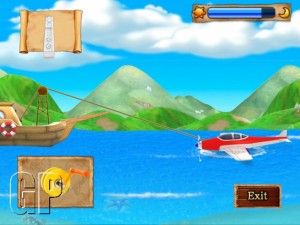 Sheffield UK , 23rd September 2008 – Lexicon Entertainment, a leading publisher and distributor of interactive entertainment and leisure software for video game console systems and personal computers world-wide, is pleased to announce, in collaboration with CyberPlanet Interactive, the publishing of Offshore Tycoon for Nintendo DS and Wii.

Game Story:

In the past the most famous fishing and sea crop company namely "Offshore" was established by Thomas's grandpa who was an expert in sea harvesting. After Thomas's grandpa died in 1907, his family has inherited the Offshore Company from generation to generation. Thomas was the tenth to continue the well being of Offshore Company. His ambition was to drive the company worldwide and be known as the most famous sea harvester. But it was not as easy as he wished. He had to expand more branches to attract his customers around the world. Therefore, he started his ambition by setting up Offshore Company at Offshore City first. And now he is ready to show how cool he is in the sea world.

Offshore Tycoon is a casual time management simulator in which the player has to take control of harvesting equipment such as fishing trawlers, oil tankers and more. Every task has to be managed and completed quickly and efficiently in order to make money and in turn to progress.

Back in June, it was announced that Ubisoft would be publishing Tenchu IV in the North American market. The company has reconfirmed that information to IGN, but has also provided some release date details. Tenchu IV should be available in Europe and North America sometime in early 2009. While you're waiting, check out an English trailer of the game.

Note: I haven't posted the Guitar Hero interview because I do not have enough time. However, I believe the interview was only three or four minutes.
Mega Man 9
– Debate was going on about what score the graphics should get
– Matt thinks the graphics are outdated and kind of ugly, but it doesn't affect the gameplay
– Craig/Bozon say it's not a bad looking game, just a step back in technology
– Daemon doesn't think the graphics are bad either
– Graphics score given was a 3
– In the swing of things, the whole breakdown doesn't affect the scores as much as people think they do
– Talk about how cool the Mega Man 9 press kit is
Wario Land: Shake It!
– 8.4 review score
– Doesn't run in true widescreen, Matt feels its almost a deal-breaker for him these days
– Still a quality product, controls are responsive
– Level design is great, a lot of variety
– Backdrops change a lot too, reminds Matt of the games he grew up with playing and loved
– Doesn't have many gimmicks other
– You know where to go, you just have to figure out how to get there
– Bozon doesn't like some of the backgrounds – such a small amount of parallax and foreground layers
– Can complete the stages in about 5 hours but you can keep (and will want to) come back to the stages
– Matt highly recommends the game, would pay $50 for it

The latest Game Informer review scores are as follows…
Star Wars: The Force Unleashed (Xbox 360/PS3, Activision): 8.75 / 8.75
Star Wars: The Force Unleashed (Wii, Activision): 7.75
Rock Band 2 (Xbox 360/PS3, EA): 9.25 / 9.25
Mercenaries 2: World in Flames (Xbox 360/PS3, Pandemic): 7.25 / 7.5
Dragon Quest IV: Chapters of the Chosen (NDS, Square Enix): 7
Infinite Undiscovery (Xbox 360, Square Enix): 8 / 8
Mario Super Sluggers (Wii, Nintendo): 5.5 / 5.5
FaceBreaker (Xbox 360/PS3, EA): 7.75 / 6.5
Tiger Woods PGA Tour 09 (Xbox 360/PS3, EA): 8.5 / 8.75
NHL 09 (Xbox 360/PS3, EA): 9.25 / 9
NHL 2K9 (Xbox 360/PS3, 2K Sports): 6.75 / 7
Pure (Xbox 360/PS3, Disney): 8.5 / 8.5
Guilty Gear 2: Overture (Xbox 360, Arc System Works): 6.25
Tales of Vesperia (Xbox 360, Namco Bandai): 7.25 / 8
Battle Fantasia (Xbox 360, Arc System Works): 7.5
Viva Pinata: Trouble in Paradise (Xbox 360, Microsoft): 8.25 / 7.5
Zoids Assault (Xbox 360, Atlus): 5 / 4.5
De Blob (Wii, THQ): 7.75 / 8
Harvest Moon: Tree of Tranquility (Wii, Natsume): 6.75 / 7.5
Harvest Moon: Island of Happiness (NDS, Natsume): 6.75
Mystery Case Files: MillionHeir (NDS, Nintendo): 7
Pop Cutie! Street Fashion Simulation (NDS, Koei): 7.5
N+ (NDS/PSP, Atari): 8.75 / 8.75
Away: Shuffle Dungeon (NDS, Majesco Games): 7.5
New International Track & Field (NDS, Konami): 6.25 / 8
From the Abyss (NDS, Aksys Games): 5
Disgaea DS (NDS, Atlus): 8
Rhapsody: A Musical Adventure (NDS, NIS America): 5.5

Videos
Mega Man 9 Info Video
Plättchen – twist 'n' paint Info Video
SimCity Creator TV Spot
Skate It Info Video
Luminous Arc 2 Info Video
Ninjatown Info Video
Digest Video
Demos (Expire 9/28)
Crosswords DS – Wordsearch Demo
Spore Creatures Demo
Air Traffic Chaos
Arknoid DS