Last night, High Voltage Software released the first trailer for Gladiator A.D., a new title for the Wii. However, the company was not actually too happy with it. On the latest edition of IGN's Nintendo Voice Chat podcast, it was said that High Voltage would be sending over a different trailer which shows an updated build of the game with more characters. You can check it out below:

Thanks to _Contra_ for the news tip!

WARNER BROS. INTERACTIVE ENTERTAINMENT ANNOUNCES A GAME FRANCHISE BASED ON THE LORD OF THE RINGS LITERARY AND FILM LIBRARY AND FIRST FRANCHISE TITLE "THE LORD OF THE RINGS: ARAGORN'S QUEST"

FRANCHISE PLANS INCLUDE GAMES ACROSS MULTIPLE GENRES AND PLATFORMS

London – May 28, 2009 – Warner Bros. Interactive Entertainment today announced a long-term partnership with The Saul Zaentz Company and New Line Productions, Inc. for literary and film rights to develop and publish games based on The Lord of the Rings trilogy. As part of the game franchise, Warner Bros. Interactive Entertainment will publish multiple games across many genres designed to appeal to a wide range of unique gamers, including hard-core RPG fans and families. The first game will be The Lord of the Rings: Aragorn's Quest, a new third-person action adventure videogame offering an authentic gameplay experience based on The Lord of the Rings that all ages can play together on Wii™, Nintendo DS™, PlayStation®2 and PSP® (PlayStation®Portable) system in Autumn 2009.

"The Lord of the Rings franchise is world renowned for its captivating adventures, and we are creating new experiences in the game space designed to appeal to a wide array of consumer tastes from core to casual," said Martin Tremblay, President, Warner Bros. Interactive Entertainment. "The Lord of the Rings: Aragorn's Quest is the first of many different types of games we will be developing with the film and literary rights. It is also the first game allowing kids and their families to interact in their favourite locations and stories from The Lord of the Rings with accessible gameplay."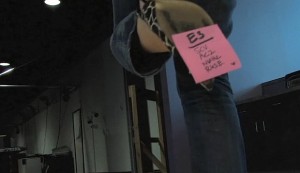 An E3 teaser video from Ubisoft seems to suggest that the company may be making a publisher announcement regarding No More Heroes: Desperate Struggle. In the video, there is a post-it note sticking to a woman's shoe with a list of games – One of which is "NMH2." Just by quickly thinking about it, one would be able to conclude that it stands for "No More Heroes 2." It's certainly more than possible that there will be an announcement from Ubisoft, considering the company published the first title. Their conference is set to be held on Monday, so we'll know once the event is over.





Studio to Publish First Downloadable Game for Nintendo DSi Handheld Game System

May 28, 2009 – Creat Studios (Canton, MA) today announced the upcoming release of their first downloadable game for Nintendo's DSiWare™ service. An original Creat Studios IP, Alien Havoc has the look and feel of an updated classic era arcade game and is expected to be released for the Nintendo DSi™ via DSiWare this summer.

Alien Havoc is a throwback to the classic arcade game genre, putting gamers in command of a little alien who must pluck cows from farms on Earth, load them onto his spaceship, and bring them back to his home planet. The farmers, however, won't let their cows go without a fight. Players must tackle wrapping farm mazes of confusion, play hide and sneak under the cover of tall grass, and throw veggies, rocks, or whatever they can get their alien claws on at the farmers as they fight to bring these valuable livestock back to their home world.

SANTA CLARA, Calif., (May 28, 2009) – Leading video game publisher and developer NAMCO BANDAI Games America Inc. today announced highlights of its plans for the Electronic Entertainment Expo (E3) at the Los Angeles Convention Center, June 2-4, 2009. At its booth, E3 attendees will be able to enter a two-day TEKKEN® 6: Bloodline Rebellion tournament and preview nearly a dozen titles from a variety of consoles including – the Xbox 360® video game and entertainment system from Microsoft, the PLAYSTATION®3 computer entertainment system, the PSP® (PlayStation®Portable) system, and Wii™. NAMCO BANDAI Games' diverse lineup offers exciting new iterations of top-tier franchises, licensed brands and new properties encompassing multiple genres for players of every age and skill level. NAMCO BANDAI Games will be located at South Hall, Booth 801.

The main event for show-goers will be hands-on gameplay time with the company's exciting new titles releasing later this year. Attendees will have a chance to enter the latest King of Iron Fist Tournament with TEKKEN 6 and play an exciting new game mode for Xbox 360 and the PLAYSTATION 3 system, experience the brutal world of Grant City as both a vice cop and his canine companion in Dead to Rights®: Retribution on Xbox 360 and PLAYSTATION 3, find the most robust and feature-packed portable fighting game with SOULCALIBUR®: Broken Destiny on the PSP System, get an extreme workout with Active Life™: Extreme Challenge for Wii and much more. With games covering all genres and platforms, there's something for everyone at the NAMCO BANDAI Games booth.

As an added draw for E3 attendees, NAMCO BANDAI Games will host a two-day TEKKEN 6: Bloodline Rebellion arcade tournament at its booth on Wednesday, June 3 and Thursday, June 4. Sign-ups will begin Tuesday, June 2, at the booth, with competitions running at 2 p.m. and 4 p.m. on June 3 and June 4. The winner of the 2 p.m. tournament will be invited to compete against the winner of the 4 p.m. tournament for a grand prize on each of these days.