Is Nintendo really gearing up for a big E3? It seems that way, and is reinforced by some news coming out of Japan. According to Japanese blog Sinobi, Nintendo will be hosting a big press event right after E3. Sinobi is usually right on top of things which is why you can be pretty sure that this is not a rumor. What is speculation, however, is that the company may be highlighting its summer lineup. To hold an event right after E3 does seem a bit suspicious, though.



Last night, High Voltage Software released the first trailer for Gladiator A.D., a new title for the Wii. However, the company was not actually too happy with it. On the latest edition of IGN's Nintendo Voice Chat podcast, it was said that High Voltage would be sending over a different trailer which shows an updated build of the game with more characters. You can check it out below:

Thanks to _Contra_ for the news tip!

WARNER BROS. INTERACTIVE ENTERTAINMENT ANNOUNCES A GAME FRANCHISE BASED ON THE LORD OF THE RINGS LITERARY AND FILM LIBRARY AND FIRST FRANCHISE TITLE "THE LORD OF THE RINGS: ARAGORN'S QUEST"

FRANCHISE PLANS INCLUDE GAMES ACROSS MULTIPLE GENRES AND PLATFORMS

London – May 28, 2009 – Warner Bros. Interactive Entertainment today announced a long-term partnership with The Saul Zaentz Company and New Line Productions, Inc. for literary and film rights to develop and publish games based on The Lord of the Rings trilogy. As part of the game franchise, Warner Bros. Interactive Entertainment will publish multiple games across many genres designed to appeal to a wide range of unique gamers, including hard-core RPG fans and families. The first game will be The Lord of the Rings: Aragorn's Quest, a new third-person action adventure videogame offering an authentic gameplay experience based on The Lord of the Rings that all ages can play together on Wii™, Nintendo DS™, PlayStation®2 and PSP® (PlayStation®Portable) system in Autumn 2009.

"The Lord of the Rings franchise is world renowned for its captivating adventures, and we are creating new experiences in the game space designed to appeal to a wide array of consumer tastes from core to casual," said Martin Tremblay, President, Warner Bros. Interactive Entertainment. "The Lord of the Rings: Aragorn's Quest is the first of many different types of games we will be developing with the film and literary rights. It is also the first game allowing kids and their families to interact in their favourite locations and stories from The Lord of the Rings with accessible gameplay."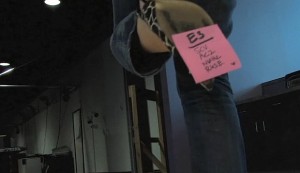 An E3 teaser video from Ubisoft seems to suggest that the company may be making a publisher announcement regarding No More Heroes: Desperate Struggle. In the video, there is a post-it note sticking to a woman's shoe with a list of games – One of which is "NMH2." Just by quickly thinking about it, one would be able to conclude that it stands for "No More Heroes 2." It's certainly more than possible that there will be an announcement from Ubisoft, considering the company published the first title. Their conference is set to be held on Monday, so we'll know once the event is over.