– At the beginning of Xenoblade Chronicles X, two alien factions are at war above Earth
– Unfortunately, their war is destroying Earth
– The human race then evacuates the Earth in two arc ships
– You wake up from stasis and create your character
– Nintendo showed a vast area surrounding a city called Neo Los Angeles
– A number of locations around this area featured the American flag painted on
– Game has a class system
– Start out with the Drifter class
– Access different abilities with different classes
– Day-and-night cycle included
– Real-time weather changes
– Enemy behavior changes from day to night
– Ex: predators come out to hunt at night
– Other creatures sleep at night
X has a final name and release window. It's now known as "Xenoblade Chronicles X" and will launch next year – not this year. A new trailer is shown that we'll post soon.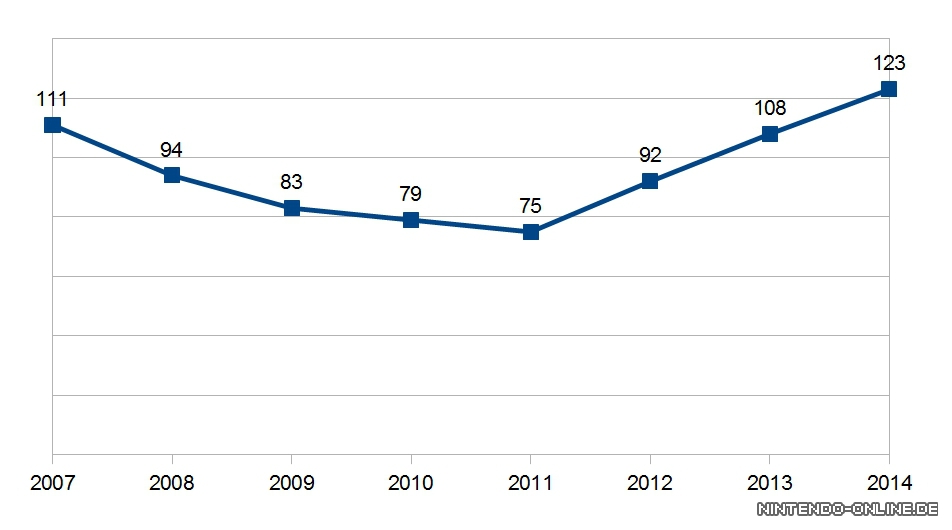 The folks over at Nintendo-Online recently examined the amount of employees working at Monolith Soft between 2007 and 2014. Below, you can get an estimated look at how the staff count changed over the years based on the studio's website.
– Nintendo bought Monolith Soft in 2007. After that the studio headcount sank from 111 in 2007 to 75 in 2011.
– In the following years the headcount increased steadily.
– In 2013 there were 108 employees working at Monolith Soft; in 2014 that number rose to 123.
– Concludingly, 15 new people were employed by Monolith Soft within the last year.