Nintendo UK has issued a press release regarding a new Super Smash Bros. Invitational tournament that will be held this year's MCM Birmingham Comic Con. You can find the full details below.
16th March 2015 – Nintendo will host an exclusive Super Smash Bros. Invitational tournament at this year's MCM Birmingham Comic Con, bringing together thirty-two Super Smash Bros. for Wii U community players for a live head-to-head battle at the show.

Visitors to the show will not only get the chance to watch, but can also participate in a number of Super Smash Bros. tournaments and matches throughout the weekend which will take place on both New Nintendo 3DS and Wii U. Guests can also get their hands on exclusive items and limited edition stock as the Official Nintendo UK Online Store returns to the show on Saturday 21st March and Sunday 22nd March, at the National Exhibition Centre, Birmingham.
Hello everyone, here's another podcast! All of your votes have been tallied on to put together the definitive list of the top ten game soundtracks (on Nintendo platforms) from 2014. In this almost two-hour podcast you can expect to hear excerpts from all of the soundtracks that made the list with commentary from myself and those who sent in their thoughts. Thank you to everyone who helped make this feature possible and sorry about the delay.
Unlike last year's show, it's now available in video podcast form on Youtube (note: podcast may not contain moving images):
If you want the audio version to stick on your MP3 player or whatever, you can download it here. And if you really want to spoil yourself, the results and and a full track list (with timestamps!) can be found over the break:
Masahiro Sakurai, the creator of Super Smash Bros. series has been very open through his columns in Weekly Famitsu about the development process and the toll that it has taken on his life, and this time is no exception.
In his latest column he answers fans letters and one fan asked him:
"Hello, Mr. Sakurai. It sounds like development of Smash Bros. was really, really hard. Reading your column sent shivers up my spine. I've never seen you so worn out. It made me appreciate the new Smash Bros. more than ever."
Sakurai responded by saying:
"It was very tough this time around… I doubt I'll be able to go on making games if it continues like this. But, I consider myself lucky that so many people seem to enjoy [Smash Bros.]"
Although this might seem like a slightly more positive outlook than previous statements there is no doubt that game development can be a lot of hard work and this game seemed to be no exception. Sakurai has clearly given quite a bit of love and passion to the Super Smash Bros. Series.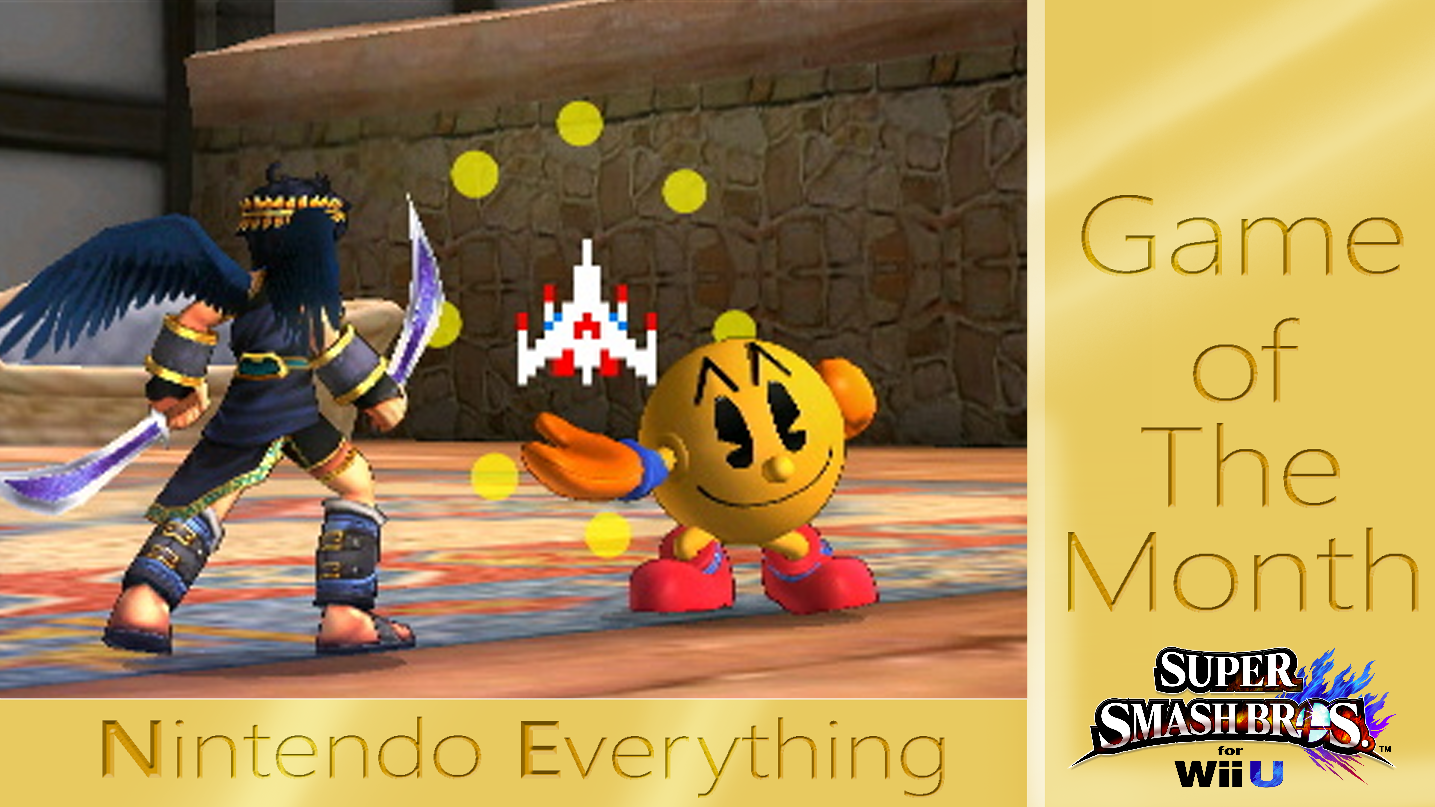 Author: Patrick
Part of the appeal of Super Smash Bros. to me is the history behind it all. With their large cast of characters, range of collectibles and obscure music picks, I always seem to be discovering new games with each installment. The original game introduced me to Earthbound, while Melee first brought Fire Emblem to my attention. This new Smash Bros.' cast of newcomers are largely from games released in the last few years, but what I find interesting how Namco-Bandai's involvement in development resulted in Namco's history finding a way into the game.
Pac-Man is one of my favourite characters to play as in the new Super Smash Bros. and it's partially due to his "Namco Roulette" taunt. This taunt involves Pac-Man summoning a bunch of old Namco sprites from the company's golden age for a quick cameo, but there's no trophies or anything to give context to these characters. With that in mind, let's look at all these Namco icons as we take either a trip down memory lane. Namco have a legacy of creating incredible arcade titles that still persists to this day –I've been hooked on Mobile Suit Gundam Extreme Vs. Full Boost lately- and it's great to see it represented in Smash Bros. in some form. So let's start by traveling thirty-five years back in time…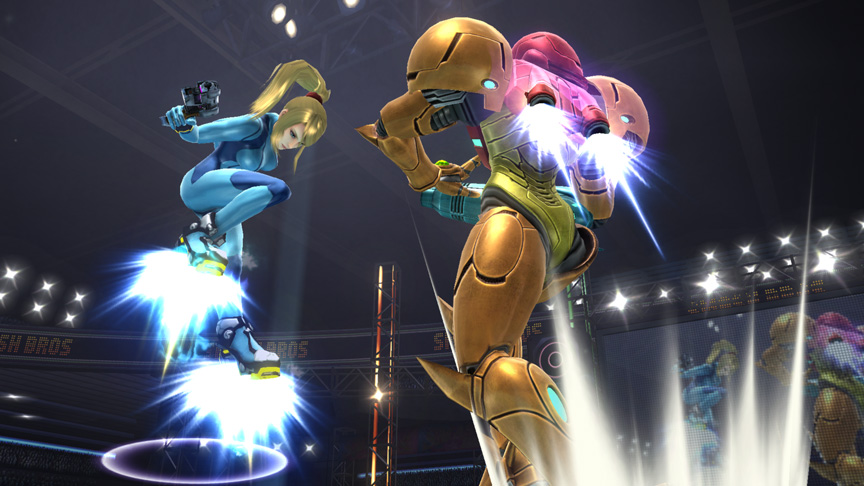 Super Smash Bros. director Masahiro Sakurai addressed the series' future in the latest issue of Game Informer.
Speaking about whether or not we'll see another game in the series, Sakurai mentioned that he "can't deny the chance for another." He adds, however: "as for myself, I don't think there will be."
Sakurai spoke about how the goal with Super Smash Bros. for Wii U "was to provide extra merits to the game which go far beyond the sale price." Limits have already been surpassed in terms of scope and content.
Sakurai does mention towards the end of his comments: "I also have trouble picturing someone else taking my place and providing all this value-added content without me."
In the video below UK Super Smash Bros. Melee champion, Charles Kimmelman shares some best practices on gameplay techniques. Although he states at the start of the video that these tips are for beginners, the tips he shares can be a vital part of any Smash players gameplay book.
Jump Festa is scheduled for 2015 and a Super Smash Bros. tournament has been announced.
Winners of the Super Smash Bros. tournament will receive one of two of these exclusive New 3DS cover plates!
Check out the images below: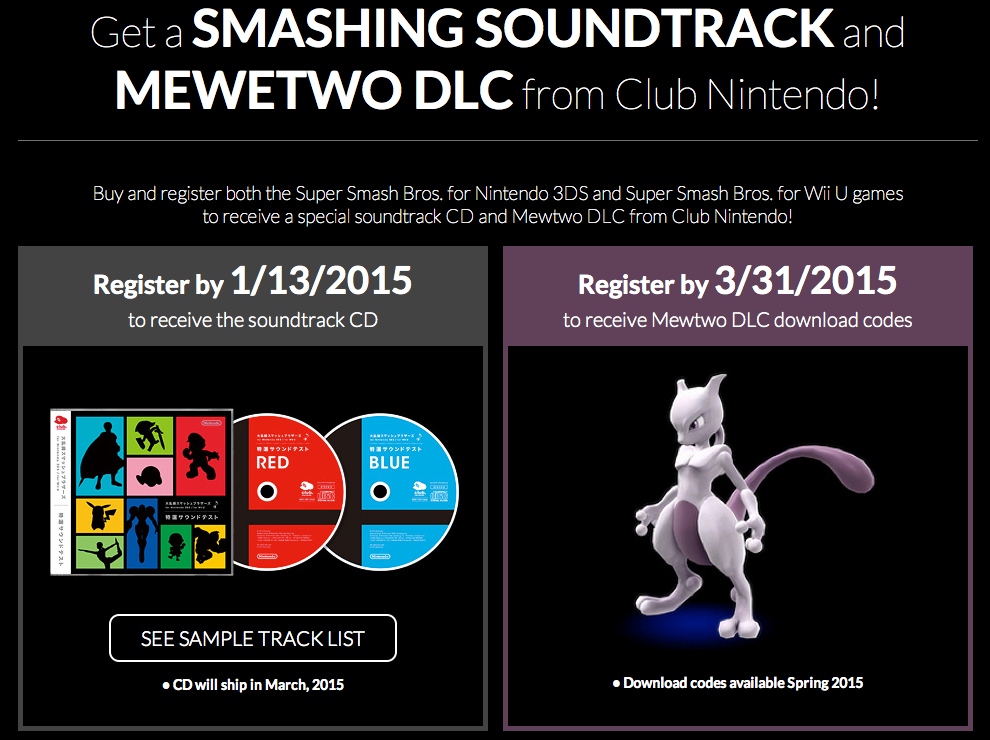 North American Club Nintendo members can get an exclusive Super Smash Bros. and Mewtwo DLC for registering both the 3DS and Wii U versions of Super Smash Bros.
This is a limited time offer so make sure that you register both games by 1/13/2015 if you want the soundtrack and Mewtwo DLC or by 3/31/2015 if you only want the DLC.
The soundtracks will ship in March of 2015 and the codes for the Mewtwo DLC will be available Spring 2015.
If you haven't checked out "Honest Game Trailers" before, now's your chance! Here's one dedicated to Super Smash Bros.: