The Letter will soon be receiving an update that makes a few additions and changes. TreeFall Studios is including an extra level and new things to find, for example. You can get a look at the upcoming update in the video above.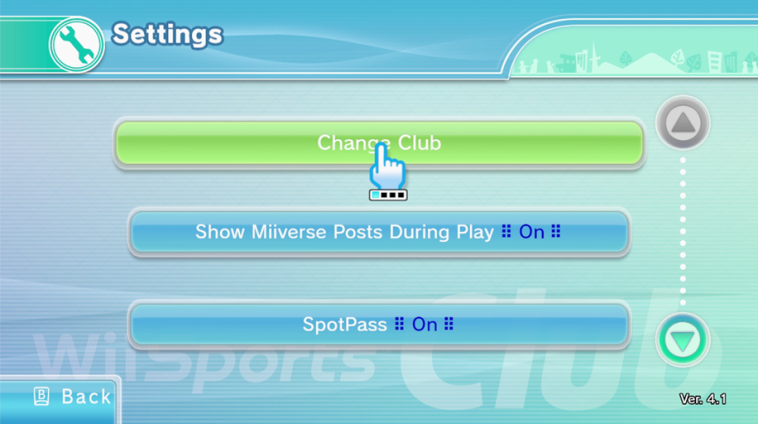 Nintendo has prepared a small software update for Wii Sports Club. Version 4.1 addresses the following points:
– Fixes an issue where the results of online Two-Player Team Play tennis matches were not displayed correctly in Play Records
– Introduces additional enhancements to improve the user's experience and enjoyment
After applying the update, you should see "4.1" displayed in the settings menu.
Thanks to joclo for the tip.
CoderChild has announced a significant update for Cubit The Hardcore Platformer Robot. The patch is coming out on July 17 in Europe, though a release date hasn't been confirmed for the states just yet.
Here's an overview of the free update straight from CoderChild:
On December 26th, Cubit The Hardcore Platformer Robot was released on the American Nintendo 3DS eShop.
Many people beat the game in the following days, but there was some other people complaining about the controls of the game.
European version was delayed and play tests were performed among some 3DS communities (mainly Espal3DS).
Found the root of the complaints and the game controls and feedbacks were reworked. The game was released on EU eShop.
As a compensation for the US players not happy with the game controls, CoderChild planned an update.
Knowing that the update will come months later after the initial released, and players will surely be playing other games, something had to be done to catch their attention and deliver the new playing experience with this improved controls to those players: NEW contents MUST be ADDED.
Worldwide ONLINE RANKINGS were added to the game, but how will the players fill those score tables?
A brand new GAME MODE was developed. For this new feature:

Levels were redesigned
Different level progression
New level aesthetics.

Realized those 7 character player names were too short and probably many people will match the same names: By COUNTRY score boards were introduced.
Still not enough: 11 character player names were introduced in a new profile creation page. Still not enough: Uppercase, lowercase, and more special symbols were introduced.
Some small bugs were fixed.
Game was submitted to NOE and NOA lotcheck.
CoderChild is celebrating the update's launch with a 33 percent discount. Additionally, a demo will be released at the same time.
Source: CoderChild PR
Big John Games is working on an update for Ohno Odyssey. This will add 14 new puzzles to the game, and it will be free. President Ken Patterson shared the news with Shigeru Reviews and Co.
Nicalis has prepared a new patch for Grinsia, which is available through the 3DS eShop. While it seems to have addressed a notable crash issue, we're hearing that it may have caused lag issues during some battle scenes. Hopefully another update will be issued if that's the case.
Level-5 is launching Youkai Watch 2 tomorrow with a patch. The update addresses a bug that says the game doesn't recognize save data when you first start the game.
Youkai Watch 2's 1.1 patch will be available for retail copies on the eShop. It will be automatically included with the downloadable version.
A Shovel Knight update for Wii U should be arriving soon, as Yacht Club Games says that it's "rolling out today." It's a single fix intended to address an issue with Tinker Knight. The same update will hit 3DS in the near future.
Yacht Club Games also confirmed on Twitter today that a larger Shovel Knight patch is in the works. This will "address common issues, requests, and concerns".
New Wii U update is rolling out today. Single fix is Tinker Knight soft lock. 3DS patch to follow but isn't ready quite yet.

— Yacht Club Games (@YachtClubGames) July 9, 2014
Working on following that up with a larger patch for all platforms shortly after to address common issues, requests, and concerns!

— Yacht Club Games (@YachtClubGames) July 9, 2014
Ludosity has wrapped up work on the European release of Ittle Dew. The game will arrive by August, the developer said in a blog post shared last week.
Ittle Dew's European version will include a few changes from the original US release, which will come to North America in the form of a patch. There is no longer stuttering during saving and sound will now come from the GamePad. A few small bug fixes and polish are implemented as well.
Mutant Mudds' 3DS update is finally out today, but it seems to be causing issues for users. On the bright side, they can be dealt with easily enough.
Players have reported problems pertaining to the diamond and collectible count. Additionally, switching between the game's two characters on the front screen after unlocking the "Grannie" content is not possible… or so many initially thought.
All can be fixed by beating the first level. That's all. Just access your save final and complete the first Ghost stage. You'll see an unexpected end credit teaser, but everything should then be fixed. Hopefully Renegade Kid will produce an official patch in the near future.
4 Corner Games has shared a bunch of new information regarding "I've Got to Run!". We have news pertaining to additional DLC, patch, the European release, and a newly revealed 3DS version. Developer 4 Corner Games has also announced a new project "MMM".
Here's the full rundown:
Final two DLC modes announced
Endless Flip has you running right to left – incredibly hard!
Endless Flight gives you a ton of jumps, but obstacles fly at you. Dodge the obstacles, strategize about when to touch down on the moving platforms.
Patch info:
Reconfirmed support for the Wii U Pro Controller
Totally new menu system (no supporting assets yet, they're on the way as I make progress)
Autosaving (Highly requested by players – still implementing it, but it's going to be in the patch)
European launch:
Still in the works
Will be version 1.1 at launch
I've Got to Run: Complete Edition!
Coming to PC, Mac, and Linux platforms first, followed by a release on Nintendo 3DS and another platform (that I can't announce yet)
The Nintendo 3DS version will contain an exclusive mode, as will the unannounced version (not the same mode).
4 Corner Games is working full time on a game that is codenamed MMM
No further details are available.