The 1.1 patch for Armillo is now out in Europe, developer Fuzzy Wuzzy Games has confirmed.
Earlier today, the studio published the following tweet:
Armillo v1.1 patch is finally out in Europe! Thanks to all our EU players for their patience!

— Fuzzy Wuzzy Games (@FuzzyWuzzyGames) September 15, 2014
Armillo's 1.1 update also arrived in North America earlier this month. You can find the full list of improvements here.
Since launch, Super Smash Bros. 3DS players in Japan have been encountering issues with Peach online. Those who use the character's "down + B" move early on in a For Glory match have been banned for 24 hours without warning.
Fortunately, Nintendo is already working on a patch. While it won't be out for another week, we at least know that a fix is coming.
Vblank Entertainment is planning an update for Retro City Rampage: DX that will take advantage of the system's new buttons.
As mentioned on the game's official Twitter account:
For those asking, Retro City Rampage DX *will* get an update to support the new 3DS's added buttons.

— Retro City Rampage (@RetroCR) September 7, 2014
The New 3DS adds ZL and ZR buttons. Additionally, Nintendo is including a c-stick for secondary analog control.
There's a bit more to Mario Kart 8's recent update than originally thought. Aside from what has been previously mentioned, the patch also does the following:
– Time Trials Miiverse post now can include a picture of the results.
– You can now display and hide the map in Highlights by pressing the -/Select button, and it also shows the name of the driver that the camera focuses on
– With Highlights of online races, it shows the player's Mii, nickname and country.
– You can display and hide the map and player's information when uploading a Highlight video to YouTube as well.
– Highlight videos uploaded to YouTube now have tags for the used parts (Vehicle, Wheels and Glider), and the time for Time Trials Highlights
– the skins of Yoshi and Shy Guy also have their own tags.
Additionally, here's a look at adjustments made to the Mario Kart TV website:
– There's now a "User Page", which has a link to the User's profile on Miiverse, Facebook/Twitter Share Buttons
– This page shows the user's Race Rating, Battle Rating, Favorite Tournaments and uploaded Highlights to YouTube.
– You can now check Tournaments details like Schedule, Rules, Entry Code, Description, Rankings and uploaded Highlights to YouTube related to the Tournament.
– view a list of all your Friends and see Friends Currently Online
– This shows if a Friend is connected and it specifies if they are playing Mario Kart 8.
Armillo's patch 1.1 has gone live in North America. As previously mentioned, it addresses frame rate issues and problems pertaining to 100 percent completion.
The wait for Armillo's patch in Europe will be a bit longer. Fuzzy Wuzzy Games will provide "updates on that build as they come."
Armillo v1.1 patch is out now for NA. This patch fixes various frame rate and 100% completion issues.

— Fuzzy Wuzzy Games (@FuzzyWuzzyGames) September 5, 2014
EU version has to wait a bit longer. We'll give you updates on that build as they come.

— Fuzzy Wuzzy Games (@FuzzyWuzzyGames) September 5, 2014
The 1.1 update for Armillo has been approved, and should be arriving in just a couple of days. The game's official Twitter account stated that the patch is expected on Friday.
Armillo Patch 1.1 for WiiU is approved for North America – Expected date on Eshop : Friday Sept 5 !

— ??????? (@ArmilloGame) September 3, 2014
Armillo patch 1.1 makes several improvements and addresses a few bugs. For a full overview as to what's included, check out this post.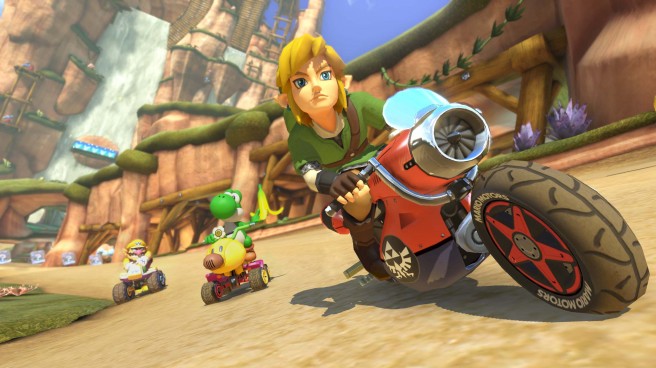 The latest Just a Chat is all about last week's reveal of the Mario Kart 8 DLC. There's also a tiny bit of talk thrown in about the possibility of DLC in Smash Bros. and the recent Mario Kart 8 update.
---
Sanuk Games has shared a little bit of additional information about the Bombing Bastards update.
As previously mentioned, the GamePad now emits sound. Sanuk has also improved the analog stick controls, a bug in battle mode has been fixed, and a frame rate issue in the Ice World boss stage has been addressed.
@JeGeekJePlay Hi, Gamepad sound is the main reason fro the update but other small points have been fixed: … (1/3)

— Sanuk Games (@sanukgames) August 31, 2014
@JeGeekJePlay Control with analog stick is improved (but we recommend using +Control Pad anyway); a bug with the Gamepad in battle … (2/3)

— Sanuk Games (@sanukgames) August 31, 2014
@JeGeekJePlay … mode has been fixed; A slow animation causing framerate drop in Ice World boss stage has been optimized (3/3).

— Sanuk Games (@sanukgames) August 31, 2014