Thanks to Ross M for the news tip!
[flashvideo file=http://www.nintendoeverything.com/wp-content/uploads/2009/11/nsmbwiicommercial1.flv /]
[flashvideo file=http://www.nintendoeverything.com/wp-content/uploads/2009/11/nsmbwiicommercial2.flv /]
JV Games Inc. is Pleased to Announce That Christmas Clix, Rated "E" for Everyone, Will be Available on WiiWareTM Dec 7th

Christmas doesn't have to be all work for Santa does it?
Santa's having some fun and wants you to play along too.
While Santa magically stacks the Christmas presents, it's your job to remove the presents and decorate the Christmas tree.

Christmas Clix is a casual family friendly game for the Nintendo Wii™ system.
Update to Classic Game Now Available for Popular Nintendo Handheld Download Service

San Mateo, Calif – Nov. 9, 2009 – Ready to Power-Up?! The epic multiplayer battle game, Bomberman Blitz, is available for download on Nintendo's DSiWare™ right now. Published by Hudson Entertainment, the North and South American subsidiary of HUDSON SOFT, Bomberman Blitz brings the classic Bomberman gameplay on-the-go to Nintendo's download service available on the Nintendo DSi™ System. Even new gamers can get in on the bombing fun with Bomberman Blitz training sessions that teach how to power-up, blast, and bomb away.

"Bomberman Blitz brings the classic game franchise, loved by gamers for more than 20 years, to an all-new level," said Mike Pepe, director of marketing at Hudson Entertainment. "Wi-Fi play will allow for 8-player multiplayer action, so gamers can blast each other from the far corners of the globe!"

– Called Wii de Ultrahand
– Ultrahand was a Nintendo toy which came out in 1966 – grab objects in the distance
– Wiimote/Nunchuck act as the Ultrahand's levels
– WiiWare game has players grabbing meat off a grill in the distance, put it on your plate
– If you drop any meat, the game will be over
– Combos, powerups (to increase grill heat) are in the game
– Can play alone or with another friend
– The competetive mode has players grabbing meat, the one with the most after 90 seconds wins
– Can take the other person's meat
– 50 Club Nintendo points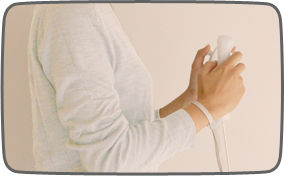 DSiWare
Bomberman Blitz – 49 blocks
Electroplankton Rec-Rec – 27 blocks
Electroplankton Beatnes – 24 blocks
Electroplankton Trapy – 23 blocks
Electroplankton Hanenbow – 22 blocks
Electroplankton Nanocarp – 21 blocks
WiiWare
Dragon Master Spell Caster – 253 blocks
Frogger Returns – 203 blocks
Excitebike: World Rally – 201 blocks
VC
Cybernoid – 36 blocks
Wonder Boy III: The Dragon's Trap – 26
Update: Here's a few more details from the folks over at ONM…
– Like pan pipes
– Summon special powers
– Select the notes by cycling through different colored pipes
– Have to find a guardian (Lokomo) before you enter each dungeon
– The Lokomos are the ones who will teach you songs
Link has played multiple instruments throughout his journeys such as the Ocarina of Time, Flute, and Wind Waker. But the Legend of Zelda: Spirit Tracks introduces a new one. Players will be required to use the Spirit Pipes in order to bring back the Spirit Tracks. The microphone are touch screen are used together, and as you would expect, you choose notes with the stylus and then blow into the microphone to actually play them. We'll have more information on the Spirit Pipes in the coming weeks.
Thanks to Kay for the news tip!
Late last week, voice actor Rikiya Koyama indicated on his blog that a Wii version of Tales of Vesperia would be happening. Hopes of seeing that happen will have to be put aside for now, however. Koyama confirmed today that he made a mistake. He mixed up Vesperia with Tales of Graces, which is coming out for Wii next month in Japan. It's still possible that we'll see Tales of Vesperia Wii down the road, but don't expect it for the foreseeable future.
2 1 WII FIT PLUS NINTENDO NINTENDO NINTENDO
3 2 FIFA 10 EA CANADA EA SPORTS ELECTRONIC ARTS
10 3 WII SPORTS RESORT NINTENDO NINTENDO NINTENDO
1 4 FOOTBALL MANAGER 2010 SPORTS INTERACTIVE SEGA SEGA
– 5 DRAGON AGE: ORIGINS BIOWARE EA GAMES ELECTRONIC ARTS
4 6 FORZA MOTORSPORT 3 TURN 10 STUDIOS MICROSOFT MICROSOFT
7 7 MARIO & SONIC AT OLYMPIC WINTER GAMES SEGA SEGA SEGA
6 8 GRAND THEFT AUTO EPISODES – LIBERTY CITY ROCKSTAR NORTH ROCKSTAR TAKE 2
5 9 PRO EVOLUTION SOCCER 2010 KONAMI DIGITAL ENTERTAINMENT KONAMI KONAMI
8 10 TEKKEN 6 NAMCO NAMCO BANDAI GAMES ATARI