As promised, High Voltage Software brought their Conduit 3DS project to the Game Developers Conference. Members of the press were able to see the game, and now we have some details about the title:
– Conduit 2 engine ported over to the 3DS
– Assets from Wii used on 3DS
– Numerous environments shown
– High Voltage in the experimental phase
– Move with the control pad
– Shoot with L
– Target, jump, weapon switching accomplished with the stylus or buttons
– Story hasn't been decided
– High Voltage would like to explore the Conduit universe further
– Could be a prequel which fills in the backstories of characters
– High Voltage experimenting with multiplayer possibilities


Heavy Fire: Black Arms will be released on March 7 – in other words, next Monday!


Sonic & Tales 2
Sonic Drift 2
The GG Shinobi
Dragon Crystal Shirani's Maze
Columns


PilotWings Resort (3DS) – April 14, ¥4,800
Battle & Get! Pokemon Typing DS (DS) – April 21, ¥5,800
Kirby (Wii) – 2011
Just Dance 2 (Wii) – 2011
GoldenEye 007 (Wii) – 2011
Super Mario (3DS) – TBA




This information comes from Epic's Mark Rein…
"Why do people keep asking about the platforms we don't love? Nothing's changed. There's only so much time in the day; our engine requires a certain level of hardware capabilities to make our pipeline, our tools work — and we work on the ones that do. The second Nintendo releases a piece of hardware that can run our engine well, we'll be on it like water on fish. There's nothing against Nintendo. I hate that people somehow think that's the case. If we felt it could run [Unreal Engine] and deliver the kind of experience people license our technology to build, we'd be on [the 3DS]."
Ah well… I think it's time to move on. We just won't be seeing any Epic Games titles for the 3DS in the future.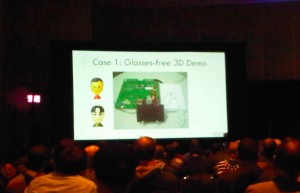 At Hideki Konno's GDC keynote earlier today, there was a demonstration featuring the long talked-about 3D Wii. Konno was able to adjust the 3D effect in a special version of Mario Kart Wii by controlling the nunchuck. Nothing's changed, however – ultimately, it's still a tech demo.


Believe it or not, Satoru Iwata wasn't the only Nintendo employee to take the stage at GDC today. Hideki Konno delivered a keynote titled "Development Process of Nintendo 3DS" a few hours to discuss the new handheld. There wasn't a whole lot of new information from the event, but you can check out some photos of the presentation above.




Although it seemed almost completely certain that The Legend of Zelda: Skyward Sword wouldn't arrive in the first-half of 2011, there's another reason to believe that it simply won't happen. Reggie Fils-Aime told Kotaku that more information will be shared about the title at E3. Also, because Nintendo announced a June release for Ocarina of Time 3D, there's no way that the company would ship another Zelda game so close. I'm willing to bet that we won't be seeing Skyward Sword until the holiday season at this point.