This information comes from a GamesTM interview…
"In the past five years I've been working on such unusual titles like Wii Fit Plus and Wii Sports Resort. Ten years ago I could never have been able to imagine that I would be making games like that. That's why I can say that the best is yet to come to me." – Shigeru Miyamoto
"Technology is always evolving and Nintendo, just like other companies, is going to integrate those technologies into our new products as they develop. Whether that be a Wii HD, Wii 2 or an entirely new console, I am not in a position to say at the moment. I think that in the next generation of hardware, the challenge is how unique and different a product Nintendo is able to make."
GamesTM mentioned that they'd love to see a new Star Fox title on Wii and Miyamoto said in response that he would as well. So, come on Miyamoto, make it happen!


**ROCK BAND MEDIA ALERT** SERJ TANKIAN, SMASH MOUTH AND THE USED IN THE ROCK BAND MUSIC STORE NEXT WEEK
Guildford, UK., – 9th April, 2010 – Harmonix and MTV Games today announced that six singles from artists Serj Tankian, Smash Mouth and The Used will be added next week to the Rock Band Music Store of downloadable content for the Xbox 360® video game and entertainment system from Microsoft, PlayStation®3 computer entertainment system and Wii™.

With more than 400 artists, including Jimi Hendrix, The Who, AC/DC and Green Day, who are exclusive to Rock Band, as well as 1,100 songs available through the Rock Band platform and 65 million songs sold through its download store alone, Rock Band is the undisputed sales and content leader in the interactive music space, providing the deepest and best selection of artists, songs and albums.


WiiWare:
Rakugaki ☆ Hero (800pts – Marvelous Entertainment)
Virtual Console:
Darius Twin (800pts Super Famicom – Taito)
DSiWare
Dōbutsuen o Tsukurū (800pts – Gameloft)


2010 FIFA World Cup South Africa (Wii) – 76%
Avalon Code (DS) – 77%
Car Jack Streets (DSiWare) – 76%
Castlevania: The Adventure Rebirth (WiiWare) – 81%
Dark Void Zero (DSiWare) – 85%
Dementium 2 (DS) – 84%
Dracula: Undead Awakening (DSiWare) – 63%
GTI Club: Supermini Festa! (Wii) – 50%
Mega Man 10 (WiiWare) – 90%
Military Madness: Nectaris (WiiWare) – 74%
Monster Hunter Tri (Wii) – 91%
No More Heroes 2: Desperate Struggle (Wii) – 87%
Photo Dojo (DSiWare) – 80%
Pinball Pulse: The Ancients Beckon (DSiWare) – 67%
Pop Island (DSiWare) – 76%
Red Steel 2 (Wii) – 86%
Scene It? Twilight (Wii) – 39%
Sin and Punishment: Star Successor (Wii) – 90%
WarioWare: D.I.Y. (DS) – 92%
Thanks to joclo for the news tip!


Note: Regarding the original title of this post, we were testing something with the site and ran into a small issue! Everything is fixed now, though.
Metro 2033: 9/10
Super Street Fighter IV: 9/10
Resonance of Fate: 6.75/10
Yakuza 3: 6.5/10
Splinter Cell Conviction: 9/10
Red Steel 2: 8/10
Cave Story: 8.75/10
3D Dot Game Heroes: 8.5/10
Command & Conquer 4: 7.75/10
The Settlers 7: 8.5/10
Pokemon HeartGold/SoulSilver: 8.5/10
Picross 3D: 9/10
WarioWare D.I.Y.: 8.5/10
Infinite Space: 8/10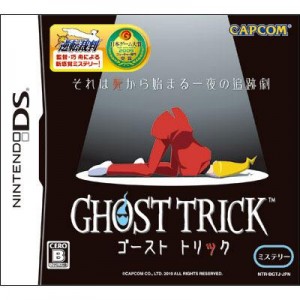 Level-5 CEO Akihiro Hino posted on his Twitter account recently that Famitsu will unveil the company's new game next week. Not too long ago, Hino stated that the project "will become an extremely anticipated" after it is announced. It's possible that the announcement will be a new Professor Layton game, or perhaps Sengoku Baseball Team, which was trademarked last month. Guesses aside, we'll find out what the hype is about in just a few days.


– Better graphics
– More 3D
– Change in the battle scene (ex: Shows entire back of Pokemon)
– HeartGold/SoulSilver Pokemon Center areas returning
– Ride a new type of vehicle
– Scans may hint at a car for transportation
– Shop in the Poke Center
– Characters seem to be speaking through speech bubbles
– More realistic towns
– "Evolution 3" (unclear what this means for now, not necessarily related to Pokemon evolving)


Splinter Cell Conviction – 8
Monster Hunter Tri – 8
Metro 2033 – 7
Zangeki No Reginleiv – 8
Greed Corp – 7
Red Steel 2 – 6
Super Street Fighter IV – 9
Command & Conquer 4: Tiberian Twilight – 6
Pokémon Heart Gold/Soul Silver – 9
Resonance of Fate – 7
Supreme Commander 2 – 7
Calling – 4
Dragon Age: Origins – Awakening – 8
Mega Man 10 – 8
Chime – 7
Shiren The Wanderer – 7


The folks over at Shin'en were kind enough to send us exclusive screenshots of Jett Rocket, in addition to a character render of Jett and the game's logo. That's right – You won't find these images anywhere else. We've posted the screenshots below, but you can also check out our recent interview with Shin'en as well as a teaser trailer we put up on the site earlier today.