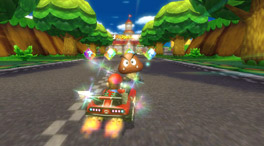 Course: Mario Circuit
Objective: Complete the race, take down the Goombas
Restriction: Karts only
Tournament date: 2/15 – 2/25


"From the start, the demo program was always planned to be available for a limited time on a trial basis. We're looking at our results and deciding our next steps." – Nintendo representative
Japan has already received a couple of new demos, so I don't see why North America and Europe shouldn't see some new ones as well. The first round of demos seemed to help sales of WiiWare games somewhat and I don't think anyone would say that introducing new ones would be a bad idea. Hopefully Nintendo will continue with the program soon.


PSP – 41,900
Wii – 34,400
DSi LL – 27,900
PS3 – 24,700
DSi – 18,700
DS Lite – 5,000
Xbox 360 – 3,400
PS2 – 2,000
PSP go – 1,700


1. Snake (Metal Gear Solid)
2. Mario
3. Cloud Strife (Final Fantasy VII)
4. Slimes (Dragon Quest)
5. Sora (Kingdom Hearts)
6. Link (Zelda)
7. Yuri Lowell (Tales of Vespersia)
8. Amaterasu (Okami)
9. Pikachu (Pokemon)
10. Sonic
11. Kazuma Kiryu (Yakuza)
12. Kirby
13. The Felynes (Monster Hunter)
14. Toro
15. Professor Layton
16. Yuna (Final Fantasy X)
17. Sakura (Sakura Wars)
18. Luigi
19. Tifa Lockheart (Final Fantasy VII)
20. Tidus from (Final Fantasy X)
21. Sephiroth (Final Fantasy VII)
22. Mega Man
23. Dante (DMC)
24. Aerith from (Final Fantasy VII)
25. Shiren (Mystery Dungeon)
26. Chocobo (Final Fantasy series)
27. Zidane (Final Fantasy IX)
28. Roxas (Kingdom Hearts)
29. Squall Leonhart (Final Fantasy VIII)
30. Ryu (Street Fighter)
31. Leon S. Kennedy (Resident Evil)
32. Vivi from (Final Fantasy IX)
33. Auron from (Final Fantasy X)
34. Lightning from Final Fantasy XIII
35. Bayonetta
36. Kuro
37. Zack (Final Fantasy VII)
38. Adol (Ys)
39. Chihaya Kisaragi (The Idolmaster)
40. Chris Redfield (Resident Evil)
41. Shantotto (Final Fantasy XI)
42. Raiden (Metal Gear Solid)
43. Ryu Hayabusa (Ninja Gaiden)
44. Locke (Final Fantasy VI)
45. Miku Hatsune
46. Nene Anegasaki (LovePlus)
47. Alena (Dragon Quest IV)
48. Yuffie Kisaragi (Final Fantasy VII)
49. Luke (Tales of the Abyss)
50. Rikku (Final Fantasy X)


– Called Inazuma Eleven 3: Challenge the World
– Releasing in Japan this summer
– Anime will continue to at least March 2011


Vienna, Austria, February 10th 2010

Bplus, independent software developer and creator of innovative WiiWare™ titles PLÄTTCHEN – twist 'n' paint, Niki – Rock 'n' Ball and Bit Boy!!, is happy to announce the forming of a partnership with Marvelous Entertainment Inc., one of Japan's leading video game publishing companies known for Wii™ hit titles such as No More Heroes™, Little Kings Story and Harvest Moon.

As a first step, Marvelous will bring the enhanced Japanese version of the funky retrorama WiiWare title Bit Boy!! with the new name Bit Man!! to the Japanese market as part of its upcoming World Game Parade.






Update 2: We now have some details about the Pokemon, courtesy of Serebii (thanks Chris J!). The details have been added below.
Update: The scans have been confirmed and we've added additional images to this post (thanks Arty!)
Remember that Pokemon silhouette we showed you a few days ago? Well, apparently it has been completely revealed. The images below are said to have come from CoroCoro. However, while they do look pretty real, I'm just a little bit skeptical since the pictures were actually posted on 2ch first. We'll keep you posted about the legitimacy of the scans.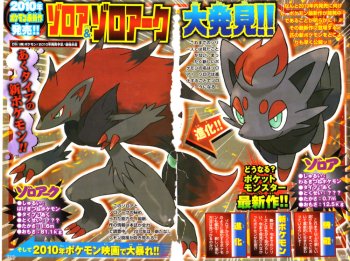 As you can probably tell, the image on the left is the Pokemon teased on Pokemon Sunday while the image on the right is supposed to be the Pokemon before evolving.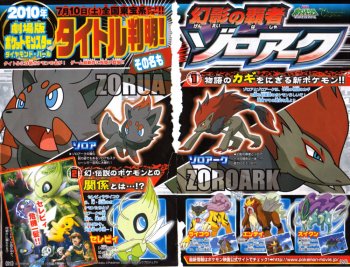 – Pre-evolution form called Zorua/Zoroa, dark-type Pokemon, Evil Fox Pokemon, .7 m tall, 12.5 kg
– Evolution form is Zoroark/Zoroaaku, dark-type Pokemon, Monster Fox Pokemon, 1.6m tall, 81.1kg
– More info from CoroCoro coming next month, will reveal Zorua/Zoroark's abilities
– 13th movie called Phantom Champion Zoroark


1. [PSP] God Eater
2. [DS] Dragon Quest VI
3. [PS3] Star Ocean: The Last Hope
4. [WII] New Super Mario Bros. Wii
5. [DS] Tomodachi Collection
6. [PS3] End of Eternity
7. [WII] Wii Fit Plus
8. [PSP] Kingdom Hearts: Birth By Sleep
9. [PSP] pop'n music portable
10. [WII] Wii Sports Resort