You may remember that we posted about the first few Protocol details back in March. Sarabasa Entertainment finally shared new information in the latest issue of Nintendo Power, which you can check out below.
– Plays on the cyberpunk conceit of a virtual 3D world
– Warringhackers run around like Quake marines, battle to obtain fields of hidden data
– "Data lanes" for each player
– The lanes change basic rules of how maps work
– Some lanes unlock teleporters to quickly hop across the stage
– Some lanes show hidden areas
– Other lane example: Change in gravity and coridors, "up" can be whatever you say it is
– Two-on-two matches locally
– Four-on-four matches online
– Class-based system in the Team Fortress tradition
– Choose from four classes
– Snipers can pick up the assassin kit, move around and killing their targets at long range
– Secondary fire mode for all weapons which go beyond simple point-and-shoot
– Heavy gunner's weapon tosses bouncing grenades
– One game type is similar to Counter-Strike's Demolition game
– Tag/assassin mode: One player obtains all weapons, needs to hold out as long as possible against everyone else
– Traditional deathmatches also available
– Communicate with allies with a set of basic controller shortcuts
– Releasing early next year


The chart below is based off of Famitsu data taken up to December 19, though the New Super Mario Bros. figure is based off of data up to December 26.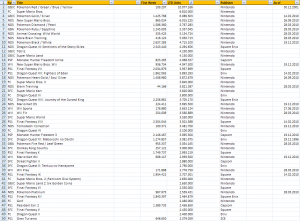 01. Pokémon Black / White 4,494,106
(4,494,106) DS Nintendo
02. New Super Mario Bros. Wii 4,043,637
(4,043,637) Wii Nintendo
03. Final Fantasy XIII 1,903,186
(1,903,186) PS3 Square Enix
04. Tomodachi Collection 1,708,575
(3,456,091) DS Nintendo
05. Dragon Quest VI: Realms of Revelation 1,339,352
(1,339,352) DS Square Enix
06. Wii Party 1,232,562
(1,232,562) Wii Nintendo
07. Dragon Quest Monsters: Joker 2 1,222,496
(1,222,496) DS Square Enix
08. Wii Fit Plus 1,132,500
(2,125,139) Wii Nintendo
09. Super Mario Galaxy 2 882,880
(882,880) Wii Nintendo
10. Inazuma Eleven 3: Challenge the World! Spark / Bomber 867,600
(867,600) DS Level 5
11. Metal Gear Solid: Peace Walker 810,089
(810,089) PSP Konami
12. Kingdom Hearts: Birth by Sleep 737,348
(767,348) PSP Square Enix
13. Pokémon HeartGold / SoulSilver 718,148
(3,808,535) DS Nintendo
14. The Legend of Zelda: Spirit Tracks 668,725
(668,725) DS Nintendo
15. God Eater 634,244
(634,244) PSP Namco Bandai
16. Super Mario All-Stars 25th Anniversary Edition 613,415
(613,415) Wii Nintendo
17. Wii Sports Resort 593,212
(1,989,124) Wii Nintendo
18. Phantasy Star Portable 2 589,837
(589,837) PSP Konami
19. Yakuza 4 574,951
(574,951) PS3 Sega
20. Fist of the North Star: Ken's Rage 548,032
(548,032) PS3 Tecmo Koei
21. Mario Kart Wii 527,257
(2,987,118) Wii Nintendo
22. Inazuma Eleven 2: The Threat of the Invaders Fire/Blizzard 510,208
(1,173,723) DS Level 5
23. Pokémon Ranger: Guardian of Light 487,619
(487,619) DS Nintendo
24. Monster Hunter Diary 483,736
(483,736) PSP Capcom
25. Monster Hunter Freedom Unite (PSP the Best) 480,319
(480,319) PSP Capcom
26. New Super Mario Bros. 435,424
(6,023,845) DS Nintendo
27. Gran Turismo 5 430,707
(430,707) PS3 Sony
28. Mobile Suit Gundam: Gundam vs. Gundam Next Plus 407,177
(407,177) PSP Namco Bandai
29. God Eater Burst 388,065
(388,065) PSP Namco Bandai
30. Sengoku Basara 3 385,302
(385,302) PS3 Capcom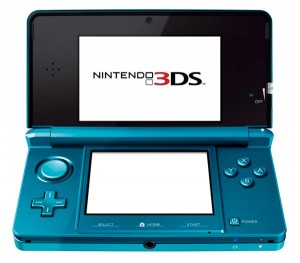 Right from the very beginning, Nintendo has been upfront about potential health concerns relating to the 3DS – particularly for children looking at the 3D graphics. Reggie Fils-Aime stated a few months back that Nintendo "will recommend that very young children not look at 3D images." Now we're starting to hear about warnings for those playing the handlheld once again. Nintendo shared the following information today:
– Quicker eye fatigue as a result of viewing 3D
– Some 3D software can cause eyes to become tired quicker than other software
– Nintendo recommends players take a break after 30 minutes of play
– "If your physical condition worsens or you become ill, please stop playing at once"
– 3D has different effects on different people
– 3D slider allows a wider group of people to enjoy the system
– 3D not recommended for children under the age of six as the vision of young children is still in developmental stages (like 3D movies and television)
– "Since the Nintendo 3DS can be changed to 2D to avoid any effects on young children's vision, it is possible for anyone to enjoy playing it"
– Once again, there will be parental controls for 3D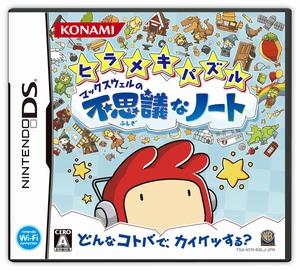 This information comes from Katsura Hashino, leader of the Persona team…
"Next year, we will be able to announce various titles, I think."
We know that a new Shin Megami Tensei: Persona title is in the works for the 3DS, so hopefully we'll hear more about that next year. That being said, the Persona team develops other games, such as Catherine for the PS3/Xbox 360. So, it's very possible that we'll hear about announcements outside of the Persona series.


Gran Turismo 5 – 9 – "Burdened by expectation, yet still a genuine great"
Disney Epic Mickey – 5 – "Poor mechanics mar a great premise"
Splatterhouse – 4 – "Proof that some retro games are buried for a reason"
Tron: Evolution – 2 – "Bland, unimaginative and poorly executed"
Dance Central – 7 – "A step in the right direction"
Golden Sun: Dark Dawn – 8 – "Worth the wait"
Kirby's Epic Yarn – 8 – "A purl of a platformer"
Kinectimals – 7 – "A glossy and fun showcase for Kinect"
Alien Breed 3: Descent – 7 – "A bold but nor brilliant conclusion"
Poker Night at the Inventory – 7 – "Funnier than any of your friends"
Tony Hawk: Shred – 4 – "A series in dire need of identity realignment"
FlingSmash – 6 – "A fun concept that's ultimately let down by its controls"
Create – 7 – "Just enough to justify the low price"
No Heroes Allowed! – 7 – "Overwhelmingly complex but hugly empowering"
Pac-Man Championship Edition DX – 8 – "An explosive reimagining of a modern classic"
Michael Jackson: The Experience – 2 – "More exploitation than experience"
Malicious – 8 – "Well worth seeking out"
Raving Rabbids Travel in Time – 6 – "The guiltiest of guilty pleasures"
Kinect Joy Ride – 4 – "A tech demo at best"
Need For Speed: Hot Pursuit – 8 – "The best online single-player game ever"


According to data collected from Enterbrain, New Super Mario Bros. has now surpassed the six million units sold landmark in Japan. Famitsu noted on its website that the title has sold 6,015,255 units as of December 26. Surprisingly, New Super Mario Bros. stands alone as the only DS game to reach this accomplishment.


Playable
Hideo Kojima's Metal Gear Solid Snake Eater 3D The Naked Sample (auto demo) (Konami)
Winning Eleven 3D Soccer (Konami)
Super Street Fighter IV 3D Edition (Capcom)
Resident Evil Revelations (Capcom)
Samurai Warriors Chronicle (Tecmo Koei)
Dead or Alive Dimensions (Tecmo Koei)
Ridge Racer 3D (Namco Bandai)
Professor Layton and the Miracle Mask (Level-5)
Nintendogs + Cats (Nintendo)
Kid Icarus (Nintendo)
Legend of Zelda Ocarina of Time 3D (Nintendo)
Steel Diver (Nintendo)
Pilot Wings Resort (Nintendo)
AR Games (Nintendo)
Nintendo 3DS Camera (Nintendo)