Videos
3-2-1, Rattle Battle! Info Video
Nintendo Week 9/14
Guitar Hero 5 Overview
Guitar Hero 5 Launch Video
Mario and Sonic at the Olympic Winter Games Snow Sports Video
Developer's Voice Scribblenauts
NHL 2K10 Hockey Moms TV spot
DSiWare Lineup 9/14 update
Spore Hero Arena Dangerous Missions!
Spectrobes: Origins Science Project Video
Dead Space Extraction BTS Overview Video
Resident Evil: The Darkside Chronicles Video 2
Naruto Shippuden: Ninja Destiny 2 Info Video
Mini Ninjas Kunoichi
A Boy and His Blob Info Video
Infinite Space Teaser 2
Jillian Michaels 2010 Info Video
Our House: Party! Info Video
Spaceball: Revolution Info Video
Texas Hold'em Poker Info Video
Mart Racer Info Video
Oscar in Toyland Info Video
Demos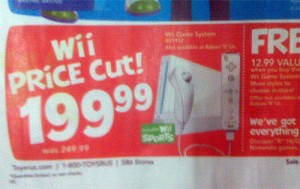 It seems as though Toys R Us has gotten in to the rumored Wii price drop action. An advanced circular sent to Kotaku shows that the console's price will be reduced to $199. And the good news is that Wii Sports will still be included in the box. Unsurprisingly, Nintendo said that the company "does not comment on rumors and speculation," but they'll have to make an announcement soon if the new price will take affect at the beginning of October.
What do you think about the Wii Price Cut? Leave a comment or discuss this in our forums!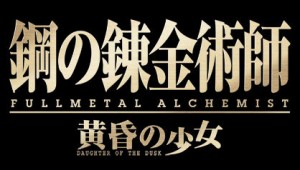 Even though Fullmetal Alchemist Prince of the Dawn launched in Japan only a few weeks ago, that isn't stopping Square Enix from announcing a sequel. Fullmetal Alchemist Daughter of the Dusk, like its predecessor, is in the works for Wii. There's not a whole lot of information at this point, but players can expect the story to builds off from the first game. Alchemist Daughter of the Dusk will be playable at TGS, so more details will most likely be shared not too long from now.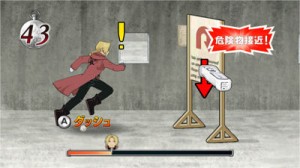 Attention UK Scribblenauts!

Do you know your eggplant from your aubergine? How about your binky from your dummy? You may think you know your pants from your trousers but if you find yourself in the US, you'd be going for a very different look…

Fear not mistaken pants-over-trouser-wearers, as Scribblenauts developer, 5th Cell, has gone out of its way to localise the UK release of Scribblenauts to include words specifically for the UK market.


The Wii™ console's Nintendo Channel is getting a makeover. On Sept. 14, the channel, which provides users with videos and information about current and upcoming Nintendo products, re-launches with a new look and feel. Some of the upgrades include higher-quality streaming videos, lists of top games that other viewers recommend and a new ability to rate and recommend Nintendo DS™ games.

Current features of the Nintendo Channel will remain, including Nintendo DS demo downloads and an extensive lineup of videos about Wii and Nintendo DS games.


"Kingdom Hearts has always been incredibly popular. As the first new release into the franchise for three years, pre-orders are already way in excess of typical DS product. The strength of the brand, quality of the product and the perfect timing in the approach to Christmas all set Kingdom Hearts up as a star performer for retail over the peak period." – UK sales director Doug Bone
Square Enix also says that there are plans for online advertising…
"We'll also run a series of carefully targeted promotions toward the late tween and early teen audiences. Our online advertising on launch will feature various takeovers and rich media video on a range of gaming and kids websites." – Square Enix senior product manager Adrian Arnese.




DSiWare
Art Academy: First Semester – 113 blocks
Oscar in Toyland – 37 blocks
WiiWare
–Mart Racer – 195 blocks
–Spaceball: Revolution – 315 blocks
–Texas Hold'em Poker – 308 blocks
VC
Crash 'N The Boyz: Street Challenge – 16 blocks