One of the Most Anticipated Music Video Game of 2009 to Include "Twist And Shout," "Sgt. Pepper's Lonely Hearts Club Band," "Revolution," "Yellow Submarine" and More
Guildford, UK – July 21, 2009 – MTV Games and Harmonix, the world's leading developer of music-based games and a part of Viacom's MTV Networks (NYSE: VIA, VIA.B), today revealed 15 more of the 45 on-disc tracks that will be featured in The Beatles™: Rock Band™. A gameplay trailer featuring eight of the 15 newly announced songs can be viewed by visiting www.thebeatlesrockband.com.

Following the world premiere of The Beatles: Rock Band at the Microsoft press briefing at the 2009 E3 Media & Business Summit last month, the newly announced 15 songs represent a cross-section of hits and favorites that span The Beatles' storied career from Can't Buy Me Love and Paperback Writer to With A Little Help From My Friends and Yellow Submarine, bringing the total number of announced songs to 25.


Thanks to Ross M for the news tip!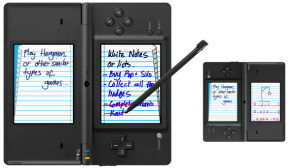 Nnooo said awhile back that they were working working on a series of applications for DSiWare. It looks as though that turned out to be myLifeCollected. The first tool that the company has pulled back the curtains on is myNotebook and the first details are below.
– 32 pages that you can draw on
– Can choose between squared/lined paper for each notebook
– Unlock 18 paper styles
– Press lined or squared icon to change paper type
– Choose from different tools to edit data with toolbar at the side of a page
– Can use either a pencil or pen thickness
– Option to clear a page/use eraser to remove portion of the page
– When you turn a page, the last pages are automatically saved
– After you reboot the app, it'll go to your last page


Recently, a few gamers came across a triforce that was embedded in a Google logo. Upon further inspection, however, the Zelda symbol could be detected in a majority of other atypical images that the company once used in honor of special holidays/events. If you were to look now though, it appears as though all traces of the triforce have vanished. So, there was obviously something there that Google picked up on and have since changed the logos slightly as far as we can tell.
You might be wondering, how do we even know that's a triforce? Well, the artist of the Google images, Susie Sahim, has a blog that certainly points to the use of the symbol in each of her pictures as a nod to the classic Nintendo franchise. A trio of Zelda drawings can be viewed on the website and there is also a picture of Ms. Sahim dressed in a Link costume. We obviously cannot say without absolute assurance that the design is in fact a triforce, but the chances are very high.


8BallAllstars comes to the Nintendo DS this summer
Northamptonshire, UK July 21st 2009 – Oxygen Games is pleased to announce the release of pool game 8BallAllstars for the Nintendo DS™ 7th August 2009.

This all new pool experience is set to be the ultimate pool gaming sensation, with a whole host of fun options, which allow players to play pool, how they like, where they like, whenever they like.

With a fully customizable feature set, which includes tables, avatars and rule editors 8BallAllstarts also offers multiple international rule sets, plus several single player and multiplayer modes.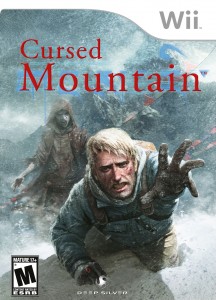 Hermosa Beach, Calif. – July 20, 2009 – Deep Silver Inc., a publisher of interactive entertainment software and a wholly-owned subsidiary of Koch Media, today unveiled the package cover for the exclusive Wii™ title Cursed Mountain.

"The cover really gives an impression of the horror and suspense that await the player in Cursed Mountain," comments Malte Wagener, brand manager Deep Silver, "It also will really stick out on the shelf."


– Again, FF Gaiden uses a turn-based menu, choose commands from panels on the touch screen
– Crown System in the game is the equivalent of the Job System
– Equip crowns to change character abilities
– 20 types of crowns
– Stats for characters are power, intellect, spirit, attack, defense, magic defense




SEGA had been teasing a new title via a "jackpot" website but the wait is finally over. The company revealed today a new Monkey Ball title for Wii – Super Monkey Ball Step & Roll. The title has been rumored to be heading to Nintendo's console for a long while, although now we have an official confirmation.

"AiAi and all his friends are stepping onto the Wii Balance Board™ in an all-new party game for the Wii™. Super Monkey Ball Step & Roll brings back everything you love about Super Monkey Ball and promises plenty of new surprises around every turn. Get ready for the next level of monkey madness as Super Monkey Ball Step & Roll rolls into your living rooms this Winter!"