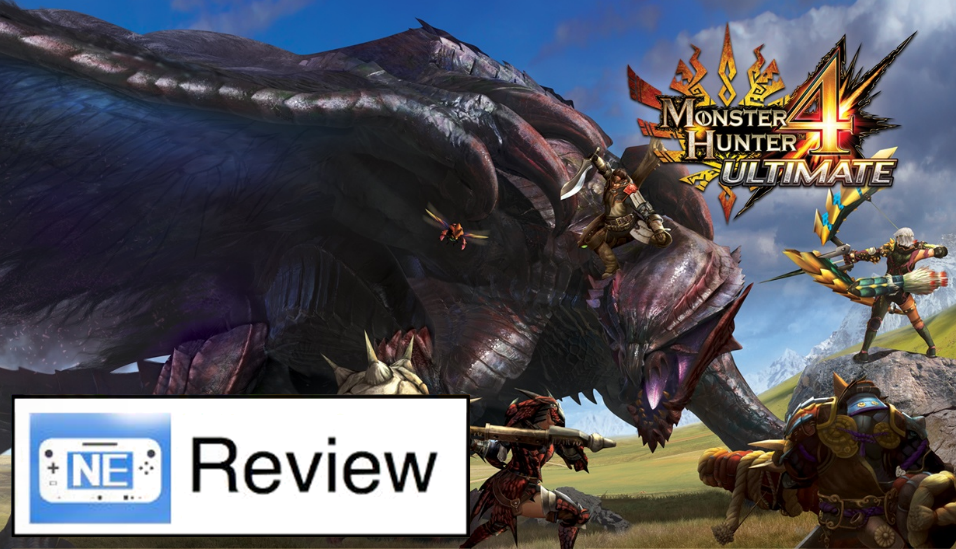 ---
"Of course, I thanked my friend. Manners are the finest dessert, as we in Yukuko say."
System: Nintendo 3DS
Release Date: February 13th, 2015
Developer: Capcom
Publisher: Capcom
---
Author: Austin
Monster Hunter, from outside the cult of its supporters, looks awfully intimidating doesn't it? Just the phrases that come to mind when people bring it up– "gear grind", "brutally difficult", "extremely inaccessible", "clunky", "time sink"– don't exactly do the series any favors in the eyes of newcomers, so it hardly comes as a revelation that the appeal of its extremely nuanced and strategic real-time combat system has remained limited outside of Japan. Something about that country seems to give them a higher tolerance for this sort of thing.
Nevertheless, Capcom seems to be enchanted with the idea of Monster Hunter's ubiquity in the west, and so we've arrived on the doorstep of Monster Hunter 4's release on 3DS.
\\\
Perhaps the most important thing to understand about Monster Hunter 4 up front is that it exists unapologetically; it's easy to feel some sort of fundamental inspiration driving all of this game's decisions. From the clunky (though, the word "nuanced" truly does fit it more appropriately) controls in combat to the feline-laced aesthetic, this game knows what it wants to be and it does not sully itself with watered-down mechanics or simplify itself for the sake of more instant appeal. It's not for everyone, and it doesn't try to be.
That being said: Monster Hunter 4 Ultimate is easily as approachable as this idea has ever been.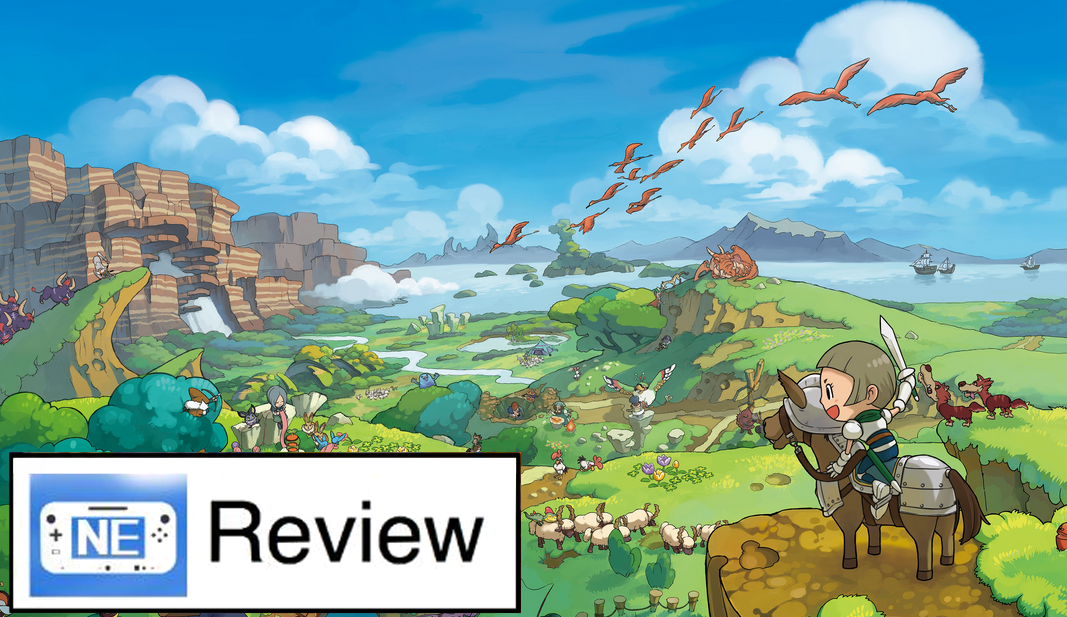 System: Nintendo 3DS
Release Date: October 24th, 2014 (NA) September 26/27, 2014 (EU/AU)
Developer: Level 5, 1-UP Studio
Publisher: Nintendo
---
Author: Austin
Paper Skyrim.
The defining feature of Nintendo's Paper Mario series is, undoubtedly, its warmth. Characters and locales that are at once unbelievable and entirely lovable, supported by music that makes you forget you're not a kid anymore, all tied together by a simple but enjoyable story of saving the kingdom from certain doom.
The defining feature of Bethesda's Elder Scrolls series is, undoubtedly, its scope. Hundreds of quests, hundreds of hours, and a seemingly endless amount of trivial– but altogether enjoyable– gameplay to partake in.
Fantasy Life isn't perfectly described as a combination of these two philosophies, but thinking of it in those terms would give you a fair idea of what to expect if you opted into this Level 5 adventure. It's a tempting concept, after all: What if you could live in the world you just saved for as long as you like? What if you never had to leave those characters and locations behind after the credits had receded above the top screen of your 3DS? The possibility of harnessing the emotional weight that an adventurous tale lends to a world and then channeling it into an endless farming game (not just farming of course, but you follow) is an intriguing domain that would seemingly take a considerable amount of work to map and conquer. But Level 5 decided to grab their best cartographers and venture into the unknown, and thus Fantasy Life has burst forth onto the 3DS, covered with bruises and a few broken bones, but with a completed map of that intriguing domain nonetheless in tow.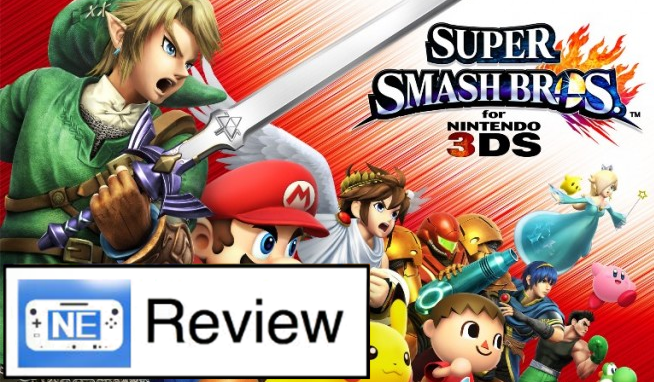 System: Nintendo 3DS (what a shock)
Release Date: October 3, 2014
Developer: Sora Ltd/Bandai Namco Games
Publisher: Nintendo
---
Author: Patrick
The long-awaited fourth entry in Nintendo's crazy crossover series is finally out, but it finds itself on a curious platform – the 3DS. A multiplayer fighting game is a strange fit for the portable console, but this new instalment retains the addictive style of fighting and throws in a few new ways to battle. Even on the 3DS, the frenetic pace of previous entries is still present (to an extent – this ain't Melee) and Smash is still very much an experience accessible to both newcomers and seasoned players, with plenty of weird Nintendo references, of course. As a sequel, the game promises more of everything: more characters, more items, more assist trophies, more stuff to collect… the problem is that in some cases Smash on the 3DS feels like a lesser game than the ones that've come before it. Make no mistake, the game is still an incredibly enjoyable time, especially with a few friends, but the series makes the jump to the 3DS with a couple of compromises.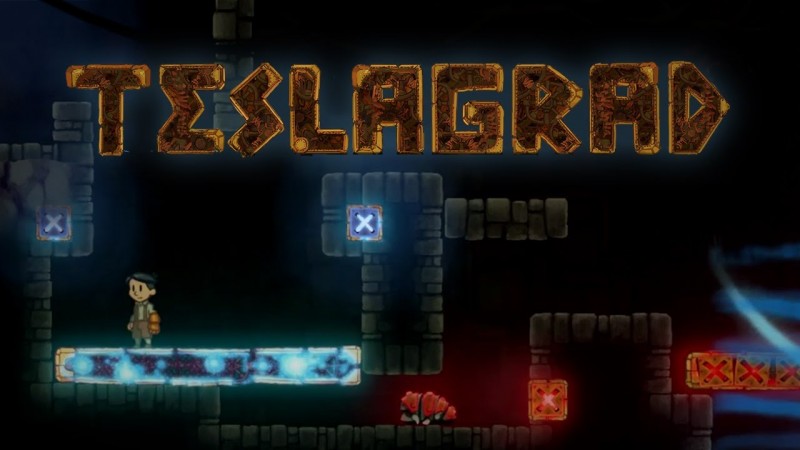 System: Nintendo Wii U
Release Date: September 11th, 2014
Developer: Rain Games
Publisher: Rain Games
---
Author: Vincent
"Magnetizing and satisfying"
In a market filled to the brim with 2D platformers, it's hard to stand out from the crowd; it seems as if, unless your character is sporting some overly familiar overalls and a fancy brown mustache, you'll never be noticed. Those odds didn't stop newly-made studio Rain Games from taking a shot in the dark with Teslagrad, a platformer that uses unique storytelling and gameplay to rise above the rest. But does this all blend together to create an experience worth checking out, or is it better left alone?
As soon as you start up the game, you're presented with the opening menu showing the main character's father carrying a baby walking through a dark town. Once you hit Start Game, it makes the seamless transition into gameplay where he hands off the baby to the mother. Time goes by and the town you live in becomes overrun, forcing your mother to let you out the back door as you take control over the now grown up young boy. You run through the town amidst a rainstorm as soldiers chase you down, and you climb atop buildings and through alleyways to escape, all leading up to the young protagonist taking shelter in an abandoned tower, which he then discovers has more than meets the eye.
Now, this isn't all spoon-fed to you with numerous boxes of texts or someone yelling in your ear telling you what the soldiers names are. The game instead chose to feature no text or full on voice acting throughout the five hour adventure. All you have is the ambient soundtrack and character grunts to accompany you throughout your journey as you have the world around you unfold and tell the story little by little.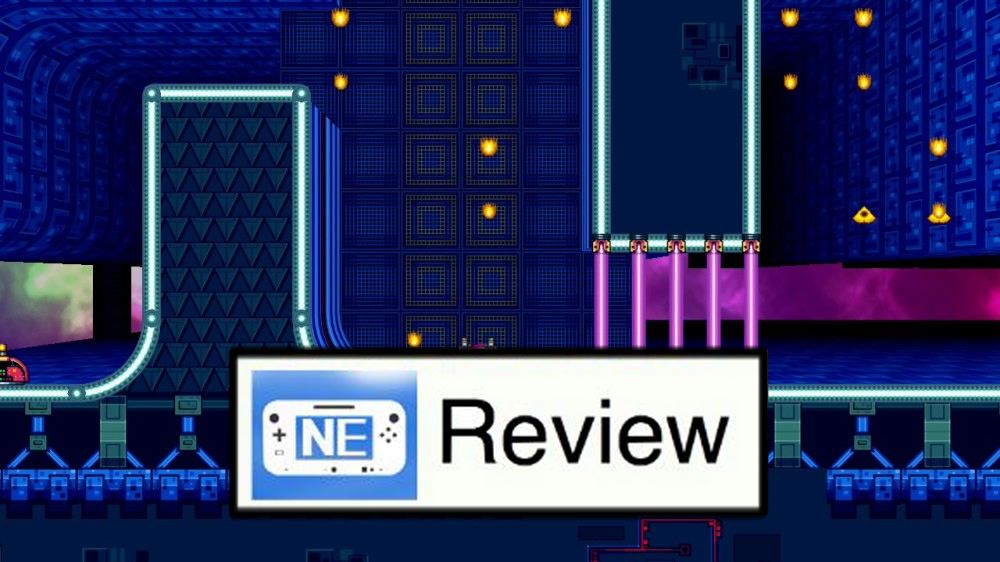 System: Nintendo Wii U
Release Date: May 15th, 2013 (NA, EU)
Developer: Dakko Dakko
Publisher: Dakko Dakko
---
Author: Jack
I hate it when people label things incorrectly. It makes me very sad and upset. I can't tell you how much compound irritation I've had to repress when, say, someone would write the wrong name down on an online order at work and offer me the duty of rectifying the situation over the phone with Mrs. Jihnson and her missing mail-order appliance, or when a past roommate not-to-be-named would intentionally label the cat food 'dog food' just to try to make me sick the next day.
This is why I possess such a vitriol for relatively new Welsh developer Dakko Dakko and their latest attempt at capturing the burgeoning Wii U indie scene (think Mutant Mudds, Cloudberry Kingdom, and all of the other titles I've referenced way too much in writing and on the podcast), Scram Kitty and his Buddy on Rails, a 2D shooter with strong open-world platforming elements. The 'On Rails' signifier at the end there implies imprison-y, limited bounds and pointed, one-dimensional gameplay design, whereas Scram Kitty, in its comparative sense of freedom to the recent litany of top-notch platformers we've seen reach the eShop, feels anything but. Scram Kitty, though confusing in name, scratches an itch not satiated fully by its contemporaries on the platform. By not being as singularly masterful in its level design elements as, say, VVVVVV or Mighty Switch Force!, Scram Kitty feels a little less uptight and neo-retro, yet crucially still achieves the same level of "old-school hardcore" as those luminaries do. I will not use any cat puns in this review.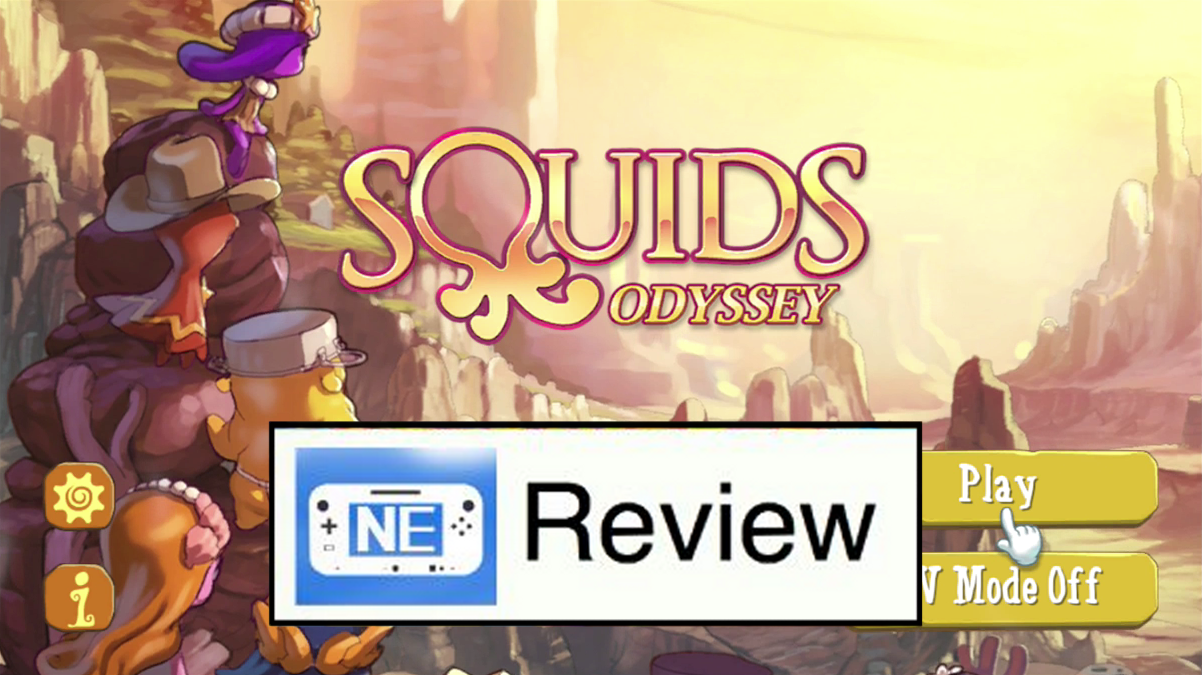 System: Nintendo Wii U
Release Date: May 22nd, 2014 (NA/EU)
Developer: The Game Bakers
---
Author: Austin
Almost three thousand years ago, a shy fellow (I don't know if he was shy) named Homer lived in Greece, and he wrote two really famous epic poems: The first– The Illiad— is thought to be the oldest surviving piece of western literature ever. The second– The Odyssey— is just as famous, and this week, nearly three millennia after its initial writing, The Game Bakers have created a work directly inspired by the work of Homer for the Wii U eShop. It's called Squids Odyssey.
Most of what is written in the paragraph above isn't true. Squids Odyssey does exist, but it's not a game based around Homer's Odyssey— no, it's a creative and unique turn-based strategy game set far beneath the surface of the ocean that's unfortunately marred by a lack of technical polish and attention. Still, it may be worth your time; read on for details.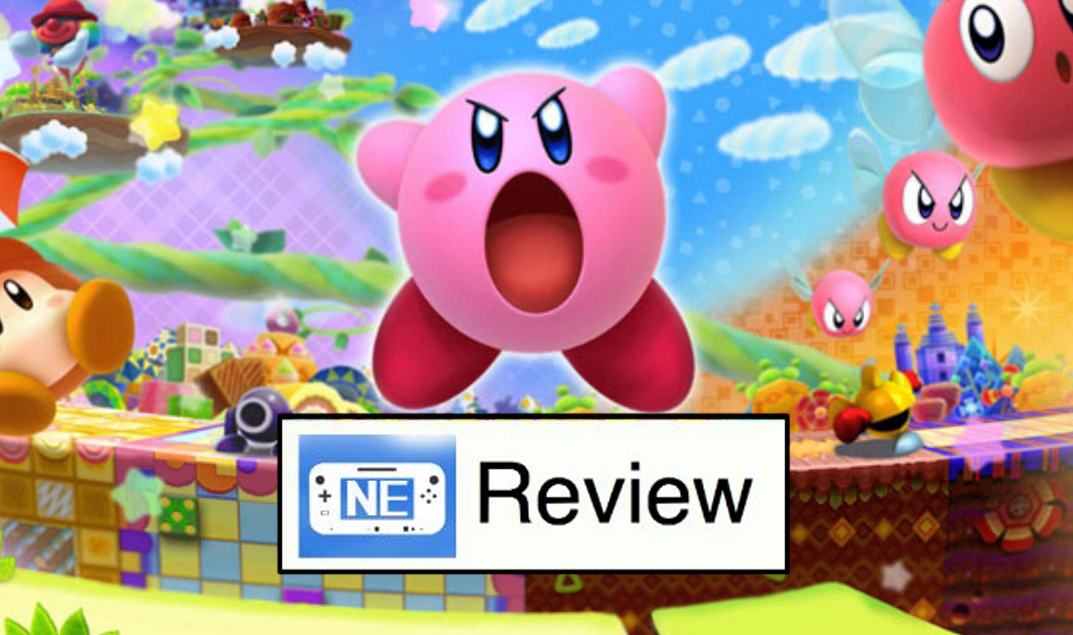 System: Nintendo 3DS
Release Date: May 2nd, 2014 (NA), May 16th, 2014 (EU)
Developer: HAL Laboratory
Publisher: Nintendo
---
Author: Spencer
Everyone's favorite pink puff has finally returned in his first adventure on the Nintendo 3DS, Kirby: Triple Deluxe.
Out of the box, Triple Deluxe consists of three gameplay modes: Story Mode, Kirby Fighters, and Dedede's Drum Dash. The Story Mode is straightforward: Dreamland is in danger, and it's up to Kirby to save the day. This time, a mysterious new villain has uprooted Kirby's home with massive magical vines and sent everything sky-high! Players navigate Kirby through many levels in seven worlds as he makes his ascent to the top of the menacing entanglement.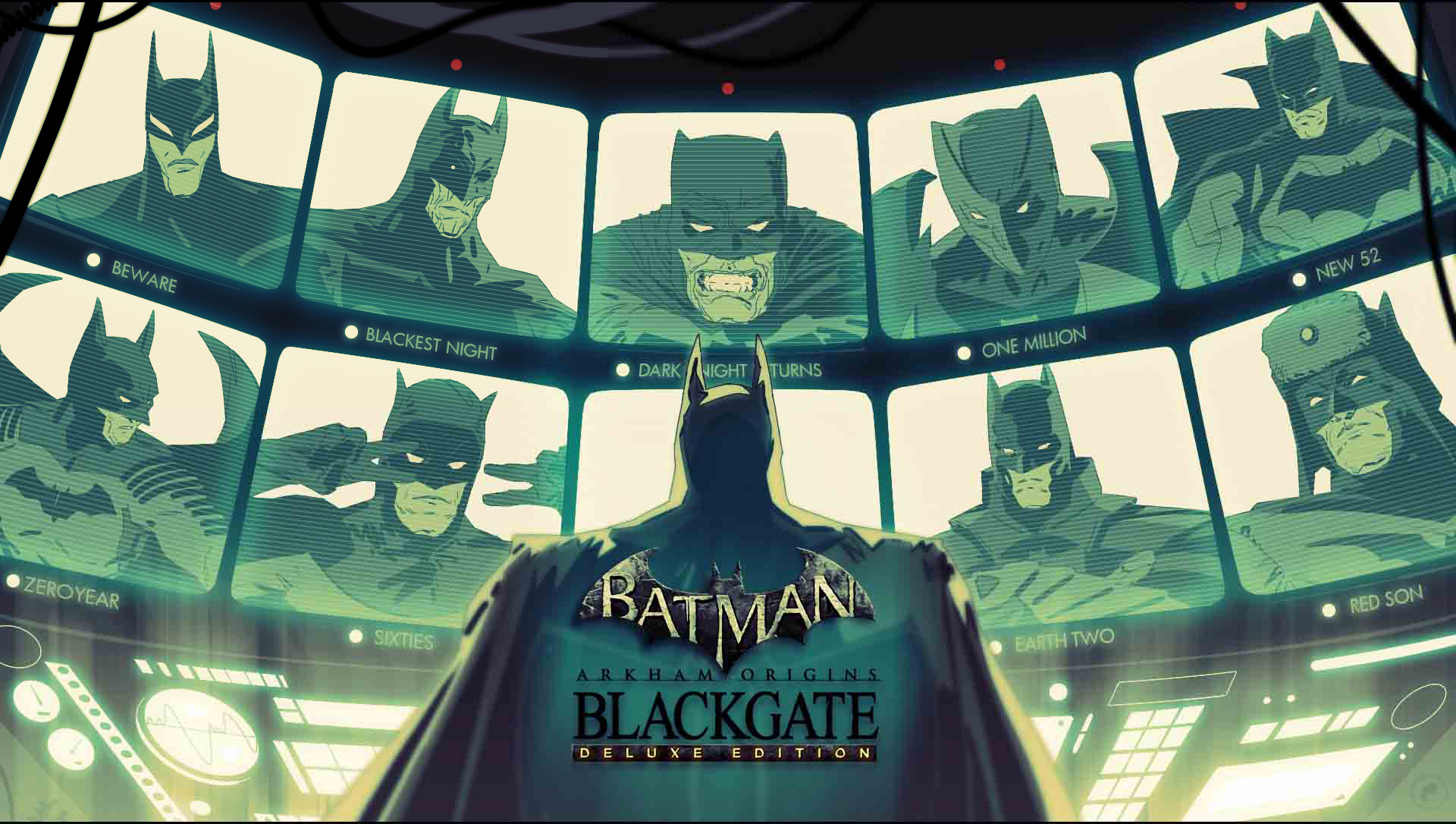 System: Wii U
Release Date: April 3rd, 2014
Developer: Armature Studios
Publisher: Warner Bros. Interactive
---
Author: Jack
Think prison life's bad? Having been there twice already, let me tell you, it's worse than what the movies and books would have you think. Imagine having to shape your masticatory and gastrovascular secretionary actions around predetermined intervals of time throughout the day, with no exceptions. Imagine a life devoid of privacy in being forced to share a toilet bowl in a confined space with a burly ex-construction worker named Red. Now, with that gruesome reality in mind, picture being in a prison taken over by three maniacal super-convicts bent on causing mayhem and destruction upon their escape. Seems like just enough to drive you over the deep end, right? Well, in Batman: Arkham Origins Blackgate — Deluxe Edition for Wii U, you, the player, as the eponymous Batman, find yourself in that very peculiar predicament.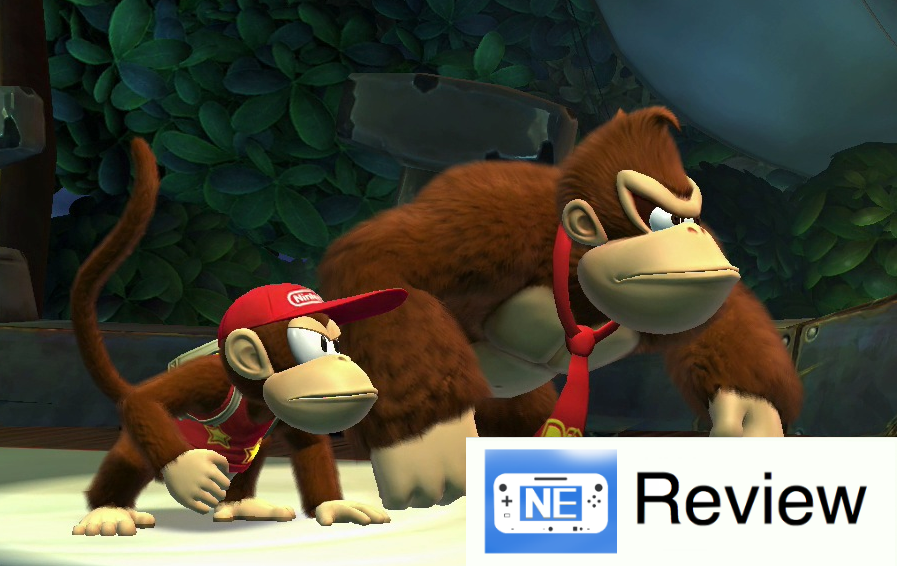 System: Nintendo Wii U
Release Date: February 21st, 2014
Developer: Retro Studios
Publisher: Nintendo
Review transcript after the break: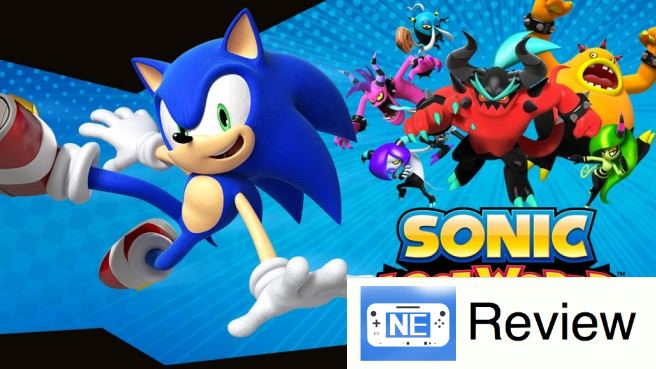 System: Nintendo Wii U
Release Date: October 29, 2013 (NA) – October 18, 2013 (EU)
Developer: Sonic Team
Publisher: Nintendo/SEGA
---
Author: Jack
In a normative sense, Sonic as a platforming archetype ultimately aims to achieve one goal: create a constant chain of ephemeral pleasure via the utilization of perceived velocity the controllable gameplay object reaches in gameplay. While such a vision, an expanded AudioSurf if you will, perennially begets hedonistic intrigue, that seemingly one-dimensional objective for some dang reason hasn't really ever come to fruition for Sonic Team over the past few console lifespans. A definite, tangible goal as such seems easy enough to reach, right?
Unfortunately, a granular obstacle to that simple speedy sentiment exists prohibiting fulfillment of that thought: the more the design team over at Sonic Team's vision rides off in all directions (Sonic Unleashed's Werehog levels being a prime example) as opposed to finding one meaning around which Sonic should revolve, the more plodding and forgetful each subsequent entry in the series gets. How can one ever hope to solve that ever-nagging dilemma?