Mizuho Securities is predicting that Capcom will announce a new entry in the Monster Hunter franchise at the Tokyo Game Show next month. The company raised its target stock price for Capcom from ¥2,200 to ¥2,600 as a result of their expectation. We've heard rumors of a Monster Hunter 3DS title, so you have to wonder if that'll end up coming true.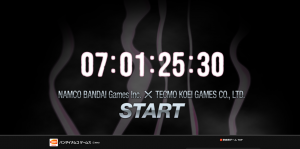 Namco Bandai and Tecmo Koei are collaborating on a new project. The two companies opened a teaser site today that is set to expire in just a week's time. The game, whatever it may be, will likely be appearing at the Tokyo Game Show early next month.
You can access the site here.






Okay, so I admit it. I completely and utterly admit that I was unequivocally wrong about Xenoblade Chronicles. If you missed my rant a few weeks ago, I went on a binge talking about how there's a good reason why games like this never sell in America, so we should stop whining and get over it. One of my points was that (despite rave Famitsu scores) the games would end up getting mediocre reviews upon arrival in the west, and fade away into obscurity some months later as "those games that everyone wanted and no one bought."


An official release date for Aliens: Infestation was confirmed at PAX today. The title will ship on October 11 in the US and September 30 in Europe.
If you're looking for a well-crafted, retro experience, Aliens: Infestation is the game for you. WayForward knows how to make excellent 2D adventures, so I'm sure this title will live up to expectations.


Videos
Nintendo Week 8/25
Star Fox 64 3D TV Spot
Jerry Rice & Nitus Teaser Video
Disney Universe Announcement Trailer
Shinobi Announcement Trailer
Michael Jackson The Experience 3DS Trailer
Solatorobo Trailer
Disney Universe Wall-E Trailer
Jerry Rice & Nitus Webisode 1
Disney Universe E3 Trailer
Let's Create! Pottery Trailer
Magical Whip Trailer
Calculator Info Video


Have you purchased Go! Go! Kokopolo yet? Hopefully you've at least considered it, as it's already become of DSiWare's hidden gems.
For fans of the game out there, there's good news. TANUKII, the developer behind the title, is already thinking about creating a 3DS enhanced port:
"Yep, I really wanna develop a 3DS enhanced port (with all new levels though, not a straight port – a sequel more like). It's certainly something in the pipeline…I think a few new characters are waiting to be introduce into the world of Kokopolo too!"


Almost a year after its release, Disney Editions will be releasing an art book for Epic Mickey in October. The 160-page book, titled The Art of Epic Mickey, "will journey through the beautifully dark and twisted world known as Cartoon Wasteland touching on the creative process behind developing this once-in-a-lifetime vision." It goes on sale on October 4.
Here's Amazon's official description of the product:
"The Art of Epic Mickey will be a 160-page hardcover landscape coffee table book. It will be written by Epic Mickey co-writer Austin Grossman and will feature a forward by Game Director and New York Times contributor, Warren Spector. The book will journey through the beautifully dark and twisted world known as Cartoon Wasteland touching on the creative process behind developing this once-in-a-lifetime vision. It will include, sketches, concept art, final frames, and stills from the actual game, plus, never-before-used art with quotes from the team that envisioned this epic tale. The physical world of the game is born directly from Disneyland, and accordingly, the book will spotlight the artistic influence that Disneyland, with its iconic qualities and rides, had on the creators of Epic Mickey."


01./03. [WII] Rhythm Heaven (Nintendo) {2011.07.21} (¥5.800) – 48.190 / 374.489 (-24%)
02./01. [PSP] Monster Hunter Diary: Pokapoka Felyne G (Capcom) {2011.08.10} (¥3.990) – 40.997 / 139.265 (-58%)
03./04. [NDS] Kirby Mass Attack (Nintendo) {2011.08.04} (¥3.800) – 35.235 / 162.323 (-32%)
04./00. [PS3] Hyperdimension Neptunia mk2 # (Compile Heart) {2011.08.18} (¥7.329) – 32.751 / NEW
05./02. [3DS] Pokemon Rumble Blast (Pokemon Co.) {2011.08.11} (¥4.800) – 32.144 / 118.437 (-63%)
06./00. [PSP] Growlanser IV: Over Reloaded (Atlus Co.) {2011.08.18} (¥6.279) – 21.896 / NEW
07./06. [3DS] The Legend of Zelda: Ocarina of Time 3D (Nintendo) {2011.06.16} (¥4.800) – 21.465 / 335.540 (-32%)
08./09. [WII] Wii Sports Resort with Remote Plus (Nintendo) {2010.11.11} (¥5.800) – 20.969 / 502.326 (+2%)
09./07. [PSP] J-League Pro Soccer Club! 7: Euro + (Sega) {2011.08.04} (¥6.279) – 17.727 / 149.040 (-41%)
10./08. [PSP] Toriko: Gourmet Survival (Bandai Namco) {2011.08.04} (¥5.229) – 17.521 / 108.550 (-38%)
11./05. [PSP] Uta no Prince-Sama: Repeat (Broccoli) {2011.08.11} (¥5.040) – 16.311 / 48.491 (-49%)
12./13. [PSP] Taiko Drum Master Portable DX (Bandai Namco) {2011.07.14} (¥5.229) – 12.107 / 179.027 (-15%)
13./00. [PSP] Amnesia # (Idea Factory) {2011.08.18} (¥6.090) – 11.841 / NEW
14./12. [3DS] Nintendogs + Cats: French Bulldog / Shiba / Toy Poodle & New Friends (Nintendo) {2011.02.26} (¥4.800) – 11.690 / 283.562 (-23%)
15./00. [PSP] Bunmei Haruka: Aoiza Ibunroku (FuRyu) {2011.08.18} (¥6.090) – 11.462 / NEW
16./10. [WII] Epic Mickey (Nintendo) {2011.08.04} (¥5.800) – 10.970 / 53.763 (-29%)
17./11. [NDS] All Kamen Rider: Rider Generation (Bandai Namco) {2011.08.04} (¥5.040) – 10.035 / 77.913 (-34%)
18./16. [PSP] Jikkyou Powerful Pro Baseball 2011 (Konami) {2011.07.14} (¥5.250) – 10.016 / 151.910 (-8%)
19./17. [WII] Inazuma Eleven Strikers (Level 5) {2011.07.16} (¥5.980) – 9.891 / 162.565 (-7%)
20./19. [NDS] Pokemon Black / White (Pokemon Co.) {2010.09.18} (¥4.800) – 9.413 / 5.286.915 (-7%)