OverClocked ReMix today released its 14th project album, Final Fantasy IV: Echoes of Betrayal, Light of Redemption. The album consists of forty-six arrangements of composer Nobuo Uematsu's original score to the Square Enix game Final Fantasy 1V.

The album is available for free download at http://ff4.ocremix.org.

Echoes of Betrayal, Light of Redemption is not affiliated with or endorsed by Square Enix.

More than thirty-three artists participated in honoring Uematsu in this all-encompassing project which contains of over three hours of music. The three-disc project follows three acts; Betrayal, Strife, and Redemption. The discs correspond with the drama of the story and the tracks are arranged as a narrative, culminating in the two-part finale of act three. The musical style of the project is best classified as a rock opera, but a variety of genres are represented in the album, enhancing the breadth of the original score.


FIFA Soccer 10 (DS) – E
Marvel Super Hero Squad (Wii) – E10+
Smart Boy's Gameroom II (DS) – E
Smart Kid's Mega Game Mix (DS) – E
Sushi Academy (DS) – E
Valhalla Knights: Eldar Saga (Wii) – T
Muramasa: The Demon Blade (Wii) – T
Mahjong Journey – Quest for Tikal (DS) – E
Family Card Games (Wii) – E
Harvest Moon: Sunshine Islands (DS) – E
Hooked Again: Real Motion Fishing (Wii) – E
Disney Sing It: Pop Hits (Wii) – E
Moto Racer DS (DS) – E
Uno (Wii) – E
Stunt Cars (Wii) – E
Spore Hero (Wii) – E10+
Deep Captor (Wii) – T
Dreamer: Zoo Keeper (DS) – E
Cruise Ship Vacation Games (Wii) – E
Cabela's Big Game Hunter 2010 (Wii) – T
Family Feud 2010 Edition (DS) – E
Ghost Mansion Party (Wii) – E
The Price Is Right 2010 Edition (DS) – E


No one can deny that Dragon Quest IX has gotten off to a tremendous start in Japan. In just two days, 2.3 million copies of the game were sold. Additionally, shipment numbers have already exceeded 3 million. With these facts in mind, it's no surprise that Square Enix President Yoichi Wada is expecting large total shipments. According to Wada, the four player wireless mode in Dragon Quest IX may attract an expanded audience.
"We expect Dragon Quest IX's shipments to reach more than five million, and expect it to bring life to the game market as a whole."


WiiWare
Final Fantasy IV: The After Years
VC
Final Fantasy III
Rolling Thunder
DSiWare
Simple DS Series Volume 1: Escape from Behind Closed Doors


Wii
WII EA SPORTS ACTIVE BUNDLE 289,083
WII FIT W/ BALANCE BOARD 271,556
WII TIGER WOODS PGA TOUR 10 MOTION PLUS BUNDLE 204,899
WII MARIO KART W/ WHEEL 202,137
WII PUNCH OUT!! 148,754
WII PLAY W/ REMOTE 146,149
WII THE CONDUIT 71,913
WII GHOSTBUSTERS: THE VIDEO GAME 71,899
WII TIGER WOODS PGA TOUR 10 67,523
WII LEGO STAR WARS: COMPLETE SAGA 60,000
WII GRAND SLAM TENNIS 54,379
WII LINK'S CROSSBOW TRAINING W/ ZAPPER 47,619
WII BOOM BLOX BASH PARTY 47,288
WII SUPER SMASH BROS: BRAWL 44,098
WII INDIANA JONES AND THE STAFF OF KINGS 40,042
WII UP 39,194
WII LEGO INDIANA JONES: THE ORIGINAL ADVENTURES 38,528
WII STAR WARS: THE FORCE UNLEASHED 36,627
WII GUITAR HERO: SMASH HITS 35,827
WII LEGO BATMAN 32,817
WII TRANSFORMERS: REVENGE OF THE FALLEN 30,895
WII MARIO PARTY 8 29,341
WII GOLD'S GYM CARDIO WORKOUT 27,595
WII MY SIMS RACING 26,683
WII CALL OF DUTY: WORLD AT WAR 26,563
WII ROCK BAND 2 SPECIAL ED 26,158
WII MAJOR LEAGUE BASEBALL 2K9 26,081
WII NEW PLAY CONTROL! MARIO POWER TENNIS 26,019
WII SUPER MARIO GALAXY 24,114
WII GUITAR HERO WORLD TOUR W/BAND KIT 22,453
WII GUITAR HERO METALLICA 21,581
WII MARIO SUPER SLUGGERS 21,537
WII DECA SPORTS 21,030
WII MY FITNESS COACH 20,342
DS
NDS POKEMON PLATINUM VERSION 175,978
NDS MARIO KART DS 132,499
NDS THE LEGENDARY STARFY 122,745
NDS NEW SUPER MARIO BROS 118,161
NDS UP 93,265
NDS LEGO STAR WARS: COMPLETE SAGA 62,192
NDS LEGO BATTLES 56,424
NDS TRANSFORMERS: REVENGE OF THE FALLEN – AUTOBOTS 54,477
NDS GARDENING MAMA 53,136
NDS MARIO PARTY 51,303
NDS SUPER MARIO 64 DS 51,010
NDS COOKING MAMA 45,578
NDS MY SIMS RACING 43,249
NDS LEGO BATMAN 42,704
NDS BRAIN AGE 2: MORE TRAINING IN MINUTES A DAY 42,447
NDS RHYTHM HEAVEN 41,345
NDS LEGO INDIANA JONES: THE ORIGINAL ADVENTURES 39,316
NDS KIRBY SUPER STAR ULTRA 36,889
NDS PROFESSOR LAYTON AND THE CURIOUS VILLAGE 35,220
NDS TRANSFORMERS: REVENGE OF THE FALLEN – DECEPTICONS 33,175
NDS BRAIN AGE: TRAIN YOUR BRAIN IN MINUTES A DAY 32,379
NDS IMAGINE: BOUTIQUE OWNER 32,343
NDS CARNIVAL GAMES 32,256
NDS CLUB PENGUIN: ELITE PENGUIN FORCE 32,224
NDS GHOSTBUSTERS: THE VIDEO GAME 29,059
NDS PAWS & CLAWS: PAMPERED PETS 28,014
NDS KNIGHTS IN THE NIGHTMARE 27,049
NDS COOKING MAMA 2: DINNER WITH FRIENDS 26,662
NDS MARIO AND SONIC: OLYMPIC GAMES 25,336
NDS CALL OF DUTY 4: MODERN WARFARE 25,170
NDS SHIN MEGAMI TENSEI: DEVIL SURVIVOR 24,997
NDS GRAND THEFT AUTO: CHINATOWN WARS 24,146
NDS MY BABY GIRL 23,950
NDS NARUTO SHIPPUDEN: NINJA COUNCIL 4 23,049
NDS POKEMON RANGER: SHADOWS OF ALMIA 22,868
NDS CLUBHOUSE GAMES 22,493
NDS MYSTERY CASE FILES: MILLIONHEIR 22,160
NDS X-MEN ORIGINS: WOLVERINE 21,723
NDS HANNAH MONTANA: THE MOVIE 21,436
NDS PETZ FASHION: DOGZ & CATZ 20,590
NDS YU-GI-OH! 5D'S STARDUST ACCELERATOR 20,564
NDS HELLO KITTY: BIG CITY DREAMS 20,484




SAN FRANCISCO – Today Ubisoft and CBS Consumer Products announced an all-new video game based on the world's number one television franchise CSI: Crime Scene Investigation. In CSI: Crime Scene Investigation(TM): Deadly Intent, players help solve Las Vegas' most gruesome crimes with the brand new characters and cast from the latest season of CSI: Crime Scene Investigation. The video game features five shocking cases written with CSI: Crime Scene Investigation television writers and the game will be available in Fall 2009 for the Wii system from Nintendo, Nintendo DS(TM) system, the Xbox 360 video game and entertainment system from Microsoft and PC.

Exclusive features to CSI: Deadly Intent – The Hidden Cases for the Nintendo DS system let players solve additional bizarre cases through an enhanced questioning system and game mechanics with unique touch gameplay. Players will feel like a real CSI character with heart-pounding interrogations, stylish visuals and a unique story structure that unveils the shocking truth when all the cases are linked together.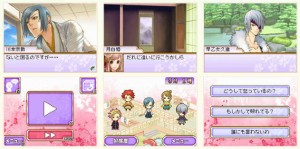 – DSiWare download has two scenarios from Yahoo! Keitai with additional visuals
– Target 10 guys (5 per scenario) for affection
– Go through a branching story as well
– Multiple endings
– 800 points


Capcom is back- bigger and better than ever- at San Diego's Comic-Con next week. We can't believe it's already been a year since we were there sporting red head bands and hosting Street Fighter IV tournaments with the coolest gaming fans on the planet. Now it's time for Capcom to do it all over again at San Diego Comic-Con 2009.

There will be tournaments, our Japanese game developers and the hottest gaming line-up of 2009! We promise that Capcom's event will be absolutely insane and totally worth stopping by!

With the show only a week away, here's a break down of what Capcom has to offer. Read it and weep kids!