Metal Gear Solid: Peace Walker (PSP) – 10/10/10/10
Katekyoo Hitman Reborn! DS Fate of Heat III – Yuki no Shugomono Raishuu! (DS) – 6/6/6/5
Super Street Fighter IV (PS3/Xbox 360) – 9/9/9/8
Splinter Cell: Conviction (360) -8/9/8/8
Rooms (DS) – 7/7/7/8


The DS has sold incredibly well in Japan since it was released in 2004. That doesn't mean that gamers are necessarily anticipating Nintendo's next handheld, however.
1,059 people provided some responses in a goo Research poll and more than 42% of them said that they have purchased a DS. But when 702 of the participants were asked about the 3DS, only 8.8 percent indicated that they "want to buy" it. 55.8 percent, while interested in the system, stated that they do not plan on purchasing it for now and the remaining 35.3 percent just aren't interested in the system at all.
What about you guys? Are you waiting to hear more about the 3DS before you really consider picking up the handheld? Or are you already convinced that you'll be buying it when it comes out?


"I think a Wii version could happen. It's all about the fans – if the fans speak up and continue to buy and play the second one like they did the first one, I don't see why we couldn't make a case for a Wii version." Scribblenauts creative director Jeremiah Slaczka
I would be completely in support of a Wii version of Scribblenauts! I think the game would lend itself really well to the IR pointer, and think of how many items you could hold on a Wii disk!


Nintendo is always on the lookout for pirates, and just last week they shut down a Japanese game store for advertising that they sold R4 cards. Once again Nintendo is trying to fight pirates by revealing that (according to them) a 50% drop in European game sales is due to people using flash cards and such to illegally obtain games. Apparently Nintendo loses trillions of yen every year from pirates, and have also discovered 238 million cases of software pirating in just June of last year.
I'm not sure if I'd believe that there was a 50% drop due to just piracy alone, but I guess Nintendo probably knows more on the subject than I do!




– 4 big, connected 'worlds', Metroid-like. Some puzzles, exploration.
– 3 main stages to progress into the story: forest, cave and jelly
– Gameplay depends on the stage: more shooting, more platforming, etc.
– The fourth one takes place inside the robot and you won't control him. Find the other creatures (see them on the screenshots) and use them. Each one has different abilities and you need them to unlock every path inside the robot.
– Following one path or another, Robox habilities will evolve in different ways (not yet revealed)
– NES style controls: jump, shoot and use abilities (8 in total).
– Wiimote movements to do other things. Jump and move downwards to squash.
– Many checkpoints because the game is actually hard. Your live bar can take 3 shots.
– 6 hours without exploration and evolution, but this game is deep.
– Development is almost completed. Testing stage.
Thanks to Sergio F for the news tip!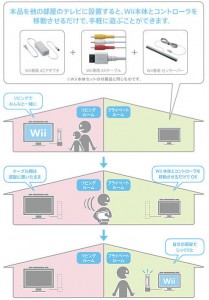 – Allows you to move between rooms easily, keep things plugged in
– AC adapter, AV cable, sensor bar and stand in the package
– 4,200 yen
– Can be purchased online through Nintendo


– Chibiterasu is Amaterasu's child
– One button for attacks
– Can use Celestial Brush with L or R
– Press X to make Kumi go off Chibiterasu's back
– New areas, also has same settings from first game, new buildings
– Many demon enemies from the first game are back as well as new ones
– More than 20 hours of gameplay


"I should clarify for you that I don't consider it a sequel so much as a spiritual successor. I think the team is just happy to be involved in an ?kami project, and for them the joy of being involved in an ?kami project is greater than any pressure or stress they might feel to make this game good. In fact, I think being able to to work on this motivates them further, and spurs them on to try to make something good, and they want to make the best game they can on the DS."- ?kamiden producer Motoshide Eshiro
There are in a sense two brands of Okami, according to Eshiro, and he is interested in keeping them "seperate." There's the brand on the Wii/PS2 and then another one for the DS. I wonder if this means that there's a chance of a "true" Okami sequel hitting consoles in the future.