WiiWare:
Minna de Tobikome! Penguin Diving Fu-pa-ru-pa (Agenda, 500pts)
F.O.R.T.U.N.E: Hoshi no furisosokgu Oka [Fortune: Star-shower Hill] (Cybird, 1000pts)
Animal Life: Doubutsu Furiai seikatsu [Animal Life: Animal Considerate Lifestyle] (Hudson, 500pts + DLC)

DSiWare
DSiWare 200:
G.G Series: Z-One (Genterprise)
G.G Series: Wonderland (Genterprise)
DSiWare 500:
Asoberu Ehon: Mind Ten [Play Picturebook: Mind Ten] (Nintendo)
Saigyou Ginsei: Igo [Strongest Silver-star: Go] (Silver Star Japan)




Update: Info straight from a local Toys R Us indicates that the game must be purchased before 5PM in order to obtain the promotion, and gift cards do not start working until 6 hours after they are received.
Toys R Us
Tuesday only – Free $15 gift card when you purchase Scribblenauts




Looks like the ESRB has leaked information about a new Castlevania title for Wii, which will contain classic 2D goodness. We are making an assumption that this is heading to WiiWare, however. Considering Contra ReBirth is a downloadable title, I'd say this title has a strong chance of following a similar path.
Castlevania the Adventure ReBirth
Platform: Wii
Rating: Teen
Content descriptors: Animated Blood, Fantasy Violence
Rating summary: This is a side-scrolling action game in which players battle against monsters in Dracula's castle. Players use a chained whip to fight their way through halls and dungeons filled with zombies, skeletons, flying eyeballs, and bats. The enemy creatures frequently shoot projectiles and attack players in hand-to-hand combat. If players sustain too much damage, they keel over and emit a burst of red blood. Some rooms in the castle also have spikes or spears stained with red, blood-like splotches.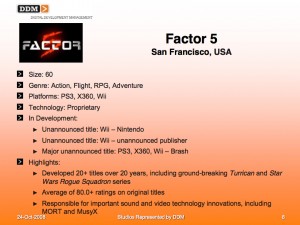 Factor 5, in the minds of many Wii owners, will most likely always be remembered for their rumored involvement with the revival of Kid Icarus. Yet in the past few months, the possibility that the company has been working on a new Pilotwings game has seemed more likely. There's a bit of additional speculation about Factor 5 today, though.
Factor 5 is said to have been working on two Wii projects most recently. And apparently, development on both games will be wrapped up by year's end. Only one of the titles has a publisher right now, however.
There's also one other piece of interesting news. Although it's almost a year old, two Wii-exclusive projects were found in an October 2008 listing of a client record from Digital Development Management. Even more intriguing is that Nintendo was listed as the publisher of one of the unannounced titles. As far as the genre goes, it's action, flight, RPG, or adventure. Perhaps that Nintendo-published game may have been referring to a Pilotwings for Wii.






This comes from Nintendo's Denise Kaigler, when asked about whether or not there will be a Media Summit in North America later this year…
"…We don't have any last-minute megaton surprises to announce. And we've tried to be pretty good about giving media (and consumers!) opportunities to get hands-on time with our games. They were featured at the E3 Expo and then again this past weekend at PAX, where we showed off upcoming games like New Super Mario Bros. Wii, The Legend of Zelda: Spirit Tracks and Mario & Luigi: Bowser's Inside Story. For the first time we also showed off a new WiiWare Pokémon game called Pokémon Rumble.
…So while we're not planning to do another big summit for all media this year, I think it's safe to say we're giving both consumers and writers like you ample opportunities to check out the games they want to see in advance of the holidays. Additionally, remember that in the past we have held a variety of consumer-sampling activities around the holidays. Your readers should be on the lookout for future opportunities to get their hands on the newest Nintendo titles, though there's nothing specific I can share with you just now."
I suppose this response isn't all that surprising. Nintendo already has big guns in store for the holiday season in New Super Mario Bros. Wii and Wii Fit Plus. However, if Nintendo plans on hosting an annual conference in October – even if there's only one in Japan – I'd expect at least one surprise.



What is The Last Story, you ask? We actually don't know, and probably won't know, until Nintendo makes some sort of announcement. Interestingly, practically all trademarks registered by Nintendo in Japan are almost always in Japanese. However, Glory of Hercules was one of the few instances in which the trademark was registered in English. Perhaps Nintendo will be looking to release The Last Story internationally, similar to Glory of Hercules.