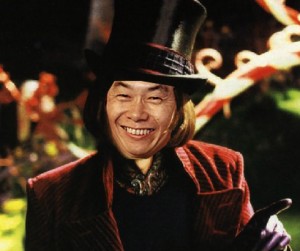 Nintendo has rested on its laurels in the past, with new iterations from their core franchises ranging from Mario to Pikmin. But apparently, the company a different title of sorts in development…With Shigeru Miyamoto at the helm. IGN's Matt Casamassina has brought yet another teaser/rumor to the table – Perhaps relating to a project that Nintendo will unveil at E3.
"I think Nintendo's master designer has some new concoction brewing at the chocolate factory. Not just franchise sequels, but something completely out there…Hopefully it doesn't turn us purple."
Consider this a rumor for now, but it looks as though something (presumably) interesting could be on the way and Miyamoto may be "up to something" as Casamassina has stated.


This was just sent my way and I thought I should share it with you guys!

"On June 5th the group of gamers that I represent, The Returners, are hosting a 48 hour Super Smash Bros. marathon to raise money for the Multiple Myeloma Research Foundation. Information can be found at http://returnersgaming.blogspot.com and if you have any questions please, do not hesitate to ask. We hope that you can help us in spreading the word of this event to as many people as possible to help us in reaching our donation goals. We will also be hosting events in July and August and hope for your support then as well."
Thanks to Steve for the news tip!


Videos
Virtual Console shows off all 300 games!
Punch-Out!! Little Mac
Punch-Out!! Doc Louis
Punch-Out!! Launch Trailer
Developer's Tournament 2 – Punch-Out!!
My Slice of Rhythm Heaven #1
EA Sports Active – Bob Greene Resolutions
Cursed Mountain Video 3
Wacky World of Sports Info Video
Crystal Defenders R2 Info Video
Drama Queens Info Video
Digest Video
Demos (Expire 5/24)
Personal Trainer: Cooking Mac & Cheese Demo
Naruto Shippuden: Ninja Council 4
Knights in the Nightmare Tutorial Demo
Puffins: Island Adventure
Up


"Yes, it's coming to Europe. That's all I can say for the moment." – Senior Online Marketing and Community Manager, Europe
So this is pretty good news all around! Both North American and European Wii owners will have an opportunity to purchase the game.


Daisy Fuentes Pilates™ Brings Popular Mind-Body Regime into Homes, with Individualized Coaching and Self-Monitoring, in English and Spanish

SAN FRANCISCO (May 19, 2009) – SEGA® of America, Inc. today announced Daisy Fuentes Pilates, the first Pilates workout program for the Wii™. Set at a lush tropical resort and hosted by Daisy Fuentes, longtime Pilates icon and star of the entertainment industry, the title supports the Wii Balance Board™. Created in partnership with Interactive Game Group, Daisy Fuentes Pilates features customizable workouts, fitness tracking real-time coaching and interactive feedback.

Daisy Fuentes Pilates, the first self-titled Pilates endeavor, goes beyond the one-way, static workouts of traditional DVDs using the Wii's controls to monitor movements and offer instant feedback, ensuring proper body motion so players get the most from every Pilates session. Players stay on track following the integrated, on-screen "timing bar" as well as the real-time feedback from Daisy Fuentes herself, whose voice guides the exercises. Players will be able to choose between English and Spanish.


Tony Hawk: RIDE Set to Redefine Gaming by Offering Unparalleled Hands-Free Gaming Experience

SANTA MONICA, Calif., May 18 /PRNewswire-FirstCall/ — This fall players will be able to experience skateboarding like never before in Tony Hawk: RIDE from Activision Publishing, Inc. (Nasdaq: ATVI). For the first time, players will have the ability to physically play the game using an innovative motion sensing skateboard controller, allowing for unprecedented freedom and movement. Tony Hawk: RIDE focuses on innovation and fun, bringing the #1 best-selling action-sports franchise to the forefront with cutting-edge technology for the hardcore fans and accessibility for the mass audience.

"Tony Hawk: RIDE is a massive step forward for the franchise and the gaming industry as a whole," said Rob Kostich, head of marketing, global brand management, Activision Publishing, Inc. "The skateboard controller will redefine sports games by offering players a true skateboarding experience, hands-free, playing with friends and family at home or online in a variety of different locations."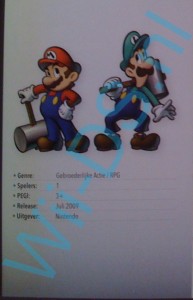 In due time, Mario and Luigi RPG 3 will almost certainly launch in all territories. Until Nintendo shares release date information, however, gamers are left to speculate as to when the game will become available. Two different sources are claiming that the game has been given a tentative scheduled ship date in Europe for July. Website Wii-DS seems to confirm this information based on a promotional booklet, but it'd be best to wait until E3 before believing this rumor.


Even with a few early scans that had been leaked regarding Tatsunoko vs. Capcom's North American release, there were some doubts that remained simply because Capcom hadn't confirmed anything themselves. But today, the company has not only reassured gamers that the game is heading overseas, but also revealed that the title was one of their surprises for E3 this year. More details and and an announcement will be available in the coming weeks. Tatsunoko vs. Capcom: Ultimate All Stars will also be at Capcom's booth this year.


FRANZ FERDINAND, GRATEFUL DEAD, THE ALLMAN BROTHERS BAND AMONG NEW ROCK TRACKS TO HIT THE WiiTM ROCK BAND® MUSIC STORE

Cambridge, Mass. – May 18, 2009 – Harmonix and MTV Games today announced an onslaught of rock coming this week to the Rock Band® Music Store catalogue of downloadable content for Wii™ system, with 25 new tracks, including six songs from the eclectic and legendary Grateful Dead. This week's music update also includes songs from The Knack, Coheed & Cambria, the B-52s, Buzzcocks, The Runaways, T-Rex, At the Gates, Evile and The Haunted. Wii Rock Band 2 owners will also gain access to tracks recently released to other gaming consoles, including Franz Ferdinand, The Allman Brothers Band, The Distillers, Prong, Luscious Jackson and Alien Ant Farm.

Wii fans can expect a rollout of previously released downloadable Rock Band content until the entire back catalogue of more than 670 songs is available.