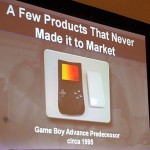 The image above is a concept for a Game Boy Advance predecessor from 1995. Compared to the DSi, you can tell that it was rather large. Design Director Masato Kuwahara, at GDC last night, said, "There's no way you're fitting that thing in your pocket. You would be shocked to see how big that device was." Other issues plagued the prototype including the graphics engine performance problems.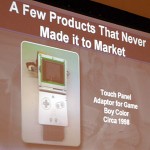 This was another prototype Kuwahara revealed. It is a touch-screen adapter for the Game Boy Color, though the software development team did not think highly of it because the LCD screen lacked a backlight. Miyamoto was interested in the adapter when used on the GBA SP yet it was never released. Still, Kuwahara believes that his prototype "led to the appearance of the Nintendo DS."




– Called Kimi to Boku to Rittai
– 1000 points
– Published by Nintendo
– Developed by fyto
– Translates roughly to You, Me, and Shape
– Have a stack of cubes want to position human-like characters "Ninge" onto them
– Cubes respond to weight
– Everything controlled with Wii remote
– Shake Wiimote up and down to add Ninge
– Point + press "A" to toss Ninge at location
– Can toss two Ninge at a time
– No word on North American release yet


Wii Menu 4.0 includes the following:
* The Wii console can now use SDHC (SD High Capacity) Cards with a maximum of 32GB of storage.
* The SD Card Menu, which allows you to launch titles directly from an SD or SDHC Card, is added to the Wii menu (more info).
* The Wii Shop Channel will now allow you to download titles directly to an SD or SDHC Card.
* The Wii console's Data Management menu has been enhanced to make it easier to copy and move stored items on an SD Card or the Wii console's system memory.
* The Wii User Agreement, which includes the Wii Privacy Policy, has been updated. Because the updated agreement applies to you and your use of the Wii Network Service, you should view the updated version by clicking on the Wii icon located on the lower-left portion of the Wii Channel menu, selecting Wii Settings, accessing the Internet setting, and selecting User Agreements.
* There are other behind-the-scenes enhancements to the Wii console system menu included with Wii Menu 4.0


Reggie Fils-Aime, President of Nintendo of America, finally took a few moments to answer questions relating to Wii MotionPlus. He has commented on the release date of Wii MotionPlus and spoke on how Wii MotionPlus' capability "is far in excess" than what Nintendo had demonstrated at E3.
"We haven't announced the full spring line-up… And it feels like winter in Seattle right now…You know we don't comment on rumor and speculation [Grand Slam Tennis/MotionPlus bundle]…The status of Motion Plus is consistent with what we talked about at E3. "Wii Sports Resort" looks great. I've played it…I played it two weeks ago. It looks phenomenal…[Better than it was at E3]…The level of full motion capability is far in excess of what we showed at E3."


Assault
Burning Force
Cosmo Gang the Puzzle
Cosmo Gang the Video
Cyber Sled
Dragon Buster
Dragon Saber
Dragon Spirit
Finest Hour
Galaga 88
Hopping Mappy
Knuckleheads
Mabael Land
Mappy
Numan Atheletics
Pacmania
Pehlios
Rolling Thunder
Samurai Ghost
Shadow Land
Sky Kid
Splatterhouse
Starblade
Tower of Druaga
Wonder Momo
Xevious


Best New Debut: LittleBigPlanet
Beating out Braid, Sins of a Solar Empire, World of Goo and Soul Bubbles
Best Audio: Dead Space
Beating out L4D, MGS4, Gears of War 2
Best Game Design: LittleBigPlanet
Beating out Fallout 3, L4D, Braid and Far Cry 2
Best Downloadable Game: World of Goo
Beating out Braid, N+, PixelJunk Eden, Castle Crashers


Deep Silver, the games label of Koch Media, a leading producer and distributor of digital entertainment products, announced that "Secret Files 2 – Puritas Cordis" is on its way into production. So players can look forward to May 8th when the game will be released for PC, Wii and Nintendo DS.

About "Secret Files 2 – Puritas Cordis":

Volcanic eruptions, earthquakes, tsunamis… the world is on the brink of disaster. By the time Nina Kalenkow realizes that the recent catastrophes were caused not by nature, but by an unscrupulous secret society known as Puritas Cordis, it is almost too late.