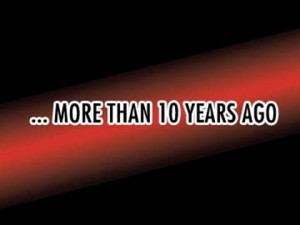 Nintendo (PR) has sent out this image in a very brief email. There was no content in the body and the subject of the email read, "The Legacy Began…"






ESRB description below…
Platform: Wii
Rating: Everyone
Content descriptors: No Descriptors
Rating summary: This is a rock climbing game in which players must climb up various formations within a time limit. Players navigate rocks and walls by grabbing onto divots and edges and positioning themselves to ensure they do not fall off.
Thanks to Boof for the news tip.


"There was an era when Nintendo was going in the direction of doing the same things other companies did. The more we competed with new companies entering the market, the more we started acting similar to them. But is being number one in that competition the same as being number one with the general public? That's the question we had. Entertainment is something that you have to look at the world with a very wide eye as you create it. I always thought that, but there were a few years where I was unable to get off other people's trends. It was a dilemma in my mind.
I was endlessly fascinated with 3D worlds, but what with all the issues I had to tinker with in terms of rendering and processing speed, it got to the point where I didn't know who was making the games any longer.
This is a job where you have a plan and you polish it endlessly while getting help from others. If Nintendo's games fail to stand out as games that aren't made that way proliferate, then it shows that the creation process is for nothing, which made me very sad. That was especially obvious during the GameCube era; Nintendo titles were hardly even discussed by the [non-gaming] general public back then." – Shigeru Miyamoto
The GameCube era wasn't actually too terrible in terms of quality content and innovation. Chibi Robo, Geist, and Pikmin were all created during that the console's lifecycle. In terms of originality, we haven't seen too many cult classics from Nintendo like we did during the GameCube era.


– Level-5 head Akihiro Hino: "The series wrapped up its trilogy with Professor Layton and the Last Time Travel, so there was a bit of resistance to making yet another new title. However, we received word from a lot of gamers during development asking if this was really the end, and that was all the inspiration we needed to create a new trilogy, a 'second season' of Layton."
– Professor Layton dropped by a enigmatic town covered in fog
– Town home to a legend of a great giant – menaces countryside when flute is played
– Luke and Remi Altava play important roles in the legend
– Altava is a female colleague of Professor Layton – meet her for the first time in this game


VC
1 (1) – Super Mario Bros. 3
2 (2) – Super Mario Bros.
3 (3) – Super Mario World
4 (4) – Super Mario Bros. 2
5 (5) – Pac-Man
6 (6) – Punch-Out!!
7 (7) – The Legend of Zelda
8 (9) – Super Mario 64
9 (8) – Mario Kart 64
10 (10) – Donkey Kong
11 (11) – Donkey Kong Country
12 (12) – The Legend of Zelda: Ocarina of Time
13 (13) – Super Mario RPG: Legend of the Seven Stars
14 (15) – Sonic the Hedgehog 2
15 (16) – Galaga
16 (14) – Excitebike
17 (17) – Tecmo Bowl
18 (19) – The Legend of Zelda: A Link to the Past
19 (18) – Sonic the Hedgehog
20 (N) – Ogre Battle: The March of the Black Queen
WiiWare
1 (3) – Onslaught
2 (1) – Tetris Party
3 (2) – My Aquarium
4 (4) – World of Goo
5 (6) – Dr Mario Online Rx
6 (5) – Cue Sports – Pool Revolution
7 (7) – My Pokemon Ranch
8 (9) – Fun! Fun! Minigolf
9 (8) – Midnight Bowling
10 (10) – Brain Challenge
11 (11) – Target Toss Pro: Bags
12 (13) – Defend your Castle
13 (12) – TV Show King
14 (15) – Wild West Guns
15 (14) – Sandy Beach
16 (19) – Tiki Towers
17 (17) – Mega Man 9
18 (18) – Final Fantasy Crystal Chronicles: My Life as a King
19 (16) – Snowboard Riot
20 (N/A) – Bomberman Blast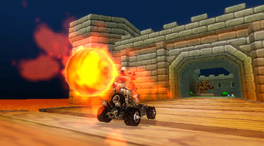 Course: Bowser's Castle
Main objective: Obtain the fastest time
Restriction: Carts only
Tournament date: 3/15 – 3/25


Nintendo DS Helped Redefine What a Video Game Could Be

REDMOND, Wash.–(BUSINESS WIRE)– Somewhere – perhaps in Chicago, maybe in Paris, possibly in Tokyo – the 100 millionth system in the Nintendo DS™ franchise has been shipped to a distributor or a retailer as of March 6, 2009. The combined total sales of 100 million Nintendo DS systems, Nintendo DS Lite systems and Nintendo DSi™ systems represent a significant milestone in the life of this franchise, which is still going strong.

"Consumers have shown their love for Nintendo DS – 100 million times over," said Nintendo of America President Reggie Fils-Aime. "We are grateful that people of all ages continue to respond to our products, and we will continue to look for ways to please current gamers and create new ones."


"Due to the severe and continuing depreciation of the pound, we are, unfortunately, having to raise our trade price to UK retailers of Wii hardware. The price that they then offer to consumers is, of course, up to the retailers. We are only – reluctantly – raising our trade price now to retailers due to unprecedented and sustained depreciation of the pound. This is a problem brought about by extreme currency fluctuations that are a symptom of the global economic situation." – Nintendo spokesperson