Who & What: MLE Professionals Tim "Eater X" Janus and Crazy Legs Conti say goodbye to spring and hello to summer as they face-off in the first-ever Major League Eating: The Game WiiWare Watermelon Showdown*. These two gurgitory gladiators will vie for a new Watermelon eating world record in celebration of the launch of Major League Eating: The Game for WiiWare™.

Tim "Eater X" Janus, the newly crowned Sushi eating champion of the world, a man who hides his inner torment behind a mask, will compete against Crazy Legs Conti. Conti, often described as the "Evil Knievel of the Alimentary Canal," is known for eating his way out of a 96-cubic foot sarcophagus of popcorn at the debut of his own movie, Zen and The Art of Competitive Eating.

This bare knuckled, drag out, in-your-face (literally) six minute exercise in extreme watermelon consumption is near certain to yield a new world record. It will also be the first watermelon eating contest to feature both real and virtual watermelons.

Come join us, get some hands-on time with one of the first games coming to Nintendo's exciting new WiiWare channel – Major League Eating: The Game – and watch firsthand as Major League Eating history is made.

When: Tuesday, May 20

From 12-3 PM

Where: Nintendo World Store

10 Rockefeller Center

New York, NY 10020

*This is a B.Y.O.T event (Bring your own towelette event).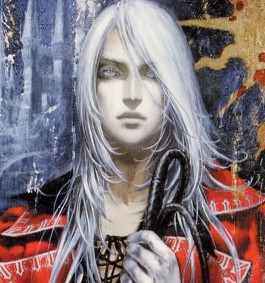 Nintendo Power's moon, rumblings on the web, and now even more tidbits seem to be pointing in the direction that Castlevania will see releases on the Nintendo DS and Wii. Apparently, Shinji Hirano who is the executive VP for Konami USA, was in San Paulo and went on the record by noting brand spanking new Castlevania games will be coming out for the DS and Wii. It is unconfirmed at this point in time whether or not Mr. Hirano did appear in San Paulo, but the same source claims the two new titles will be shown off next week at a U.S. Konami event.

The English season may well be over, but PES Rankings is here to reduce the withdrawal symptoms for football fans and PES 2008 fans everywhere!

As the domestic leagues draw to a close this weekend, football fans may feel aggrieved at the lack of competitive matches available to them this Summer. Konami UK has the perfect solution: PES Rankings – the only truly official league for PES 2008, the world's greatest football game.

PES Rankings is a simple to use online system wherein players can see how their PES 2008 skills compare to those of like-minded fans. Now in its fourth official season, over 55,000 people have registered and are competing in their own mini-leagues and in online matches with PES 2008 fans from all over the country. And while most domestic teams play a meagre 38-44 league games per season, the current PES Rankings season has seen over 32,000 top-level matches played already!

And that's not all. In a season that began in October 2007 when PES 2008 launched, an average of 168 matches have been played per day, with an incredible 252,728 goals scored! This equates to 3.45 goals per match – a considerably better figure than some teams can boast – with the average Rankings player notching up 5.54 matches per month, with the majority played in the early evening. And it is simplicity itself to join…

Visitors to www.pesrankings.com can register to play, and an activation email will be sent to start an account. Once initiated, the player is free to create their own tournaments and set up leagues with their mates. The PES Rankings system streamlines tournaments into a definitive and ever-changing roster of the best-rated players, while also keeping tally of smaller individual personalized tournaments. Every game of PES 2008 that entrants play contributes to the player's individual ranking, while users are invited to establish mini-leagues or cup tournaments against their friends.

Players log the results of matches, and points are awarded for every game played, but via a sliding scale wherein giant killing wins earn the user far more points than wins over their friends. Points can also be lost this way, with high-ranked players forfeiting more points for losing to lower ranked competitors. Players will also be notified of local events. Konami hosts and oversees a number of social events wherein people can get together and take each other on face to face, with additional points awarded for success at such events.

So with the current season at and end, why not sign up? PES Rankings keeps an easy tally of how many times you have whipped your registered mates, and is simplicity itself to use. Sign up today, and take your PES 2008 skills to a whole new level…
Source: GamesPress


Wii
Okami – 95%
Dancing Stage: Hottest Party – 86%
Secret Files: Tunguska – 70%
Namco Museum Remix – 36%
Sports Island – 63%
C.S.I: Hard Evidence – 60%
DS
Soul Bubbles – 93%
Apollo Justice: Ace Attorney – 82%
Draglade – 67%
Thanks to Joclo for the info!

PSP = 100,870
Wii = 71,518
DS Lite = 52,542
PS3 = 10,177
PS2 = 8,802
360 = 1,725

8 May, 2008 – The next super-charged generation of brawling rumbles onto Wii with Super Smash Bros. Brawl hitting the shelves in Europe on 27 June, 2008. Packed with a whole host of new features including a bulging character roster, an accessible and intuitive combat arena editor, multiple battle modes, an engrossing adventure mode and, for the first time, the ability to take battles online, Super Smash Bros. Brawl is set to bring the fast, furious and frenetic world of Smash Bros. to the masses!

Super Smash Bros. has always been about pitching Nintendo's iconic characters against each other and settling long-standing arguments on who is the toughest in four-player bouts. Keeping this concept at its heart, Nintendo has upped the challenge by introducing 16 new characters into the fray – bringing the total playable to 35 – including familiar heroes such as Solid Snake, Wario, Diddy Kong and Sonic the Hedgehog. Never before have gamers had to master their combat style so finely, practicing and perfecting signature moves and combos to ensure they remain on top of the brawling pile.

The introduction of Wi-Fi combat via Nintendo Wi-Fi Connection adds a complete new dimension to the brawl, particularly the intense hallmark four-character battles. For the first time, friends and strangers alike can be challenged online either in cooperative teams or as individual fighters. Twisting the concept of spectator mode, coins built up during play can now be bet on matches by viewers, making every game as important as the last. If that wasn't enough, players are also given the ability to share photos and replays, team up for enjoyable mini-games and even share created environments.

With 35 characters, Wi-Fi connectivity, an enthralling single-player story mode, imaginative and fully customisable arenas, numerous battle modes and much, much more for gamers to discover, Super Smash Bros. Brawl is the definitive action game for any wannabe brawler. Let the battle commence!

Super Smash Bros. Brawl is in shops 27 June at an estimated retail price of £40/€50.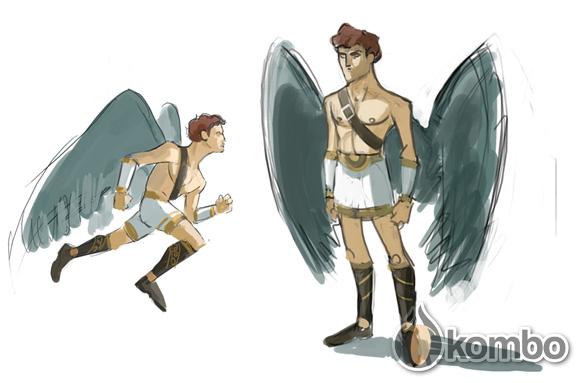 – artwork comes from early 2008 pitch document, art style has since evolved
– Nintendo showed interest in Factor 5 developed project, but no confirmation of green lit project has been announced
– early Factor 5 pitched storyline involves Pit being "cursed for thousands of years for a crime and becomes a 'fallen angel'." He sports a tattoo on his arm to mark his crime
– Nintendo has "no comment" on all art and information presented
As is the case with most unannounced information, I would consider this a rumor for the time being. At this point in time, however, it seems tangible that we could see Kid Icarus at E3 this year.

The Tony Hawk series seems to be taking a break until at least April of 2009 with the DS being the only exception. Not having to worry about releasing a game for each console this year means that more time and effort can be used to provide the series with, as some say, a major reboot. Mark Griffith of Activision noted, "This title will have two years in development to deliver the kind of breakthrough that the franchise needs." Fans who are interested in the only Tony Hawk game this year will be happy to know that the game "utilizes new technology not yet seen on the DS."


Link's Crossbow Training may have launched way back in November of last year, but today, an Iwata Asks interview of the game has been posted on the official Wii website. The Iwata Asks interviews typically consist of interviewing key members of a particular first-party title. In this case, only Shigeru Miyamoto was interviewed, but interesting facts were presented. First off, Miyamoto explained that originally, Miyamoto posed the idea of the game being in the third-person perspective. However, once the idea of a young/adult Link concept came into play, a third-person perspective seemed to be the best idea. Also noteworthy is that "Link's Crossbow Training" was decided instead of the typical "The Legend of Zelda:…" title so that gamers would not be mislead into thinking that the game is an original, grand-scale Zelda title. Link's Crossbow Training was initially going to receive a storyline, but Miyamoto's intention was to create a side-story to Twilight Princess with this game, not an epic game – Thus, the concept of including a storyline was scrapped.
Read the interview here, which includes the origins of the Wii Zapper (And more!)