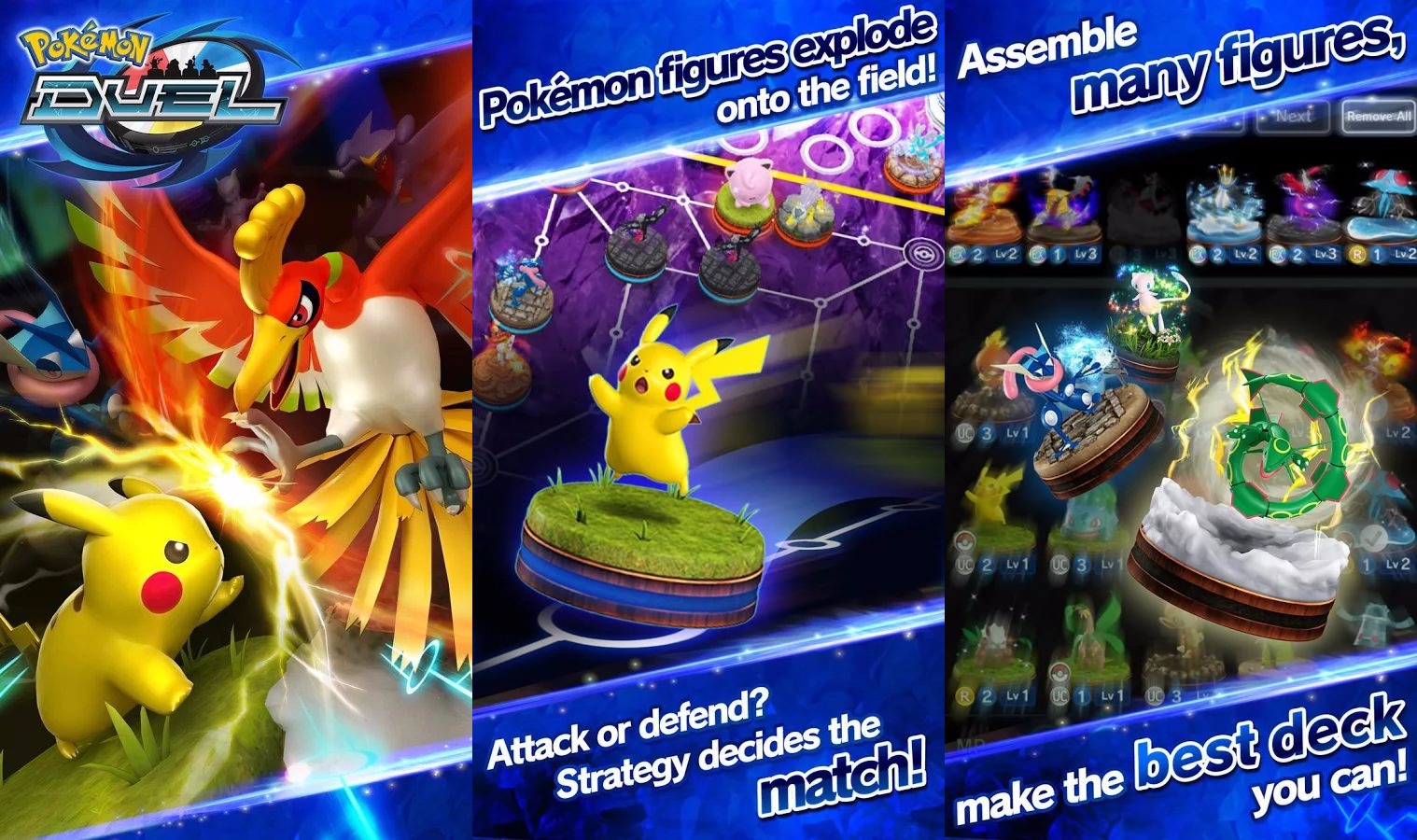 Last March, a new Pokemon smartphone game known as Pokemon Comaster launched in Japan. It's now been localized for North America and Europe as "Pokemon Duel".
For those who haven't heard about it previously, here's a lengthy overview:
Pokémon Duel is a strategy board game that uses Pokémon figures. Build a deck with your favorite figures and then leap into a League Match! Compete with players from around the world for a chance to enter the top League rankings in League Matches. You'll fight your rivals in real time! Win duels, get all kinds of cool figures and items, and make your deck stronger!

The rules are simple! The object is to be the first player to get one of your figures to your opponent's goal. How will you get to the goal? You'll need to carefully choose your route! In duels, you and your opponent take turns moving your figures. Set up a strategic formation and attack your opponent, or simply block their path—it's all about tactics! Plan your strategy and defeat your opponents in this game of cat and mouse!

In duels, your deck is composed of 6 Pokémon figures. There are all kinds of figures, each with different moves and abilities. Keep this in mind as you build your own custom deck!

Make use of your custom deck and the AI! The AI is a reliable ally who will determine good moves and take your turn for you. Make full use of the AI and crush your opponents!
You can find Pokemon Duel on iOS here and Android here. It's free-to-play, but there are in-app microtransactions of course.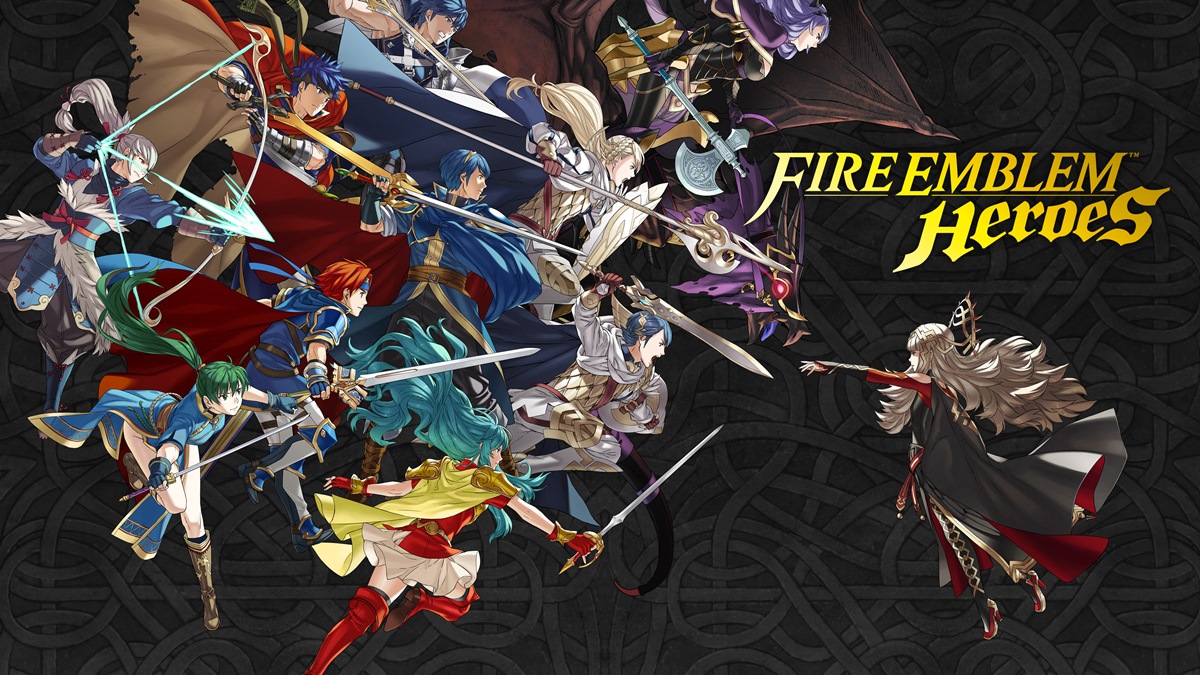 As you probably know, a vote is currently underway for the upcoming Fire Emblem Heroes mobile game. Fans can vote for one character from the whole Fire Emblem series each day up until January 31st. The top ranking male and female characters will be added to Fire Emblem Heroes wearing a special outfit, while the top 10 male and female characters will receive special calendar wallpapers. The official Fire Emblem Heroes Twitter account revealed the current standings of the vote as of today:
Lyn (Blazing Blade)
Lucina (Awakening)
Ike (Path of Radiance)
This would mean that if the vote were to end today, Lyn and Ike in special outfits would be added to Fire Emblem Heroes.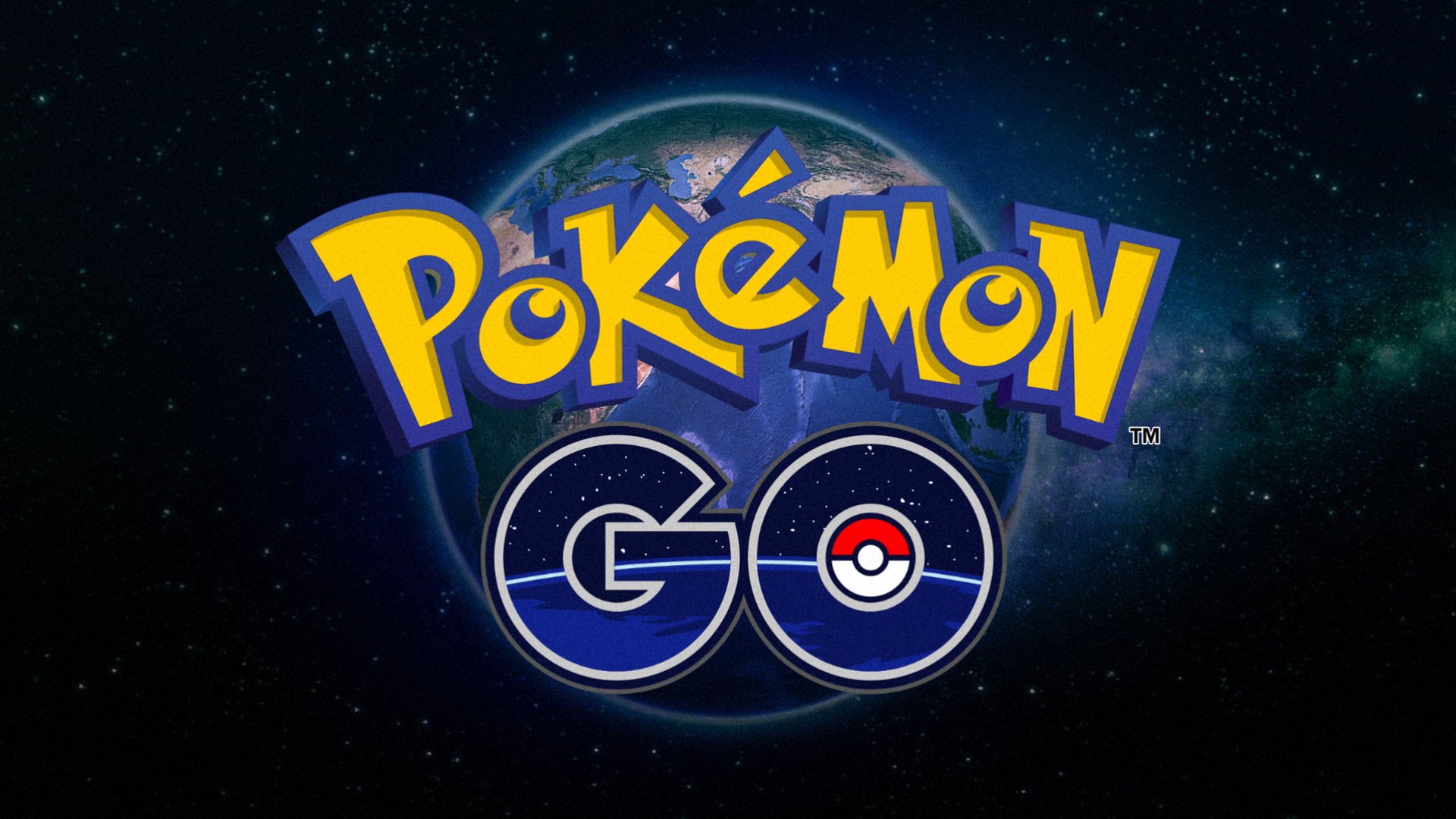 A new update is out now for Pokemon GO. On iOS, the game is being updated to version 1.23.2 while Android users will have version 0.53.2.
Pokemon GO's update adds support for Korean, as it just launched in South Korea today. Other than that, not much has changed.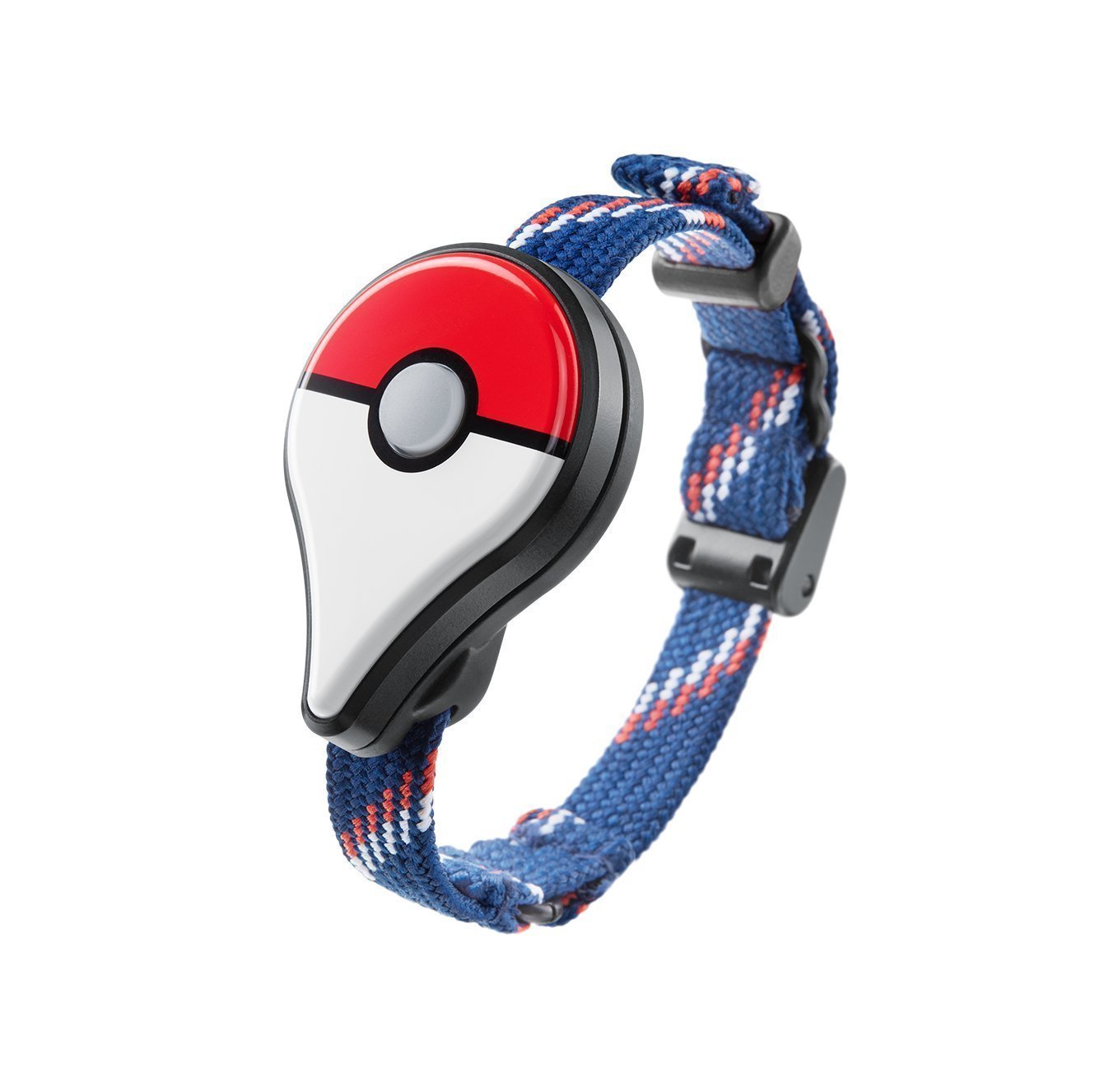 The Pokemon GO Plus add-on device is currently in stock on Amazon. In went up just a short time ago, and still remains available. It probably won't be in stock for too much longer.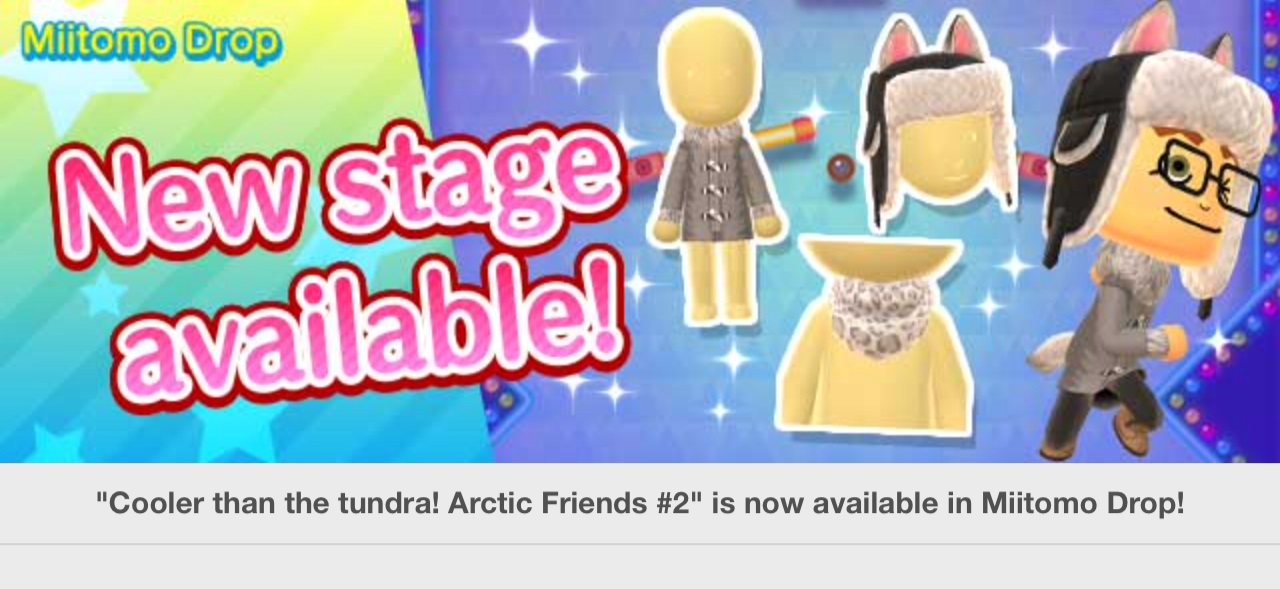 Miitomo has been updated with new content. Players can nab the latest items in the Miitomo Drop stage, "Cooler than the tundra! Arctic Friends #2".
Available items include:
– Wolf-ears trapper hat
– Wolfish-detail duffle coat
– Wolf tail
– Scarf w/ snow-leopard print
Users can select Miitomo Drop stages from the Shop tab. Miitomo coins or game tickets are needed to play.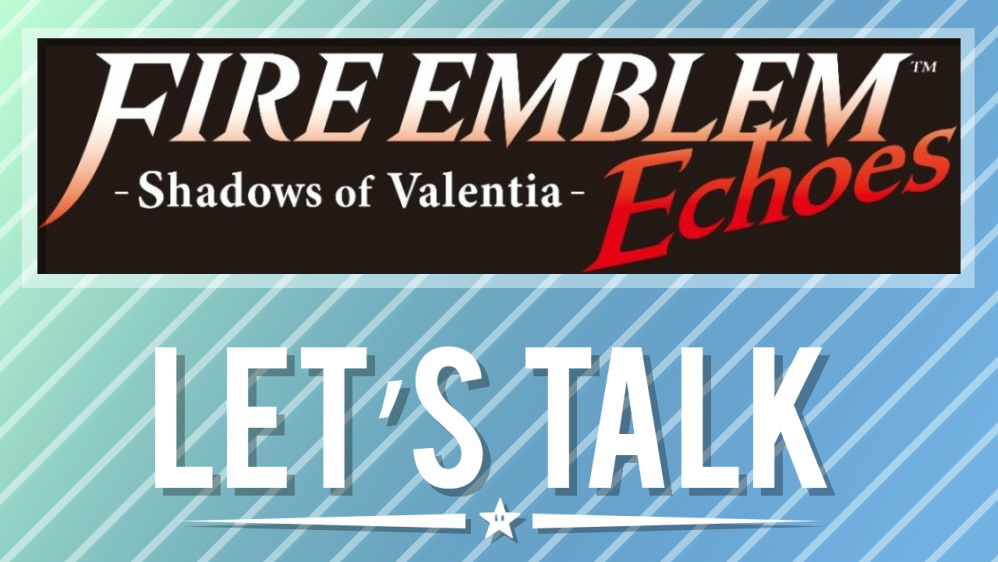 The huge Nintendo Switch Presentation 2017 was only just hosted last week, but Nintendo continued to deliver big news a few days ago. On Wednesday, the company held its new Fire Emblem Direct.
There were quite a few announcements, and some surprises along the way. Nintendo kicked things off by revealing Fire Emblem Echoes: Shadows of Valentia for 3DS, a re-imagining of Fire Emblem Gaiden. Next was the confirmation of a brand new Fire Emblem heading to Switch in 2018, followed by a bit of gameplay from Fire Emblem Warriors – plus the announcement of a New 3DS version. Finally, we got a lengthy look at the mobile game Fire Emblem Heroes.
What do you guys make of the Fire Emblem Direct? Were you surprised to see another Fire Emblem game for 3DS? Do you intend to try out Fire Emblem Heroes when it launches on February 2? Let us know how you feel in the comments below!
Highlights from last week's topic: Nintendo Switch Presentation 2017 reactions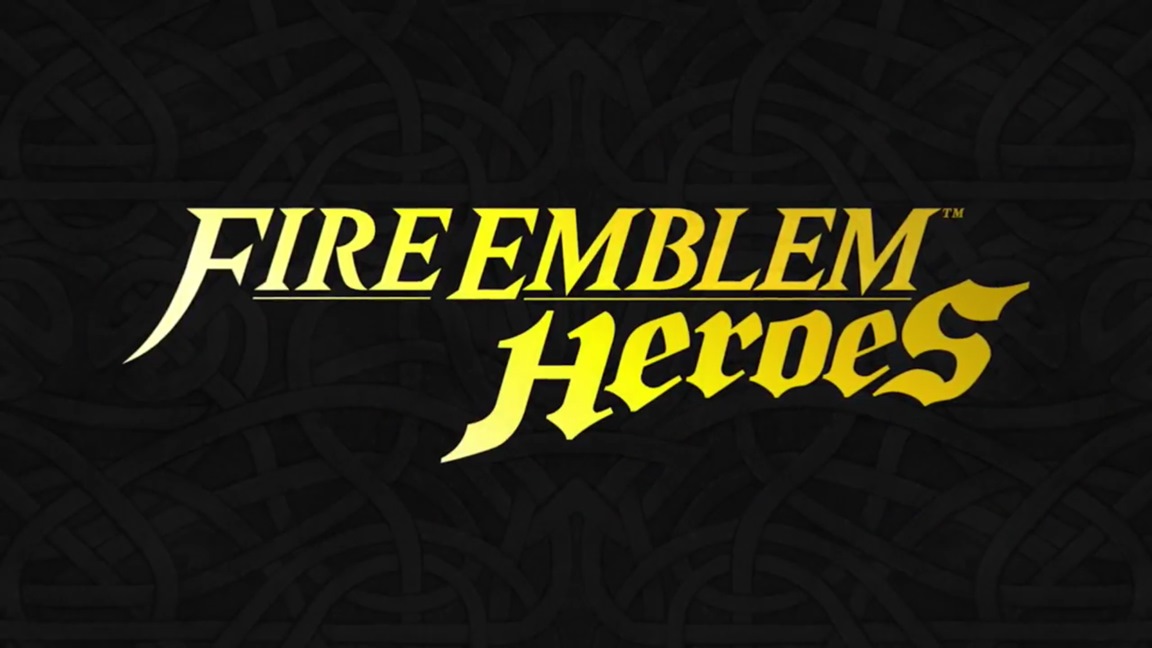 Fire Emblem Heroes was announced this week. It's a big move for Nintendo, as it's Fire Emblem's first appearance on mobile as well as the company's first attempt at the free-to-play market for smartphones.
According to the Fire Emblem Heroes website, the title will initially be coming to 39 countries. Nintendo does say though that more territories may be added.
The lineup is as follows: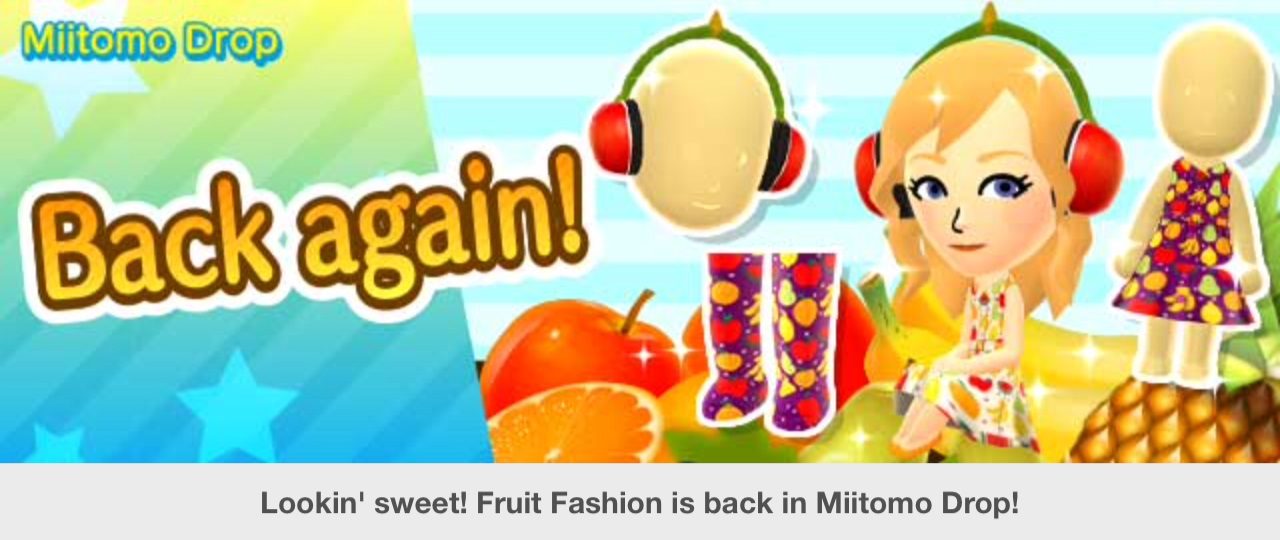 Miitomo has been updated with more content. Users will find returning stages with more items.
"Lookin' sweet! Fruit Fashion" is the returning stage theme. They provide the following:
– Pineapple leaf cap (set)
– Pineapple suit (set)
– Tangerine trunks
– Persimmon shoes
– Grapes pin
– Cherry headphones
– Strawberry cap
– Strawberry top
– Fruity dress
– Fruity tights
The returning stages will be available until January 22 at 6 PM PT / 9 PM ET.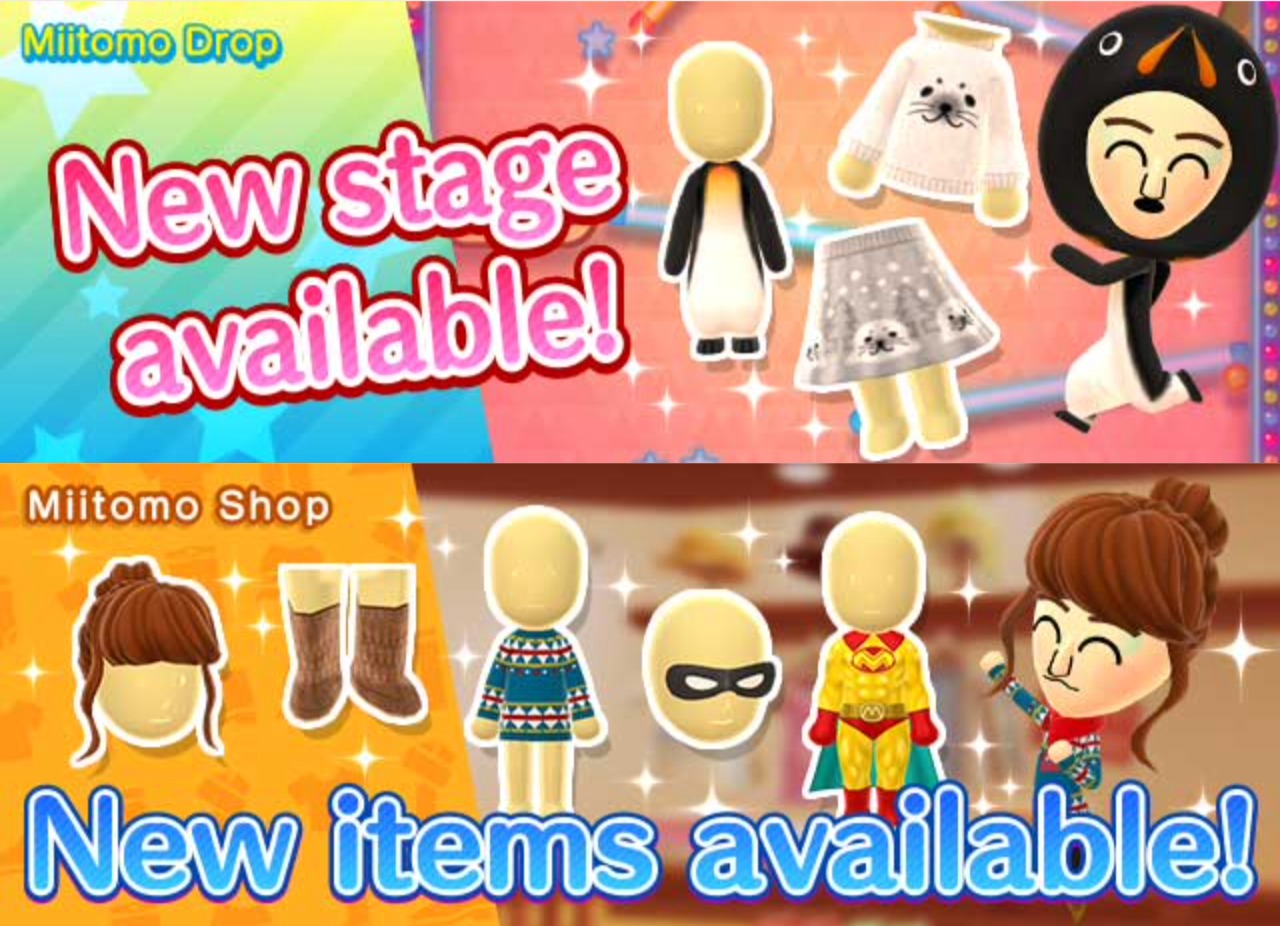 Miitomo has been updated with more content. Users will find a new stage, along with some brand new items.
"Cooler than the tundra! Arctic Friends #1" is the new stage. It includes the following:
– Penguin hood (set)
– Penguin suit (set)
– Fluffy seal sweater
– Flared seal skirt
And as far as the new items go, you can nab the following:
– Messy bun wig
– Hero of justice mask (set)
– Hero of justice suit (set)
– Tribal pattern knit dress
– Tall fringed boots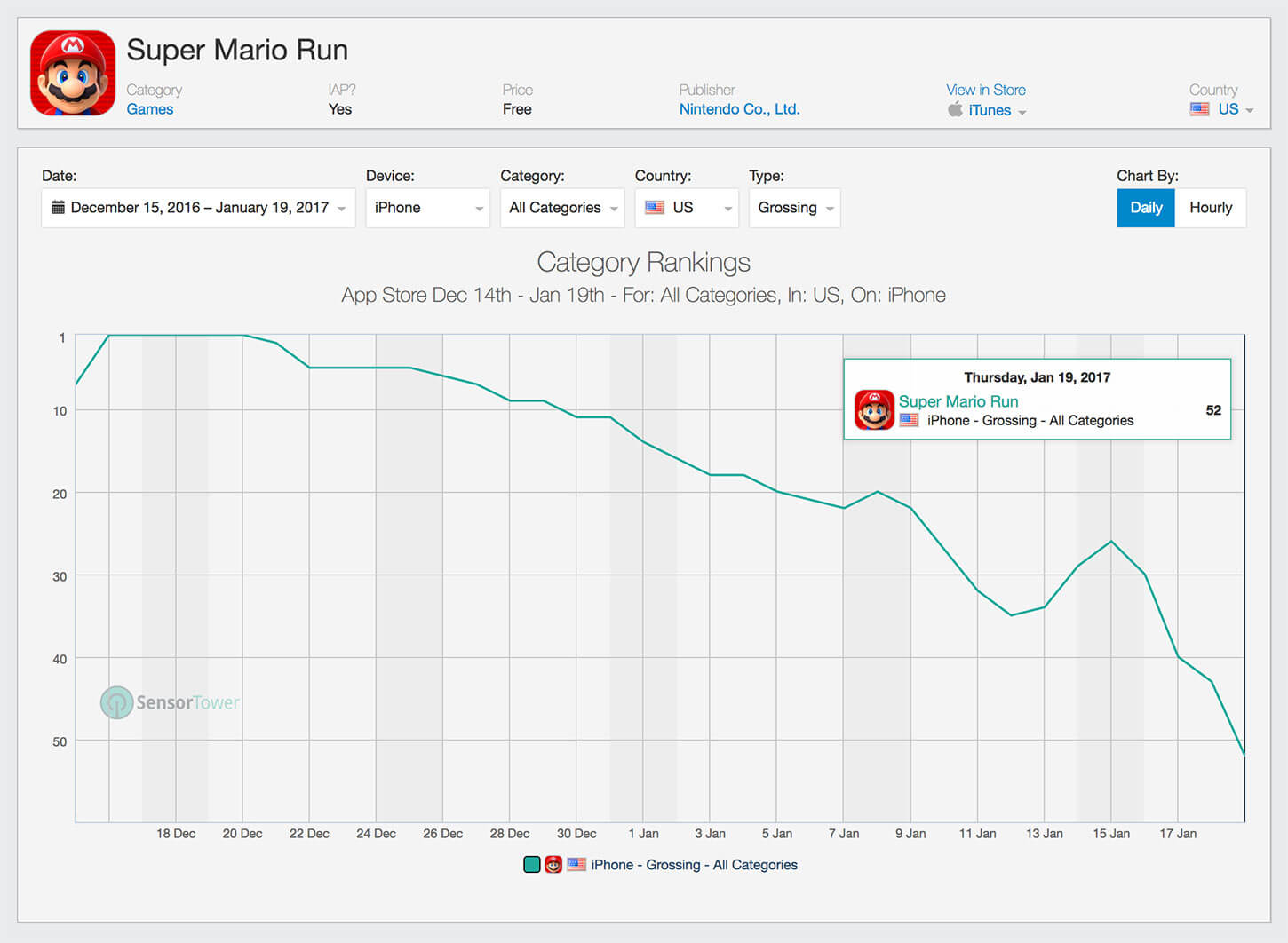 According to the latest data from mobile app store market intelligence group Sensor Tower, Super Mario Run has slipped out of the top 50 grossing iOS apps in the U.S. It's now sitting at the 52nd spot.
One significant reason for Super Mario Run's decline on the charts is due to the way it handles monetization. Rather than offering a free-to-play model like the upcoming Fire Emblem Heroes, Mario instead is a one-time $10 payment.