A new episode of Capcom TV was recently held to celebrate the Japanese launch of The Great Ace Attorney. Check out the recording in full below, which contains lots of footage from the game.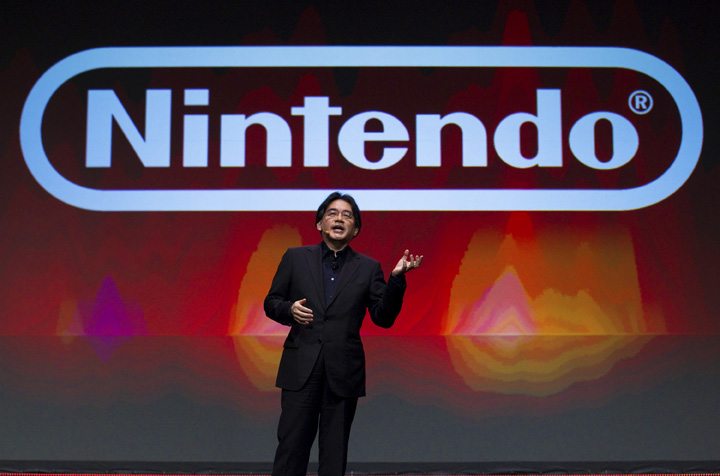 Tons of reactions and tributes have been pouring in for Satoru Iwata. We've rounded everything up in the post below, and it will be updated throughout the day.
In remembrance of Mr. Satoru Iwata, Nintendo will not be posting on our social media channels today. pic.twitter.com/N2kR0OKEXh

— Nintendo of America (@NintendoAmerica) July 13, 2015
In remembrance of Mr. Satoru Iwata, Nintendo will not be posting on our social media channels today. pic.twitter.com/nnM1viLSNs

— Nintendo of Europe (@NintendoEurope) July 13, 2015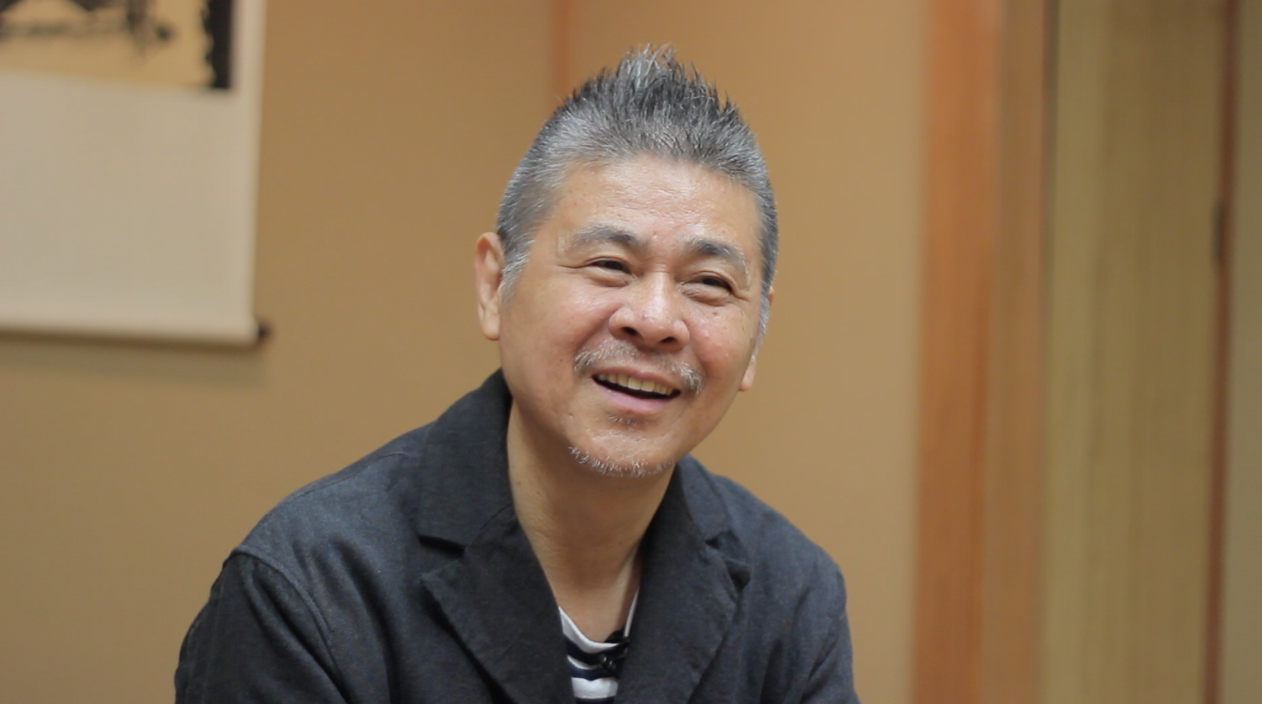 Shigesato Itoi, creator of EarthBound, posted a message about Satoru Iwata's recent passing. Have a look at it below.
"No matter the farewell, I think the most appropriate thing to say is "we"ll meet again." We are friends so we"ll see each other again. There is nothing strange about saying it. Yeah. We'll meet again.

Even if you didn't have the chance to put into words how sudden it was going to be, how far you'd be traveling, or how you went much earlier than expected, I know you went wearing your best.

You always put yourself second to others no matter what, helping anyone who needed it whenever they needed it. You were that kind of friend. Although you may have been a little selfish for the first time ever by taking this journey.

The truth is though that I still don't believe any of it. I feel like I am going to receive a message from you inviting me out to eat at any moment. I wouldn't mind if you were to ask me like always if I had some free time. If you did, I'd ask you as well.

Still, "we'll meet again." It would be great to hear from you whenever and wherever; I'll being calling to you too. I'll call if I have something to discuss or I want to tell you a great new idea I've had.

We'll meet again.

Then again, you're here with me now."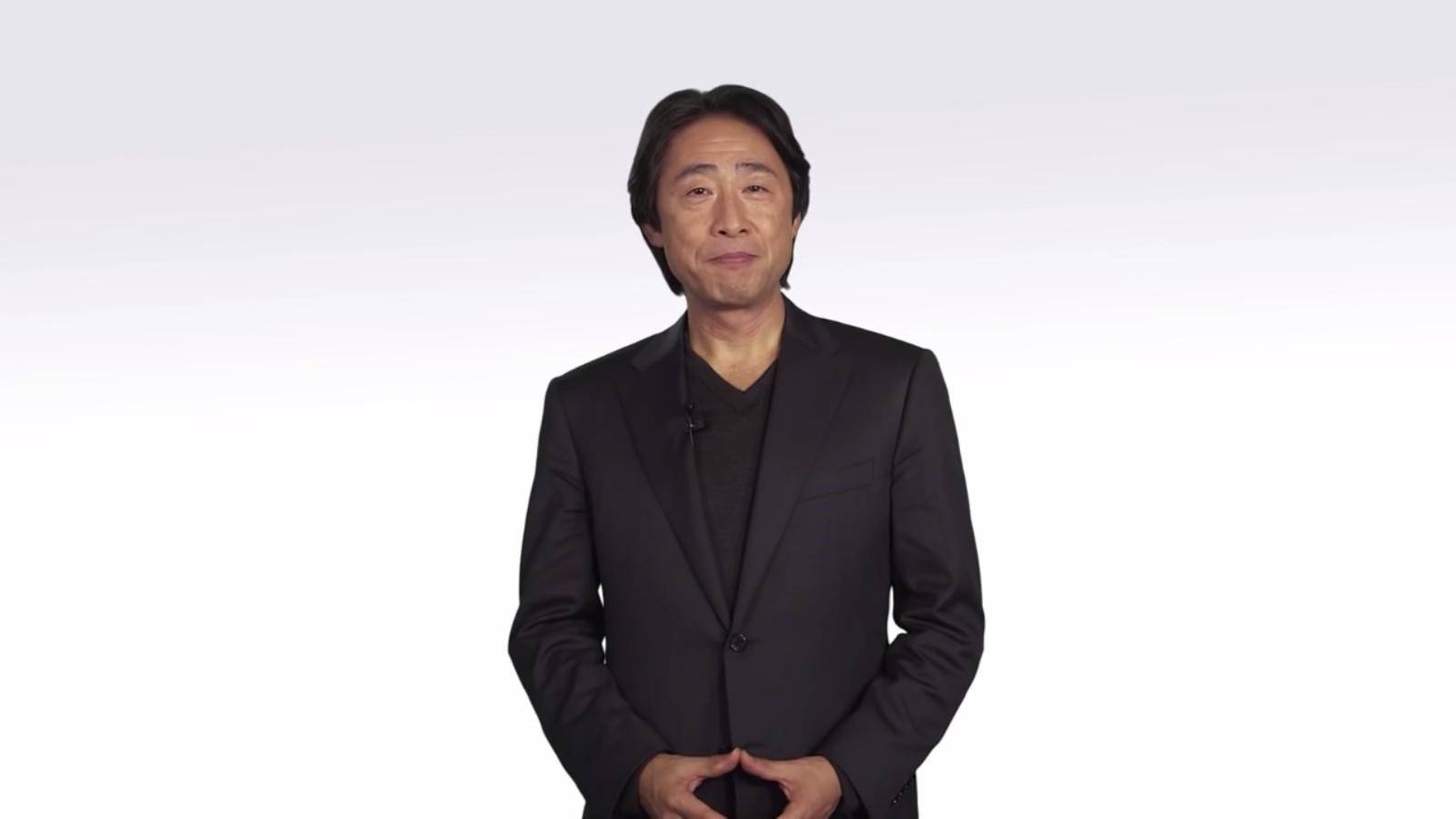 Videogamer.com obtained a statement from Nintendo of Europe president Satoru Shibata regarding Satoru Iwata's death:
Nintendo of Europe is today mourning the passing of Mr Satoru Iwata, Nintendo's Global President. It is difficult to put into words the sadness we feel at this time. Mr. Iwata was a strong leader, a unique figure in the gaming industry and an important part of Nintendo's history. He was a visionary in every sense of the word and we will miss him dearly.

Just as Mr. Iwata challenged us to always push forward, we will ensure his legacy lives on through our ongoing work to always surprise and delight our fans. At this time our thoughts are with his family.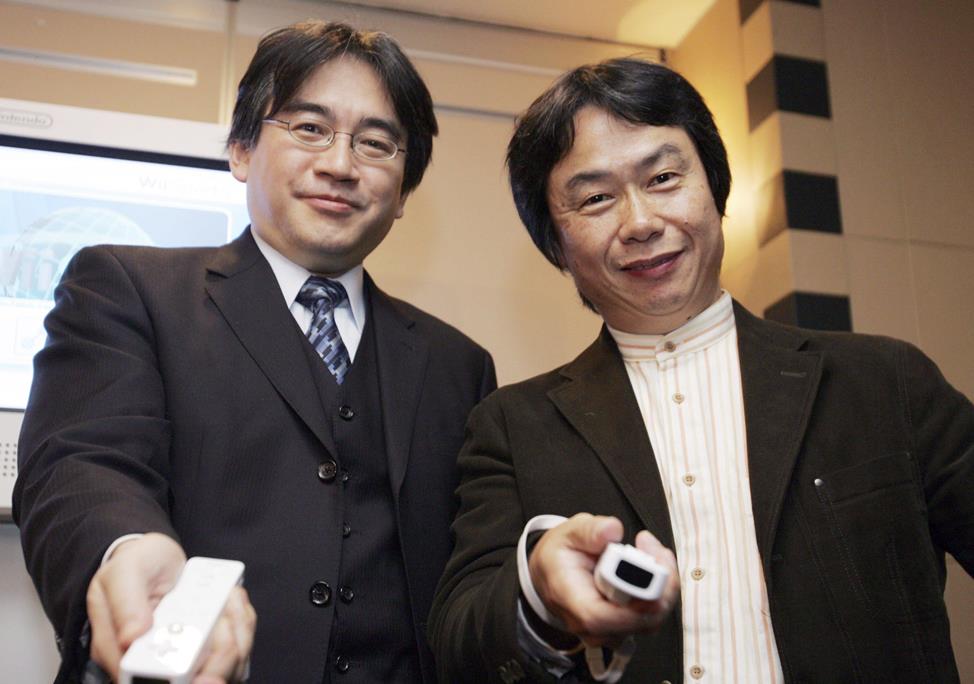 From The Wall Street Journal:
"I am surprised at this sudden news and overcome with sadness," Mr. Miyamoto said in a statement issued through the company on Monday. He said he would maintain the game-development stance that he and Mr. Iwata established and work with developers to create the kind of future successes that the late president would have wanted.

This week's Wii U/3DS specific charts are as follows:
Wii U
1. Splatoon – Nintendo
2. Yoshi's Woolly World – Nintendo
3. Lego Jurassic World – Warner Bros. Interactive
4. Mario Kart 8 – Nintendo
5. Super Smash Bros for Wii U – Nintendo
6. Mario Party 10 – Nintendo
7. The Legend of Zelda: The Wind Waker HD – Nintendo
8. FIFA 13 – Electronic Arts
9. Super Mario 3D World – Nintendo
10. Mario & Sonic at the Sochi Winter Games 2014 – Nintendo
3DS
1. Monster Hunter 4 Ultimate – Capcom
2. Lego Jurassic World – Warner Bros. Interactive
3. Tomodachi Life – Nintendo
4. New Super Mario Bros. 2 – Nintendo
5. Pokemon Omega Ruby- Nintendo
6. Pokemon Alpha Sapphire- Nintendo
7. Animal Crossing: New Leaf – Nintendo
8. Mario Kart 7 – Nintendo
9. The Legend of Zelda: Majora's Mask 3D – Nintendo
10. Super Smash Bros. for Nintendo 3DS – Nintendo
Source: Chart-Track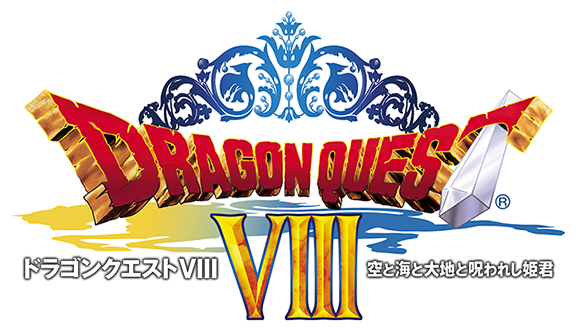 A new feature was announced for the upcoming 3DS version of Dragon Quest VIII today – Camera Mode, which allows you to take a picture of the top screen, which is then saved to your 3DS' SD card. However, this feature is not just for taking screenshots – you can get special requests from NPCs who ask you to take pictures of rare monsters and hidden items and who will reward you for doing so. When taking pictures of your party members, you can also have them take special poses.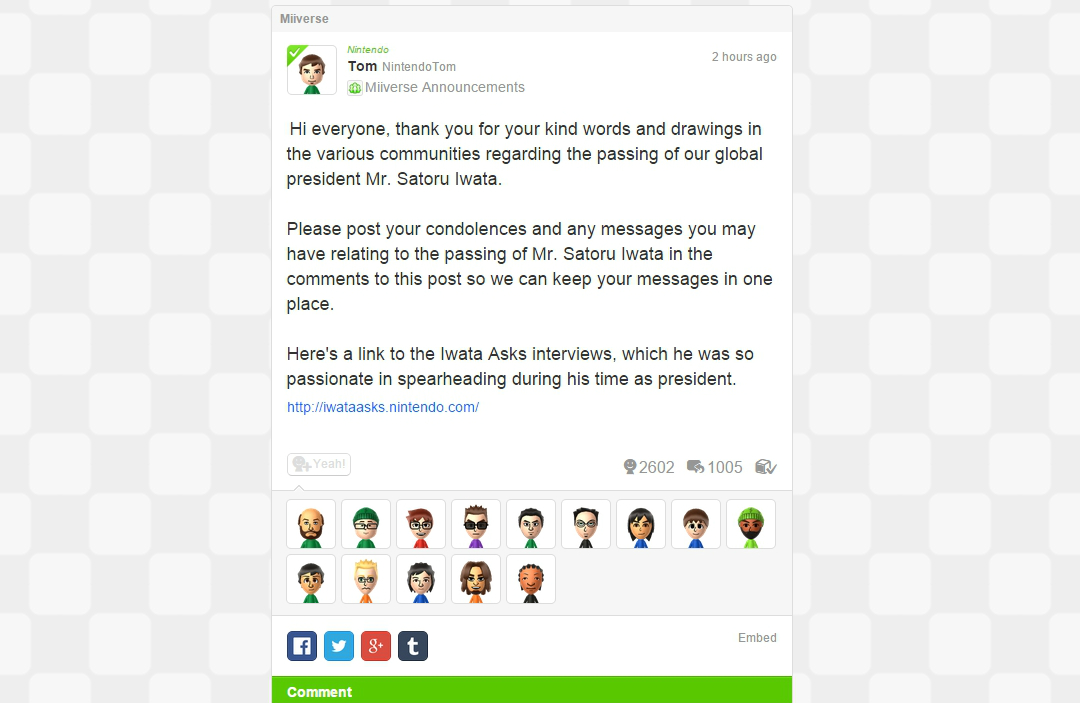 The video game industry is currently mourning the loss of the CEO of Nintendo, Satoru Iwata. Posts have been made all across social media sending their condolences to Nintendo, as well as Iwata's family, friends and co-workers while everyone reminisces on all the great memories he's given through us throughout the years through Nintendo Directs, E3 presentations, his contribution to video games and a copious amount of events.
All across Miiverse, fans of Nintendo have been posting about their sadness concerning the news, whether it be through drawn posts or text. It's obviously something that has impacted us all and has hurt us deeply, and it's quite hard to keep up with all of it, so a thread has currently been set up on Miiverse where you can post your thoughts and feelings concerning Iwata-san's untimely passing. Head on over to the post below if you'd like to contribute in remembering Satoru Iwata and have a look at what everyone is saying and how they remember him.
RIP Iwata-san. Thank you for all you've done for us, making video games a part of who we are, and never forgetting that we're ultimately trying to have fun at the end of the day. Thank you for the smiles, thank you for the memories – thank you for being you. You will be missed.
Thanks James for the heads up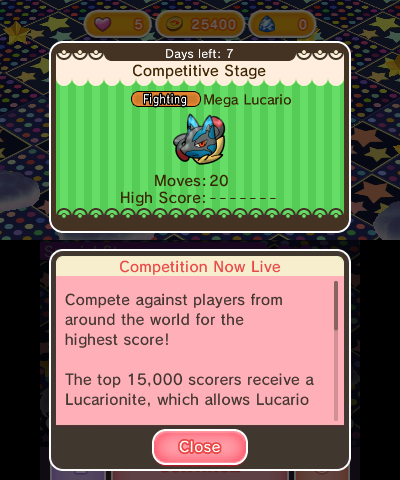 The Mega Lucario stage is back for the third time in Pokémon Shuffle and will grant you yet another chance at obtaining a Lucarionite for your Lucario, which cannot be obtained by normal means.
If you already have a Lucarionite from one of the previous events, you will be awarded two Jewels. If you have yet to win, however, you'll have to be ranked as one of the top 15k in Europe, 30k in North America, and 60k in Japan to earn yourself a Lucario's Mega Stone.
As usual, be sure to hit Check In to update your game and gain access to this event. You have until July 20th to enter.