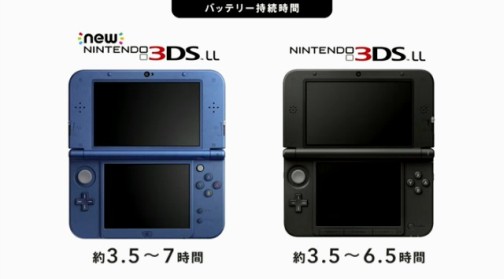 Nintendo has announced a brand new iteration of the 3DS known as "New Nintendo 3DS". The system features a second analog nub and much more like a cartridge slot on the bottom and ZL/ZR buttons.
New Nintendo 3DS is white and black. The XL model is metallic blue/metallic black.
New Nintendo 3DS is 3.88 inch, 3.33 inch for the New Nintendo 3DS. It's 1.2 times bigger than the original model.
The top right of the New 3DS model has the little nub called the c-stick. It serves the same purpose as the slide pad. Nintendo went with the smaller C-stick so that the abyx buttons wouldn't have to be moved/redesigned, and it'd still be close for the fingers. Monster Hunter 4 Ultimate, Dragon Quest X, Final Fantasy Explorers, and Smash Bros. all take advantage of this.
Additionally, the button colors come in the same color as the Super Famicom.
New Nintendo 3DS can use the bottom screen to use NFC. In other words, you won't need a special reader.
New Nintendo 3DS supports micro SD cards. Data can be sent over Wi-Fi to PC.
There's also a more powerful CPU inside. That means things like HTML5 videos in the Internet browser will be supported.
New Nintendo 3DS features swappable covers and back covers. 1,000 yen per cover plate set, and many will be available at launch. 50 are due out by the end of this year.
New Nintendo 3DS launches on October 11. Pricing is set at 16,000 yen. The XL model will go for 18,800 yen.
Update: Here's the English version:
---
Nintendo has officially announced the next character for the newest Smash Bros. – Shulk. The character was shown in a brand new trailer in today's Japanese Nintendo Direct featuring other classic characters from the Big N. You can find the debut trailer here.
Today's presentation will go live at 7 AM ET / 4 AM PT (an hour from now). If anything noteworthy happens, you can definitely expect new posts on the site.
The latest Super Smash Bros. for Wii U screenshot from Masahiro Sakurai has now gone live. View it below:
This month's issue of EDGE features interviews with a number of different developers, including Super Smash Bros. director Masahiro Sakurai. Among other things, Sakurai was asked to comment on how tournament players tend to focus on Melee as opposed to Brawl, and what will be done to ensure that something similar doesn't happen this time around.
Sakurai answered with a very lengthy response that can only be summarized in so many words. Many of his comments addressed the need to appeal to both casual and inexperienced gamers.
He also mentioned, "Although the pace of the game had to be lowered compared to Melee in order to achieve this balance, we have managed to keep the dynamism because we didn't have to gear towards novice players like we did with Brawl. In fact, we recreated all characters almost from scratch. Also, I feel on a personal level that this game is more interesting than the three previous games in the series."
Head past the break for all of Sakurai's comments. Believe us when we say there are plenty of them!
The hit indie title Gone Home is heading to Wii U, according to Nintendo's Damon Baker. Baker shared the news during a presentation at Unite 2014 last week. Gone Home along with several games will be hitting the eShop in the near future.
As previously mentioned, Koei Tecmo considered including a female Link character in Hyrule Warriors known as "Linkle". This scrapped character was shown for the first time in the game's Japanese art book.
It now sounds like Koei Tecmo is having – at least partially – second thoughts about not including Linkle in Hyrule Warriors. The company posted the following on the title's Twitter account earlier today:
"Linkle (tentative name) was a rejected story character featured in the art book, but it looks like she got a quite lot of attention… maybe we should have included her in the main story…"