A QUARTET OF ROCK MEGASTARS HEADED FOR THE WiiTMROCK BAND®MUSIC STORE

ENTIRE NOTHING'S SHOCKING ALBUM FROM JANE'S ADDICTION PLUS HITS FROM MEGADEATH, THE POLICE AND OASIS

Cambridge, Mass. – April 27, 2009 – Harmonix and MTV Games announced today a monster lineup of 20 new tracks coming this week to the Rock Band® Music Store catalogue of downloadable content for Wii™ home videogame console from Nintendo, including hit songs from American metal outfit Megadeth, British alternative group Oasis and one of the most popular pop rock bands of all time, The Police.
As previously announced, Wii Rock Band 2 owners will also gain access this week to the Nothing's Shocking album from Jane's Addiction.

The content update to the Wii Rock Band Music Store features eight tracks from Megadeth, one of the highest-selling thrash metal bands of all time with over 20 million albums sold worldwide. The lineup includes "Wake Up Dead," "The Conjuring," "Devil's Island," "Good Mourning/Black Friday," "Bad Omen," "I Ain't Superstitious" and "My Last Words" – all from Megadeth's classic second album, Peace Sells…But Who's Buying? (1986). Additionally, Megadeth adds "Sleepwalker" from its latest album, United Abominations (2007) to the Wii Rock Band Music Store.


– 32 max friends saved. Tried to get 64 but fell into problems.
– LAN play cut because the Wii doesn't properly support it. When playing the Wii still wants to connect to Nintendo's servers, which causes problems when trying to play locally. Tried to work it out with Nintendo but no viable solution came up.
– Lobby allows for voting of weapon sets, map, etc.
– No 'classes', but character customisation does exist.
– No DLC.
– 6 to 8 hours for the single player, longer to unlock and find everything.
– Wanted to do custom soundtracks, but fell through.
– Five playable 'characters' for multiplayer with a wealth of skin altering options for further customisation.
– Lots of unlockables including cheats, concept art, achievements, and more.
– Multiplayer has 3 'Game Types' with 13 'Game Modes'. 8 weapon sets. 7 maps.
– Ranking system to show your skill level. No hint that anything is 'unlocked', just a ranking of skill.
– Five single player difficulty levels; Low, Guarded, Elevated, High, and Severe. Guarded is default. Claims to have only beaten the game twice on Severe.




Nordcurrent, the exciting young European publisher of hit title 101-in-1 Explosive Megamix, has released Minon: Everyday Hero.

"We've got a great line-up for this year, and Minon: Everyday Hero is the next step towards realising our potential in becoming a publisher known for its quality titles." said Alexander Bravve, Nordcurrent MD. "We've had a great response from retail to Minon: Everyday Hero and are looking forward to seeing some strong sales figures over the coming weeks and months."

Esteban Jose Salazar, localisation producer for developer SUCCESS added "We are extremely excited that European gamers of all ages are now able to play the game. It's a title filled with charm and quirkiness, and Minon: Everyday Hero is sure to delight all those who love fun games."


Videos
New Play Control! Donkey Kong Jungle Beat
GDC Interview Swords and Soldiers
GDC Interview Super Meat Boy
The Conduit A.S.E. Video
Super Smash Bros Brawl Tutorial 8
Punch-Out!! Multiplayer Trailer
EA Sports Active: Fitness at home
Harry Potter and the Half Blood Prince Trailer
DSiWare Line-up 4/27
GTA: Chinatown Wars Multiplayer Clip
Cursed Mountain Info Video
Guitar Hero Metallica & Coaches TV Spot
Magician's Quest Mysterious Times Info Video
Cocoto Platform Jumper Info Video
Little King's Story Info Video
Digest Video
Demos (Expire 5/3)
Personal Trainer: Cooking Lasagna Demo
MySims Party
TrackMania DS
Avalon Code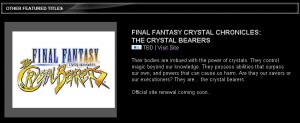 The Japanese FFCC: The Crystal Bearers website brought us some nice goodies including screenshots, music, and a video. Hopefully the US site will provide great content as well.


With the release of Excitebots: Trick Racing, questions arose as to why the game does not make use of WiiSpeak. NOA's vice president of corporate affairs Denise Kaigler, however, has explained why the company does not force developers to support the peripheral.
"What do all these items [Wii Wheel, Wii Balance Board, Wii Speak] have to do with Excitebots: Trick Racing? I mention them to help make my point that Nintendo does lead by example. But, with that said, it's up to the members of the development community, then, to pick and choose which peripherals they want to use for the games they develop. Nintendo can offer developers a full toolbox, but it's up to those individuals to decide which ones they want to make use of when they make their games. That goes for internal teams at Nintendo, second-party development teams and outside, independent developers.
You suggest that Nintendo "enforce" the use of its peripherals. But we think it's best to let the creative teams make up their own minds. Every game is different. Can you imagine the alternative – if we mandated that every Wii game use the Wii Balance Board or that every Nintendo DS game use the touch screen or voice recognition? Developers – and gamers – would revolt. Letting developers decide what's best for their games lets creativity flourish. Every hour spent programming for mandatory peripherals takes time and resources away from other creative areas – you might lose the wild features like bowling balls, clown faces and sandwiches that have helped Excitebots: Trick Racing grab everyone's attention."


EA was showcasing Dead Space: Extraction in London recently. During the presentation, there was one slide mentioned, implying that the game has "a secret that propels the franchise forward."
"I can't tell you [what the slide meant] – it's a secret! Let's just say there's definitely connectivity between this game and Dead Space. There's absolutely connectivity there and maybe… other stuff. I can't really say." – executive producer Steve Papoutsis