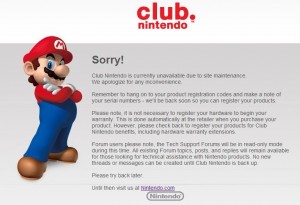 Perhaps Nintendo of America is readying so new Club Nintendo prizes? I certainly hope so! Make sure you keep an eye out on the website!
Thanks to Blue paratroopa for the news tip!

Media Create has published the latest hardware sales figures from Japan. The results are below.
DSi – 70,066
Wii – 47,140
PSP – 33,893
DS Lite – 8,699
PS3 – 5,826
Xbox 360 – 5,436
PS2 – 4,601
For comparison's sake, here are the numbers from the week of July 20th (last week).
Wii – 95,357
DSi – 73,710
PSP – 33,049
DS Lite – 12,027
PS3 – 8,760
PS2 – 3,617
Xbox 360 – 3,552

Hardware
PlayStation 2 108K
PlayStation 3 121.8K
PSP 122.8K
Xbox 360 202.9K
Wii 252.5K
Nintendo DS 538.9K
Software
Wii SPORTS RESORT W/ WII MOTION PLUS WII NINTENDO OF AMERICA July-09 508.2K 1
NCAA FOOTBALL 10 360 ELECTRONIC ARTS July-09 376.5K 2
NCAA FOOTBALL 10 PS3 ELECTRONIC ARTS July-09 237.4K 3
WII FIT W/ BALANCE BOARD* WII NINTENDO OF AMERICA May-08 164.3K 4
MARIO KART W/ WHEEL WII NINTENDO OF AMERICA April-08 156.6K 5
MARIO KART DS NDS NINTENDO OF AMERICA November-05 132.2K 6
POKEMON PLATINUM VERSION NDS NINTENDO OF AMERICA March-09 116.4K 7
FIGHT NIGHT ROUND 4 360 ELECTRONIC ARTS June-09 116.4K 8
NEW SUPER MARIO BROS NDS NINTENDO OF AMERICA May-06 101.8K 9
EA SPORTS ACTIVE BUNDLE WII ELECTRONIC ARTS May-09 96.8K 10

THE FIRST SINGING GAME WITH FOUR MICS, FOUR SINGERS… TOGETHER!

Karlstad, Sweden: Nordic Games Publishing AB today proudly announces We Sing, the first singing game to utilise four microphones, allowing four players to sing at the same time. We Sing will be released in time for the festive season, exclusively for the Wii. It's not going to be a quiet Christmas day. Now the whole family can sing their hearts out at the same time to their favourite tracks.

Agreements have been made with all the leading record companies including EMI, Warner, Universal Music and many Independent Record Labels to source a diverse selection of quality modern and back catalogue songs from best selling artists.

Christian Svensson, Capcom's Corporate Officer/VP of Strategic Planning & Business Development recently answered a question regarding the chances of seeing a new Mega Man Legends game over at Capcom-Unity…
"I can't really speak on behalf of Inafune, but I do know that MM is near and dear to his heart. And if Inafune wants something badly enough, he is rarely denied in our greenlight/CS management meetings."
We haven't seen a true Mega Man Legends game in quite awhile. It'd be interesting to see what a new game would be like on the latest console hardware.


The latest Game Informer review scores are as follows:
The Beatles: Rockband (8.75,8.75)
Batman: Arkham Asylum (9.5,9.5) – GOTM
Madden NFL 10 (8.75,8.75)
King of Fighters 12 (7,6)
Harry Potter: Half Blood Prince (7,6.5)
Transformers: Revenge of The Fallen (6.25)
Ice Age Dawn of the Dinosaurs (6.5)
Watchmen: End is Nigh (5.5)
G.I. Joe: Rise of Cobra (3.5,4)
Dynasty Warriors 6 (6.25)
G-Force (7.75)
Virtua Tennis 2009 (7,7)
Wii Sports Resort (7.5,8)
Madden 10 – Wii (6,6.5)
East India Company (6.5,7)
Dissidia: Final Fantasy (6.5,6.5)
Pangya: Fantasy Golf (7,7)

Thursday 13th August/…Eidos Interactive are proud to announce that IO Interactive's new adventure Mini NinjasTM will be released from 8th September across North America, 11th September in the United Kingdom and PAL territories and 9th October in France and Germany and will be available on Wii™, Nintendo DS™, Xbox 360®video game and entertainment system from Microsoft, Games for Windows® and PlayStation®3 computer entertainment system.

Mini Ninjas takes you on a journey to feudal Japan where you join Hiro, Futo, and the rest of the ninja clan on their biggest ninja adventure ever as they embark on an epic and electrifying quest to restore harmony to a world on the brink of chaos.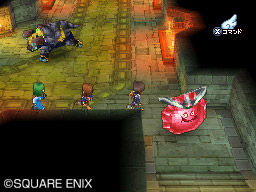 – First DLC quest is Buchi Kowase Sukima wo (128)
– Need to clear the game and finish normal quest 007 to go through the quest
– Quest is in St. Shutein, from a man at the bottom of a well
– Second quest is Shomotsu no Kagi wo Sagase (129)
– Located in St. Shutein
– Need to finish the game, complete normal quest 23 (Rekishisho wo Sagase), and finish add-on quest 127 (Ou no Miru Yume)
– Builds off of quest 127
– New gesture when you clear the quest

01./00. [PS2] SD Gundam G Generation Wars (Bandai Namco) – 175,000
02./01. [WII] Monster Hunter Tri (Capcom) – 137,000 / 657,000
03./02. [NDS] Dragon Quest IX (Square Enix) – 136,000 / 3,517,000
04./00. [PSP] Tales of VS. (Bandai Namco) – 133,000
05./03. [NDS] Tomodachi Collection (Nintendo) – 91,000 / 602,000
06./04. [WII] Wii Sports Resort (Nintendo) – 73,000 / 901,000
07./00. [PS2] Kamen Rider: Climax Heroes (Bandai Namco) – 52,000
08./00. [WII] SD Gundam G Generation Wars (Bandai Namco) – 33,000
09./00. [NDS] Color Changing Tingle's Balloon Trip of Love (Nintendo) – 33,000
10./00. [PS2] J-League Winning Eleven 2009: Club Championship (Konami) – 33,000