Nintendo Wii
North America:
1. Wii Fit (Nintendo)
2. Wii Play (Nintendo)
3. My Fitness Coach (Ubisoft)
4. Mario Kart Wii (Nintendo)
5. Lego Star Wars: The Complete Saga (LucasArts)
Japan:
1. One Piece Unlimited Cruise: Episode 2 – Mezameru Yuusha (Bandai)
2. Wii Fit (Nintendo)
3. Suzumiya Haruhi no Gekidou — DX Pack (Kadokawa Shoten)
4. Mario Kart Wii (Nintendo)
5. Taiko no Tatsujin Wii (Namco)
UK:
1. My Fitness Coach (Ubisoft)
2. Mario Kart Wii (Nintendo)
3. Wii Fit (Nintendo)
4. The House of the Dead: Overkill (Sega)
5. Wii Play (Nintendo)
Nintendo DS
North America:
1. Mario Kart DS (Nintendo)
2. New Super Mario Bros. (Nintendo)
3. Phineas and Ferb DS (Disney)
4. Puzzle Quest: Galactrix (D3 Publisher)
5. Fire Emblem: Shadow Dragon (Nintendo)
Japan:
1. Mario & Luigi RPG 3 (Nintendo)
2. Game Center CX: Arino no Chousenjou 2 — Special Edition (Namco Bandai)
3. Gensou Suikoden Tierkreis (Konami)
4. Maji de Manabu: LEC de Ukaru – DS Hishou Boki 3-Kyuu (Square Enix)
5. Game Center CX: Arino no Chousenjou 2 (Namco Bandai)
UK:
1. Professor Layton and the Curious Village (Nintendo)
2. 100 Classic Book Collection (Nintendo)
3. Dr. Kawashima's Brain Training (Nintendo)
4. Mario Kart DS (Nintendo)
5. More Brain Training (Nintendo)

"'Tiger' and 'Tennis' will be compatible, but not dependent, on WMP. They will ship with the functionality, regardless of when WMP comes to market." – EA Sports pr chief David Tinson
In this case, I don't really think EA should have to wait for Nintendo to release Wii MotionPlus in order to get their products out. It's also smart of EA to make the peripheral optional, not mandatory to play. However, I am wondering what the heck is going on with the MotionPlus…

[PS3] Ryu ga Gotoku 3 (Sega) – 232,000 (60%)
[PSP] Shin Sangoku Musou: Multi Raid (Koei) – 152,000 (60%)
[WII] One Piece Unlimited Cruise: Episode 2 – Mezameru Yuusha (Bandai Namco) – 32,000 (45%)
[NDS] Game Center CX: Arino no Chousenjou 2 (Bandai Namco) – LE 18,500 (50%) / SE 8,000 (20%)
[PS2] The King of Fighters 2002 Unlimited Match (SNK Playmore) – 13,000 (70%)
[360] Halo Wars (Microsoft) – LE 10,000 (30%) / SE 1,000 (20%)
[NDS] Sunday x Magazine Nettou! Dream Nine (Konami) – 9,500 (20%)
[360] Way of the Samurai 3 (Spike) – 7,000 (40%)


Torrance, CA (February 27, 2009) – Aksys Games, a publisher of interactive entertainment software, is pleased to announce Jake Hunter Detective Story: Memories of the Past on Nintendo DS™! Developed by WorkJam, the creators of Theresia and the Jake Hunter series, players will return to the city of Aspicio to unravel the many mysteries that stand in the way of Jake Hunter! Will you be able to solve the memories of the past or will it consume you?

Jake Hunter Detective Story: Memories of the Past features three brand new stories, one made exclusively for Nintendo DS™. Jake Hunter Detective Story: Memories of the Past also includes a brand new mode, Jake Hunter Unleashed, which incorporates brand new art direction and six mind-boggling comedic stories. As an added bonus, Jake Hunter Detective Story: Memories of the Past includes the first three stories found in Jake's original adventure, all re-localized with creative imagination and flare.

Enhanced AI, Improved Control and Added Game Modes Announced for the Wii version of the Next Addition to the PES Franchise

Konami Digital Entertainment, Inc. today revealed a new game trailer and details of Pro Evolution Soccer™ 2009 (PES 2009) for Wii™ scheduled to be released on March 17th, 2009. The new game builds on the innovative control system pioneered by its predecessor, with PES 2009 adding a wide range of new control and content elements which will affirm its title as the definitive football title for the Nintendo console.

PES 2009 for Wii boasts three control methods, with the intuitive 'point and drag' interface of last year's game enhanced to make defending and shooting more instinctive. Players use the Nunchuck or the Wii Remote to control the player on the ball, while they pick the player to pass to, or send them on runs into space. The system has been further refined, so that close control is improved, but two new control ideas have also been implemented.

This information comes from the latest edition of Iwata Asks for the DSi…
"People throw out ideas one after the other. Like, since there's a camera, we could do video calls. If I remember correctly, I told everyone early on that we could only implement two or three of the ideas being discussed by the release date, so some needed to be weeded out." – Satoru Iwata
I wonder if it's possible that we could see video calls down the line. After all, it's possible that software can be downloaded from the DSi Shop.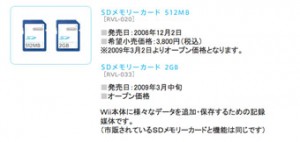 Nintendo has been sticking with a 512MB SD card since 2006 for the Wii, but the company has finally decided to upgrade. In March, Nintendo will begin offering a new 2GB SD card.