Best Buy
Mario & Sonic at the Olympic Games (Wii) – $39.99
Space Chimps (Wii) – $29.99
Rayman Raving Rabbids 2 (Wii) – $19.99
Little League World Series (Wii) – Free $10 gift card with purchase
Circuit City
Super Smash Bros. Brawl (Wii) – $39.99
Mario Party 8 (Wii) – $39.99
MLB Power Pros (Wii) – $15.99
Imagine Teacher (DS) – $19.99
Target
$17 DS games: Brain Age, Brain Age 2, CrossworDS, Flash Focus, High School Musical: Makin' the Cut, Hannah Montana

"With six degrees of freedom you can basically make any movement at all, and be able to track that in combination with the sensor bar and other sensors included in the Wii remote. Add the gyroscope capability and you have the ability to work in all three dimensions of space."
A refreshing statement from Joe Virginia, vice-president of the company that brings us MotionPlus for Wii, InvenSense.
It's what we've all been waiting for! The ability to wave the Wii Remote in any direction, and have true output as if one were actually swinging a sword, or tennis racket.
But as far as Nintendo being the only company with such technology available will be more than questionable in the near-to-late future.
"Of course we're incredibly pleased – delighted would probably be a better adjective – that Nintendo approached us… but it's not an exclusive relationship,"
Virginia hasn't and won't release any information on what systems, or companies, will be using their technology.
"I can't get into details about other folks that are interested in this technology, but as you might imagine of course there is more interest out there."
So this means Wii will still have the most physically interactive games, but for how long?
Come on Nintendo, you've got to have something up your sleeve. We built this city on originality.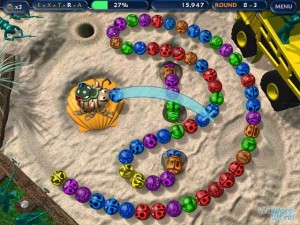 A new game, Tumblebugs, has been officially announced for WiiWare. The game is scheduled to release this fall.
Today Hyderabad and Los Angeles based Gameshastra announces an agreement to create the Wii version of Brisbane based Wildfire Studios' wildly popular and critically acclaimed Tumblebugs franchise.

Since first launching in 2005, Tumblebugs and the recently released sequel Tumblebugs 2, have generated 40+ million downloads.

"We are strong believers in console based casual games," says Prakash Ahuja, CEO of Gameshastra, "especially given the recent transformation of consoles from historically teen focused gaming devices to now becoming family entertainment hubs in many living rooms across the globe. We are very focused on titles that satisfy this new, broad demographic."

Sam and Max Season One (Wii) – 85%
Guitar Hero: Aerosmith (Wii) – 61%
Summer Athletics (Wii) – 63%
Wall-E (Wii) – 54%
Rock Band: Special Edition (Wii) – 80%
Kung Fu Panda (Wii) – 76%
The Incredible Hulk (Wii) – 43%
Guitar Hero: On Tour (DS) – 80%
Civilization Revolution (DS) – 89
Bangai-O-Spirits (DS) – 82%
Metal Slug 7 (DS) – 50%
Mr. Slime Jr. (DS) – 70%
Hi Hamataro Ham-Ham Challenge (DS) – 80%
Mary King's Riding School (DS) – 64%
Izuna 2: The Unemployed Ninja Returns (DS) – 63%
Space Chimps (DS) – 47%
Top Spin 3 (DS) – 60%
Biohazard 0 (Wii import) – Not recommended
Trauma Center: Under the Knife 2 (DS import) – 79%
DAIGASSO! Band Brothers DX (DS import) – 88%
Hello Kitty: No Panda Sport Stadium (DS import) – 42%
Blue Oasis (WiiWare) – 2/5
Major League Eating: The Game (WiiWare) – 2/5
Gyrostarr (WiiWare) – 3/5
SPOGS Racing (WiiWare) – 1/5
Thanks to Biggity for the news tip.

Fire Emblem: New Shadow Dragons and the Blade of Light (NDS) – 80k
Tales of Vesperia (360) – 70k

Treyarch's community manager has confirmed in an email that there will not be online co-op functionality in Call of Duty: World at War for Wii. Instead, there will only be offline co-op between two players – not even four. This comes at a great disappointment, especially after an interview was indicating that the Wii version of the game would be very close to its 360 and PS3 counterparts.
"Hi XXXXXXX-
I'm glad to see you are interested in Call of Duty: World at War.
Unfortunately, you're trying to compare apples to oranges with the below listed games and Call of Duty: World at War. I don't believe any of the games you listed utilize any form of DX9 shader technology, or any of the other numerous advancements with the CoD4: Modern Warfare engine which is now running on the Wii with CoD:WW. These ramifications for online play are far-reaching
We are proud to bring what we believe will be the best-looking Wii game this fall to the community, but that comes with technical trade-offs. The difference between competitive MP and co-op is non-trivial. Think of a size of an MP level, then compare that to an SP level. Then consider all the AI code, level scripting, and endless other content in a SP / co-op environment that is just too much for the Wii to sustain with our engine.


EA has confirmed that the following titles will be present at this year's Leipzig:
Tiger Woods PGA All Play – Wii
FIFA 09 – 360, PS3
FIFA 09 All Play – Wii
FIFA Manager – PC
Dead Space – PS3
Dragon Age – PC
Mirror's Edge – PS3
Red Alert 3 – PC
SimAnimals -Wii
Sims 3 – PC
Left 4 Dead – PC
FaceBreaker – PS3
Battleforge – PC
Crysis Warhead – PC
Lord of the Rings Conquest – 360
MySims Kingdom – Wii
SimCity Creator – Wii
BOOGIE SuperStar – Wii
Family Game Night – Wii
Littlest Pet Shop – NDS
Harry Potter and the Half Blood Prince – Wii
Zubo – NDS