Not all amiibo figures will be freely available. During Nintendo's financial results briefing yesterday, president Satoru Iwata mentioned that some amiibo will be offered as "limited-time offers".
Iwata said:
The amiibo figure lineup for "Super Smash Bros." will continue to be released even after this year-end sales season, and we hope that this will help to update store shelves. As store shelf space is limited, some amiibo will remain stocked on the shelves as staple choices while some will be limited-time offers which will cede their positions to new ones once they are sold out.
Iwata did not elaborate beyond this. It'll be interesting to see which figures are limited!
Update: Bumped to the top. Added two more images. We also have a reconfirmation about the following amiibo compatibility (thanks Chandler B):
– Mario, Peach and Yoshi work with Mario Party 10
– Yoshi also works with Yoshi's Woolly World
---
The images above were taken at a promotion area for amiibo inside Walmart. The third image includes silhouettes for Pikmin and Tom Nook. Might this be a sign that they'll be getting their own figurines at some point in the future?
These photos give us a look at a few more of the amiibo figurines. Fox, Samus, and Villager weren't really in our last gallery!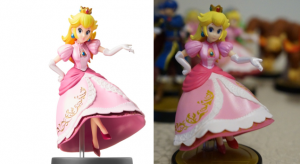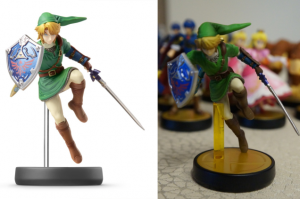 Kotaku has put together a couple of images comparing the look of the Peach and Link amiibos from E3 and the final versions. View them above.