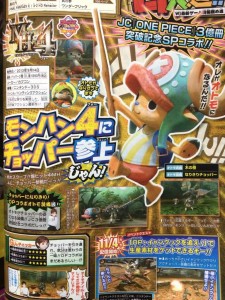 Jump has revealed a new downloadable quest for Monster Hunter 4 which provides players with a Tony Tony Chopper costume and weapons for their Felyne. The quest will be available starting on November 4. Jump also suggests that further Monster Hunter 4 collaborations with One Piece could be on the way.
Update: Bumped to the front page – two more errors have been found.
Capcom has been known for making some rather strange errors over the years. Perhaps most infamous was the Okami Wii boxart incident, in which the game's cover sported an IGN logo. We've also seen a number of prominent spelling errors like "Resident Evil: Revelaitons" – another boxart situation.
But it doesn't stop there! Phoenix Wright: Ace Attorney – Dual Destinies has a few errors of its own. At least three have been spotted so far. You can find them all in the gallery above.
Capcom will begin an open beta test for Wii U early next month. Between November 5 and November 11, system owners in Japan can join in so long as they use their Nintendo Network ID. Capcom will provide participants with an armor and weapon set for use in the final version of the game.