XType Plus is out now on the Wii U eShop, but PhobosLab isn't done with the game.
In a Reddit AMA held last week, the developer said that an update is planned, and it will add off-TV play. Co-op is also likely to be come through a patch.
Here's PhobosLab's full response when asked about the possibility of co-op being added in the future:
Franky, It's my first game on a console and I wanted to test the waters first. I didn't want to develop something for a long time that nobody would be playing in the end.

Reception has been great so far. I'm planing an update and a co-op mode is pretty high on my todo list, along off-tv play. So: yes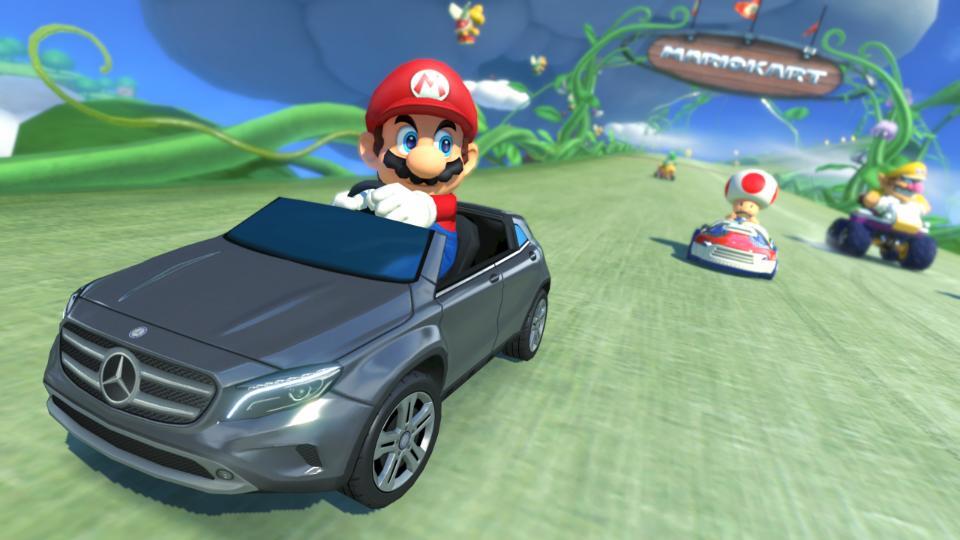 In the latest Just a Chat conversation, Austin and I discuss the upcoming Mario Kart 8 update including the Mercedes-Benz DLC. There's also some talk about what we'd like to see changed/added in the future, plus a tiny bit of Amiibo talk.
Check out the video below!
---
Senran Kagura 2: Deep Crimson is getting a patch in Japan next week. According to a tweet from producer Kenichiro Takaki, the team is addressing bugs and the game's balance. Version 1.1 should be out this month if everything goes well.
Nintendo 3DS Guide: Louvre has received an update. It's basically a means of updating the software so that it matches the changed layout of the Louvre Museum.
Nintendo of Europe shared the update news on Twitter today, writing:
As there has been a change in the layout of the Louvre Museum, Nintendo #3DS Guide: Louvre has been updated

— Nintendo of Europe (@NintendoEurope) August 8, 2014
Dakko Dakko is currently cooking up an update for Scram Kitty and his Buddy on Rails.
The company's Rhodri Broadbent took to Miiverse and explained what will be included in the update. Players can expect improved balance in stages, easier double-jumping, more entertaining and rewarding mutant mice to battle, and more strategic encounters with Mouse Commanders. Dakko Dakko also fixed a few stage progression problems.
At the moment, Scram Kitty's update is getting its last few "finishing touches".
XType Plus' bug has been addressed in Europe. Those who downloaded the game previously should find an update waiting that opens online leaderboards and highscore replays.
A tweet from Nintendo of Europe confirms:
Issues with XType Plus on #WiiU eShop have been resolved. An update now opens online leaderboards & highscore replays

— Nintendo of Europe (@NintendoEurope) August 6, 2014
6th August 2014 – For the first time ever, Nintendo's Mario Kart series will be powered by some real-world horsepower. A software update on 27th August to Mario Kart 8 for Wii U will deliver a variety of new features for players, most notably the ability to download three free Mercedes-Benz cars that players can race in the game: the modern Mercedes-Benz GLA, the 300 SL Roadster from the 1950s and the legendary Silver Arrow of the 1930s.

The GLA model comes with special wheel options, while players can customise all three new karts with various wheels and gliders in the game. The new content arrives on the 22nd anniversary of the Japanese launch of the original Mario Kart game, Super Mario Kart, which launched on 27th August, 1992, for Super Nintendo.

Nintendo is releasing a fairly major update for Mario Kart 8 on August 27. It will not only bring along the free Mercedes-Benz DLC, but also several additions/improvements.
Here's the full rundown:
– Map display will be added on the TV screen
– Mercedes-Benz DLC will be available for free
– Default menu selection following GP race is changing to next race (instead of view highlight)
– Last used kart customization added to save
– Edit others' highlights
– Records screen with total coins, online win-loss record, character selection rates, etc.
– Improved online stability
– Other problems will be addressed
While the update has only been officially announced for Japan, North America and Europe will almost certainly received the patch on the same day.