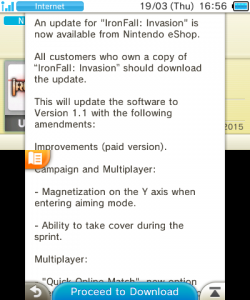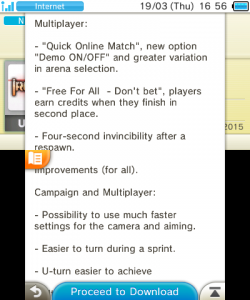 VD-Dev has prepared a new patch for IronFall Invasion that can be downloaded in Europe. Version 1.1 makes improvements to the single-player/multiplayer, and there are a few new multiplayer-specific features as well. When the update goes live in North America, we'll be sure to let you know.
An update for Paper Monsters Recut has gone live in Europe. The patch should be coming to North America soon, and we'll update this post when that happens. Developer Mobot Studios says the update mainly addresses bugs.
Paper Monsters Recut for #WiiU update is live in EU. Should be coming any day now in NA too. Mostly bug fixes.

— Fletcher (@MobotStudios) March 11, 2015
It may not be much, but we have a little bit of footage from Shovel Knight: Plague of Shadows, the game's upcoming expansion. You can check it out above.
Inti Creates shared official details about Azure Striker Gunvolt's 1.2 update, which is now confirmed for release in North America on March 5.
As previously mentioned, the patch adds New 3DS functionality and the Sakura Efflorescence song from Lumen. There's also a new Boss Rush mission, support to transfer demo save data to the full game, and bug fixes.
Read up on the full patch notes below.
As for the version update, Azure Striker Gunvolt has been recharged and loaded up with brand new features for Ver. 1.2!

No. 1: Boss Rush Mission

Beat the game to unlock the new Boss Rush mission! Get 1000+ Kudos during Boss Rush to hear the English version of Beyond the Blue!

No. 2: Brand New Lumen Song

Lumen's brand new song "Sakura Efflorescence" now plays during normal mission playthroughs!

No. 3: Support for New Nintendo 3DSTM

Use the ZL Button and ZR Button to change your weapon on the fly! Enjoy higher CPU power and shorter loading times too!