First Wii Remote with built-in Wii Motion Plus will be available right for the Christmas season

Iserlohn, 03 Sep. 2009. The accessory specialists of Sunflex Europe, known for innovative accessories and peripherals for all major game consoles and the PC, yet announced the XL+ series for Nintendo's Wii for the Christmas season of 2009. A characteristic feature of the new series is the built-in Motion Plus feature. Thus in the new Premium Remote XL+, the well-known Wii Motion Plus add-on, which still makes games more intense and fun to play in top sellers like "Wii Sports Resort", is built right into the remote, so no more accessories are needed. In addition, the built-in battery of the Remote XL+ can be charged conveniently via USB cable and every Remote XL+ offers an external sync button. The Remote XL+ will be available around Europe on the 15.11.2009 at a price of € 49.99 (RRP) and comes with a free second wrist strap, rechargeable batteries and a USB cable.

The Premium Wireless Motion XL provides fun for wireless gaming with the Nunchuk. The XL+ version is characterized by the fact that the receiver of the device has the Wii Motion Plus function already integrated, so that the separate purchase of Wii Motion Plus is no longer needed. Like the Remote XL+ the Wireless Motion XL comes with an integrated rechargeable battery, which can be charged via USB cable. Also provided is a separate on-off switch that allows the device to be switched off to conserve the batteries life. The Wireless Motion XL+ will be available around Europe on the 15.11.2009 at a price of € 29.99 (RRP) and comes with rechargeable batteries and a USB cable.


Playable
Tekken 6 (PS3/360)
Gundam vs. Gundam Next Plus (PSP)
Super Robot Taisen Neo (Wii)
Macross Ultimate Frontier (PSP)
Tales of Vesperia (PS3)
Tales of Graces (Wii)
Summon Night X: Tears Crown (DS)
Blue Dragon (DS)
.hack//Link (PSP)
God Eater (PSP)
Dragon Ball Raging Blast (PS3/360)
Naruto Shippuuden Narutimate Accel 3 (PSP)
Idol Master Dearly Stars (DS)
Queen's Blade Spiral Chaos (PSP)
Kimi ni Todoke: Sodateru Omoi (DS)
Fullmetal Alchemist: Senaka wo Takuseshi Mono (PSP)
Element Hunter (DS)
Battle Spirits Kiseki no Hasha (PSP)
Kaiju Busters (DS)
Video form
Mahou Shojo Lyrical Nano ha A's Portable (PSP)
Battle Spirits Heroes Soul (PSP)
Tamagotchi no Nari Kiri Channe (DS)
Fresh Pretty Cure! Asobi Collection (DS)
Dora Base 2 (DS)
Kamen Rider Climax Heroes (PS2)
Taiko no Tatsujin Wii (Wii)
Anpanman to Touch de Waku Waku Training (DS)
Family Trainer 1&2 (DS)
Gundam Network Operation 3 (PC)


01./00. [NDS] Pokemon Soul Silver (Pokemon Co.) – 723,000 / NEW
02./00. [NDS] Pokemon Heart Gold (Pokemon Co.) – 720,000 / NEW
03./02. [NDS] Tomodachi Collection (Friend Collection) (Nintendo) – 74,000 / 1,051,000 (-15%)
04./03. [NDS] Dragon Quest IX: Defenders of the Starry Sky (Square Enix) – 37,000 / 3,881,000 (-26%)
05./01. [PS3] Kidou Senshi Gundam Senki: Lost War Chronicles (Namco Bandai) – 33,000 / 210,000 (-81%)
06./05. [WII] Wii Sports Resort (Nintendo) – 32,000 / 1,160,000 (-26%)
07./04. [NDS] Love Plus (Konami) – 22,000 / 68,000 (-53%)
08./06. [WII] Monster Hunter 3 (Capcom) – 15,000 / 873,000 (-31%)
09./09. [PSP] Monster Hunter Portable 2 G (BEST) (Capcom) – 13,000 / 953,000 (-12%)
10./00. [PSP] MAPLUS Portable Navigator 3 (Edia Co.) – 12,000 / NEW


Although Nintendo has two significant releases for the remainder of the year, the titles couldn't be any more different. Wii Fit Plus is a clear casual experience while New Super Mario Bros. Wii contains classic platforming. But does Nintendo believe they can compete against the likes of Halo 3: ODST and Modern Warfare 2? Reggie Fils-Aime, President and COO of Nintendo of America, explained when he was asked about that very question in an interview.
"We're selling both to the gamer who grew up playing Nintendo, who grew up playing Metroid, who is playing those games, maybe has a second console in the house. Speaking not only to those consumers, but also speaking to a much wider audience. So for us, it's core and more, right? It's both that heavy playing consumer today as well as a much larger opportunity."


Thanks to Ross M for the news tip!


Believe it or not, there actually has been a good amount of anime based on video games. Sure, some anime has seen short runs, but a number of popular titles have been transformed for television programming. What about games that haven't been produced as anime, though? Dengeki magazine hosted a poll and asked its readers which products they'd like to see make the jump. We've posted the results below.
1. Persona 4
2. Phoenix Wright
3. Okami
4. Kingdom Hearts
5. Idol Master
6. Metal Gear Solid
7. Yakuza
8. BlazBlue
9. Persona 3
10. Atelier Rorona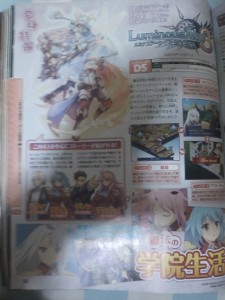 – New character is called Richard
– Has long, blond hair
– Prince of Windol
– Prefers peace
– He and Asbel have known each other and have been friends since childhood, both have trust in each other
– Small sword, attack magic
DS minigame: Kamenin Merchant (Turtlemen Merchant)
– Action game
– Control Turtleman
– Stock items
– 4 players can play through a wireless connection


Fry those zombies up!

Alter saving her grandmother from the claws of the Wolf and its army of the evil everything seemed to have gone back to normal. Nothing further from reality. With the recent and tragic death on combat of the woodman, an invasion of leper zombies endangers once again the peace in the world.

Little Red Riding Hood's Zombie BBQ is a really fun shooter for Nintendo DsiWare™, where you have to move forward by shooting down every living (or dying) creature in your path! Use the great arsenal of weapons at your disposal to do away with the savage hoards of zombies. Shoot, blast, massacre, bombard and burn your enemies to the bone with a simple touch of your stylus on the console screen. Can you save fairy tale land or will you let its creatures live an unhappy-ever-after-life?