Videos
Mario Super Sluggers Info Video 2
Helix Info Video
Defend your Castle Info Video 2
Mario Kart Wii: Who's playing Wii today? 4
Tiger Woods PGA Tour 09 All-Play TV Spot
Star Wars: The Force Unleashed Video 2
MySims Kingdom Info Video
High School Musical 3: Senior Year! Video
Castlevania: Order of Ecclesia Info Video
Imagine: Rock Star TV Spot
Digest Video
Demos (Expire 8/31)
Crosswords DS-Wordsearch Demo
Air Traffic Chaos
PICTOIMAGE
Arkanoid DS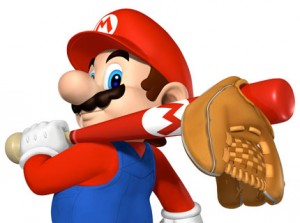 REDMOND, Wash.–(BUSINESS WIRE)– Today Nintendo is calling on its star player to step into the batter's box and hit one out of the park with the launch of Mario™ Super Sluggers. The new baseball game for the Wii™ console lets players use the Wii Remote™ controller to mimic motions they might experience on a real baseball diamond. Just swing the Wii Remote like a bat or make a pitching motion to throw a pitch. This wild, Mario-styled take on baseball includes more than 40 playable characters from the Nintendo universe, and players can even use their Mii™ characters in some modes.

"Mario Super Sluggers has enough depth for core gamers but also offers controls that are instantly accessible to everyone," said Cammie Dunaway, Nintendo of America's executive vice president of Sales & Marketing. "Mario Super Sluggers takes the fun into extra innings with cool characters, baseball-themed challenges and different control options for novice and experienced gamers."

The single-player mode lets players visit Baseball Kingdom, where they encounter characters with different baseball skills. Players must defeat them in a variety of challenges to persuade the characters to join their team – and the characters that people choose are important. Team captains can perform special moves on the field. For example, Mario™ can pitch a wicked fireball, while Luigi™ can turn infield hits into a tornado. Just as in the real world, some players play better together than others: Different character combinations result in good chemistry for a team. In the world of Mario Super Sluggers, this could result in amazing catches in the outfield or the ability to interfere with fielders.


Wii-kly Update

One WiiWare Game and Two Virtual Console Games Added to Wii Shop Channel

Hollywood packs its share of excitement, but video games can deliver just as many mind-blowing thrills as the biggest summer blockbuster. For proof, look no further than this week's powerhouse additions to the Wii™ Shop Channel. With a mesmerizing new WiiWare™ title and two action-packed classics for the Virtual Console™, you'll find captivating visuals, memorable characters and richly interactive tales that impress on screens of all sizes. With or without popcorn, the fun is yours to savor.

Nintendo adds new and classic games to the Wii Shop Channel at 9 a.m. Pacific time every Monday. Wii™ owners with a high-speed Internet connection can redeem Wii Points™ to download the games. Wii Points can be purchased in the Wii Shop Channel or at retail outlets. This week's new games are:

Motion, led by the Wii, in some ways can lead to a more simplistic experience in terms of controls. In baseball, for example, there are a few games available on the market that only require a simple swing of the Wii remote to launch a ball right out of the park. How does Hideo Kojima feel about the entire matter? Well, in an interview with Kikizo, Kojima expresses certain sentiments that he isn't concerned in the slightest.
"Well I don't have any concerns actually, because the bottom line is, when you design a game, you have to target who you want to target. And you design knowing which target to approach, and that's the key. Even when people say that they may change the interface to a very simplified version, I agree and disagree at the same time; look at games that are more difficult because of that new interface, like a racing game for example: it was right or left in the past, but now you have to manoeuvre using the motion controller – this is actually more difficult than in past racing games! In traditional games you practice a lot, and you kind of 'upgrade yourself', and then you clear the game. So I think there are pros and cons. For some players, motion control will come naturally straight away, but for others it might feel difficult, so the game designer is really now responsible to think about which direction he or she should take. I played Killzone 2 this morning, actually, and it was funny because the FPS control was traditional FPS, but when you come to a door and have to kind of open the latch, you all of a sudden have to use the Sixaxis, and nobody was succeeding. So maybe they were kind of rushing to implement the technical design, which might not be the correct way to do it in that title." – Hideo Kojima


Unlike E3, the Games Convention held in Leipzig seems to be growing stronger rather than diminishing in both attendance and overall presence in the industry. The Games Convention is beginning to become the new E3 in ways, even without Nintendo's presence at the event. The increasing success of the show has already led to an announcement that the event will return next year. Leipzig 2009 is scheduled to run from August 19th to August 23rd. I wonder if we'll see another huge unveiling like House of the Dead: Overkill.

It seems these days, everyone wants to put their hands on a Nintendo Wii. For months upon months, the system sells out and believe it or not, still manages to do so in many areas. A few months back, we learned that Queen Elizabeth II had a blast with the system. Perhaps it is for that reason that prompted Miley Cyrus to add the Wii to her birthday list.
"Cyrus also revealed the gifts she's hoping for, which include a puppy, Nintendo Wii and a new car," noted actressarchives.


Sigma Harmonics (DS) – 15k
Haruka-naru Toki no Naka de: Yume Uki-Hashi (DS) – 15k
Tokyo Majin Gakuen Kenpucho (DS) – 8k
J-League Winning Eleven 2008 Club Championship (PS2) – 40k