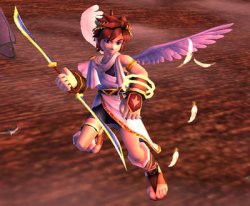 Nintendo's E3 press conference had some highlights. Overall, however, Nintendo presented a very limited number of "hardcore" games. There was no new Zelda title, barely any mention of Mario, and even the upcoming Wario Land was absent. Reggie Fils-Aime on the other hand, strongly believes that Nintendo has enough games at this year's E3 to support the core gamer. In a brief interview on G4 following Nintendo's media briefing, Fils-Aime explained, "How could you feel left out? The Animal Crossing that we've been hearing about that people wanted. Fully connected to the Internet, go to other people's towns. Plus as I said, Grand Theft Auto on the DS. How do you feel left out with those types of announcements?"
Fils-Aime also commented about Kid Icarus for Wii, but essentially dodged the subject: "You know, we never said he was coming. We've all seen the rumors and all of what we see as the desires that consumers want. Make no mistake, Mr. Iwata said quite clearly: Mario teams, Zelda teams are working, they're bringing product out for Wii this generation. We're going to continue to bring all our best franchises to both of our key platforms and continue driving that experience both core as well as brand new consumers."

Wii Music
Wii Sports Resort
Animal Crossing: City Folk
Pokemon Ranger (2): Shadows of Almia
Rhythm Heaven
Mystery Case Files
Surprisingly, titles such as Wario Land and Fatal Frame 4 do not seem to be present.

Format: Wii™
Launch Date: Holiday 2008
ESRB: RP (Rating Pending)
Game Type: Music
Accessories: Wii Remote™, Nunchuk™, Wii Balance Board™
Players: 1-4
Developer: Nintendo

KEY INFORMATION
Create a musical masterpiece with up to four players. Anyone can play the huge selection of instruments in Wii Music with simple motions—like strumming and drumming.
• It's easy to play improv jams. Musicians in your band jam by simply playing their instruments to the beat of a song or by improvising to their heart's content. Play faster. Play slower. Skip a beat, or throw in 10 more. No matter what you do, Wii Music automatically transforms your improv stylings into great music. There are no mistakes—just playing for the pure joy of playing.
• Wii controls immerse you in the music. You can play most of the 60-plus instruments in Wii Music using simple motions with the Wii Remote and Nunchuk controllers. Strum to play guitar, banjo and sitar. Drum to play jazz drums, congas and marching drums. Hammer away to play piano, vibraphone and marimba. Unlike most music games, Wii Music doesn't make you use complex buttons. You only need to imitate playing the instrument.


Format: Wii™
Launch Date: Spring 2009
ESRB: RP (Rating Pending)
Game Type: Sports
Accessories: Wii MotionPlus (included)
Players: 1-4
Developer: Nintendo

KEY INFORMATION
Wii Sports Resort is a new collection of fun sports games that anyone can pick up and play.
• This sequel to the popular Wii Sports™ makes use of the Wii MotionPlus accessory, which gives players the most responsive and realistic experience possible. The Wii MotionPlus accessory, which is included with Wii Sports Resort, plugs into the base of the Wii Remote™ controller and, combined with the accelerometer and sensor bar, provides an experience that gives players an even greater sense of immersion.
• Just as with Wii Sports, people will love competing against friends and family. As the competition heats up, Wii Sports Resort is as much fun to watch as it is to play. First-time players will find it easy to pick up a Wii Remote and jump into the action.
• Wii Sports Resort takes place on a tropical island. A wide range of activities will keep players coming back for one more round. Some sample activities include Sword Play, Power Cruising (racing a water scooter) and Disc Dog, which involves accurately tossing a disc to a cute, Mii-like dog.



LOS ANGELES, July 15, 2008 – At the E3 Media & Business Summit today, Nintendo unveiled an enhancement for its iconic Wii Remote™ controller and new games that promise to further enrich and engage players around the world. These offerings build on Nintendo's ongoing efforts to remove the barriers between expert and novice video game players, an approach that has been instrumental in creating a paradigm shift for the industry since the advent of the Nintendo DS™ portable system and the Wii™ home console.

"Much has been reported about the 'expanded audience' for games, but what's really at play is an expanded experience," said Cammie Dunaway, Nintendo of America's executive vice president of Sales & Marketing. "People of all ages having fun together—whether in the same room or from remote locations—puts smiles on faces and drives millions of new players into video game entertainment."

E3 may have been on the light side for hardcore gamers, but one hopeful piece of news came out of Nintendo's E3 conference. It was confirmed today that both the Mario and Zelda teams are "hard at work," developing new titles for the Wii. Whether or not this means we will see new Mario and Zelda games soon is up in the air; however, rest assured that Nintendo's AAA developers are creating original content for the hardcore.

GTA China Town
– Set in modern-day Liberty City
– Free-roaming gameplay
– Exclusive to the Nintendo DS
Pokemon Ranger: Shadows of Almia
– Sequel to Pokemon Ranger
– Coming November 10th
– Already released in Japan, being localized for America

– Features songs from Nintendo games, including F-Zero
– Orchestra mode
– Create your own music videos
– The game will teach you how to use instruments
– Hold the Wii remote in a certain position to play the song
– Over 50 instruments playable
Confirmed instruments:
– drums
– saxophone
– piano
– violin
– guitar