"At the time we were developing Ocarina of Time, not many games had both day and night. In order to heighten the sense of reality within the game, we thought changing from day to night would be important, so we set some events to happen during the day and others to happen at night.
In the game, we were only able to completely differentiate day and night, and there was no in-between. But in planning these events to occur at different times of the day, we learned how to control the characters' actions in real time as measured within the game. Afterward we wondered if other types of gameplay would be possible using that system, and the result was the three-day cycle in Majora's Mask." – Eiji Aonuma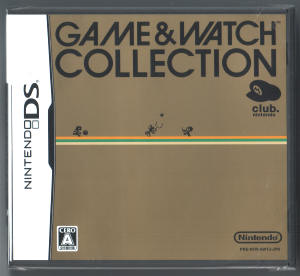 Although Nintendo has yet to launch Club Nintendo in North America, one of the first giveaways may have been revealed. The ESRB has rated a particular item for the Nintendo DS that was once available in Japan. If the ESRB rating is any indication, the Game & Watch Collection for DS will be coming stateside. The title features three games: Donkey Kong, Oil Panic and Green House. Club Nintendo will be launching sometime later this year.

TrackMania DS, the eagerly anticipated and most exciting racing game available on Nintendo DS, is released today.

TrackMania DS allows players to drive at mind-blowing speeds in hi-octane racers on incredible tracks made of jumps, loops and turbo boost pads as they bid to become the fastest driver on the planet. View the extreme gameplay on the latest TrackMania DS trailer: www.youtube.com/mediasafari

SANTA MONICA, CA – November 21, 2008 – Activision Publishing, Inc. (Nasdaq: ATVI) announced today Big League Sports for the Wii™ has hit retail shelves in North America. Developed by Koolhaus Games exclusively for Wii, the game is all about putting players right into the action in the most thrilling situations in their favorite sports.

There are multiple disciplines to master within tennis, basketball, football, soccer, lacrosse and hockey. But unlike other games the focus is not on the team – it's on whether or not you can deliver in specific, adrenaline-pumping moments. Whether it's acing an opponent in tennis, hitting a basketball shot at the buzzer, or bending free kicks around a goalie in soccer, Big League Sports offers a fresh interpretation of what a sports game can be on Wii.

Chrono Trigger (DS) – 176,000 (46%)
Animal Crossing: City Folk (Wii) – 117,000 (23%)
Animal Crossing: City Folk with Wii Speak (Wii) – 58,000 (20%)
Saka Tsuku DS: Touch and Direct (DS) – 41,000 (33%)

Nintendo Wii
North America:
1. Mario Kart Wii (Nintendo)
2. Guitar Hero III: Legends of Rock (Activision)
3. Wii Fit (Nintendo)
4. Wii Play (Nintendo)
5. Rock Band Special Edition (MTV Games)
Japan:
1. Machi e Ikouyo: Doubutsu no Mori (Nintendo)
2. Machi e Ikouyo: Doubutsu no Mori WiiSpeak Bundle (Nintendo)
3. Wii Fit (Nintendo)
4. Mario Kart Wii (Nintendo)
5. Wii Music (Nintendo)
UK:
1. Mario Kart Wii (Nintendo)
2. Wii Play (Nintendo)
3. Wii Fit (Nintendo)
4. Tiger Woods PGA Tour 09: All-Play (EA Sports)
5. Mario & Sonic at the Olympic Games (Sega)
Nintendo DS
North America:
1. Pokemon Ranger: Shadows of Almia (Nintendo)
2. Mario Kart DS (Nintendo)
3. New Super Mario Bros. (Nintendo)
4. Brain Age (Nintendo)
5. Mystery Case Files: MillionHeir (Nintendo)
Japan:
1. Chrono Trigger (Square Enix)
2. Hoshi no Kirby: Ultra Super Deluxe (Nintendo)
3. Tongari Boushi no Mahou no 365 Nichi (Konami)
4. Wagamama Fashion: Girls Mode (Nintendo)
5. Saka-Tsuku DS: Touch and Direct (Sega)
UK:
1. Professor Layton and the Curious Village (Nintendo)
2. Dr. Kawashima's Brain Training (Nintendo)
3. More Brain Training (Nintendo)
4. Mario Kart DS (Nintendo)
5. High School Musical 3: Senior Year (Disney)


"Marry" Yourself to a Copy Today! (Zing?)

November 20, 2008
Luminous Arc 2 is now available in stores across North America! This epic strategy RPG is loaded to the brim with content, including a wealth of new characters (and the return of a few favorites), beautiful hand drawn graphics, a stunning score from famed composer Yasunori Mitsuda's Procyon Studio, local and online multiplayer support, multiple endings, a redesigned user interface, and tons of other new features. More engaging, more challenging, more attractive, and more satisfying, Luminous Arc 2 is the definitive strategy RPG for Nintendo DS owners this holiday season.

New to Luminous Arc 2 is the innovative Engagement System, one of the most jarring changes series veterans will see in the game. (It's hard not to notice pictures of the Witches in their wedding outfits when Roland chooses to Engage with them.) The system is unique in that it offers Roland a variety of strategic possibilities so long as he keeps the Witches alive. Since the player will gain access to all the skills that a Witch has as well as stat boosts that vary per Witch for three turns, there are a lot of strategies one can build just focusing on Roland's Engagement.