"The issue is that there are multiple potential outcomes… it's not as simple as 'yes it's coming' or 'no, it's not'. And we have a few other issues to contend with that I'm not able to get into details on that are coloring what direction we are able take with the franchise in the West. Again, we're deeply in 'stay tuned' territory but I don't expect to have any solid news to share openly, one way or the other for a couple months." – Christian Svensson, Corporate Officer/VP of Strategic Planning & Business Development
It seems as though there's more to bringing the game over than just licensing issues. Hopefully we'll hear more news in the coming months.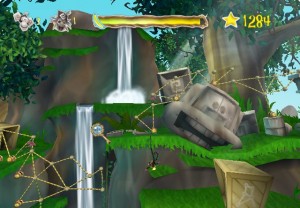 Tiki Towers is a game of construction, destruction, problem solving, and monkeys! You must reclaim the islands of your tribe by defeating series of evil enemy chiefs. Work with your monkey friends to build towers out of native materials such as bamboo poles, coconuts, and vines. Match wits against the enemy chiefs bent on destroying your towers and driving you from the island, navigate levels filled with crazy building challenges, and deal with unfriendly wildlife and other environmental obstacles. Assign monkeys to chant for the BananaMana necessary to cast spells that counter the attacks of the enemy chiefs. Play in either single player or two-player cooperative mode.
Tiki Towers should be released on December 8 for 1000 Wii points.

Shiren the Wanderer DS 2 (DS) – 30k
Mega Man Star Force 3 (DS) – 30k
Tomgari Boushi to Mahou no 365 Days (DS) – 20k
Nishimura Kyotaro Suspence 2 (DS) – 10k
Family Ski: World Ski (Wii) – 5k



Tomb Raider Underworld (Wii) – 8
Animal Crossing: Let's Go to the City (Wii) – 9
Guitar Hero World Tour (Wii) – 9
Wii Music (Wii) – 8
Rayman Raving Rabbids TV Party (Wii) – 9
My Sims Kingdom (Wii) – 8
Crash Bandicoot: Mind Over Mutant (Wii) – 8
Need for Speed Undercover (Wii) – 7
Final Fantasy Fables: Chocobo's Dungeon (Wii) – 7
WWE SmackDown vs. Raw (Wii) – 8
FaceBreaker KO Party (Wii) – 8
Shaun White Snowboarding: Road Trip (Wii) – 7
Mushroom Men: The Spore Wars (Wii) – 8
Last King of Africa (DS) – 6
Exit DS (DS) – 7
Zubo (DS) – 9
Mechanic Master (DS) – 9
More Touchmaster (DS) – 7
Ninjatown (DS) – 9
Professor Layton and the Curious Village (DS) – 9
Unsolved Crimes (DS) – 8
Crash Bandicoot: Mind Over Mutant (Wii) – 5
Thanks to Joclo for the news tip!

Cammie Dunaway, Nintendo executive vice president of sales and marketing, not only confirmed today that the system is still on track to release before the end of the holiday, but it will also be similar to Japan's setup. There will be mostly physical prizes up for grabs and will feature both Japanese and North American related items.
"It's weighted more toward physical goods. …When you purchase a Nintendo product, you go on and you say that you've purchased a Nintendo product, you get points for that. You also get points for filling out surveys to talk about your experience with the product. You actually get points before you purchase, if you indicate an interest in purchasing… So it really helps us to gauge marketplace demand. As you collect points — these are actually gold coins — you're able to trade them in for real merchandise."

While most of us have had the opportunity to sit down and guide Toku through the world of Mistralis for many months now, Japan has yet to see the game become available. However, this will change soon, as Square Enix has announced that they plan to publish the game in Land of the Rising Sun. The game will cost 1,000 Wii points and will be available in December.

NEW YORK, NY – November 14, 2008 – Atari, Inc. one of the world's most recognized video game publishers, today announced the development of a new and dramatically enhanced iteration of its equestrian title, My Horse & Me, for Wii™ and Nintendo DS™. Scheduled to release in March 2009, My Horse & Me: Riding for Gold, provides horse enthusiasts with one of the most authentic, compelling equine experiences ever seen in a video game.

With the exclusive license from the FEI (International Equestrian Federation), one of the world's foremost horse sports organization, My Horse & Me: Riding for Gold, features competitions and courses based in actual US and European locations, realistic riding animations and models, extensive training, grooming, and vet activities, as well as custom horse and rider modes. The game also includes beautifully detailed environments and an engrossing storyline that captures the spirit, excitement, and pressure of equine competition.