Haarlem, The Netherlands – September 10, 2008 – Today leading worldwide videogame Publisher Lighthouse Interactive, part of SilverBirch Inc.'s (SVB:TSXV) videogame division, announced that they have acquired the worldwide rights to the multiplatform game Pirate Party: Adventures of the Black Corsair. Developed by Virtual Identity, this family friendly action adventure 'party' game for Nintendo Wii™ and DS™ is scheduled for worldwide release early next year. Six never-before-seen screenshots accompany this press release.

"2009 will be a significant year for us," said Steve Wall, Vice President of Business Development for Lighthouse Interactive. "Given our recent acquisition by SilverBirch Inc., we now have the means to branch out into the console market. We are proud that Pirate Party will be our first of many console games to come and we are very happy to be working with the Virtual Identity team. Pirate Party has a wonderful mix of Adventure and party-style gameplay that gamers will love."

"With respected publisher Lighthouse Interactive beaconing our way, we are confident that Pirate Party will be well received by a broad range of gamers," said Alex Remotti, CEO of Virtual Identity. "Pirate Party has many unique features, but most importantly, it's a 'fun' game that people will enjoy."

Hoffman Estates, IL – September 9, 2008 – High Voltage Software, Inc., one of the world's largest independent developers, today officially announced that their stunning first-person action shooter, The Conduit, has been scored by famed composer Diego Stocco.

Diego Stocco's music sound design credits include movies such as Transformers, Resident Evil: Extinction, Crank, Jumper, Lady in the Water, and videogame soundtracks for Justice League Heroes and SoulCalibur IV. His commercial credits include Nokia, Samsung, Panasonic, BMW and General Motors.

"Working with Diego was such an enjoyment," said Michael Metz, Audio/Visual Director at High Voltage Software. "When I heard the first track he made for The Conduit, I literally got the chills, it was exactly the mood and mix of sound design and music we were looking for."


– Phantasy Star Zero (DS)
Publisher: SEGA
Developer: Sonic Team?
Release: Winter 08
– Character Designer : Toshiyuki Kubooka (IdolMaster, Lunar)
– Scenario : Tooru Shiwasu (formerly in charge of the online quest on the original PSO, now a writer)
– Scenario : Teru Arai (mystery novels writer)
– New in the PSO series
– Multi play over Nintendo WiFi connection
– Chat system supports sending of stylus sketches (Something like Pictochat)
– Blow into DS mic to send msg (??)
– Huge Dragon: Rayburn
– Girls Mode (DS)
Publisher: Nintendo
Developer: ?
Release: 23rd Oct/4800 Yen
– Fashion game
– Item Getter (DS)
Publisher: 5pb
Developer: ?
– New DS Adventure RPG
– Game is divided into Adventure and RPG part
– You can use alchemy to create new items
– Power Pro Pocket 11 (DS)
Publisher: Konami
Developer: Konami
– Powerful Major League 3 (Wii)
Publisher: Konami
Developer: Konami

DS
Yajuu Keiji: Tokyo Douji Tahatsu Tero o Chinatsu Seyo! (NDS, Success): 6 / 6 / 4 / 6 – (22/40)
Long Vacation: Iruka to Watashi (NDS, Starfish ID): 4 / 5 / 4 / 5 – (18/40)
Dragon Ball DS (NDS, Bandai Namco): 8 / 8 / 7 / 7 – (30/40)
Illumi Slight: Hikari no Puzzle (NDS, Interchannel): 6 / 6 / 7 / 7 – (26/40)
Ochishi Keiji: Keiji-San, Watashi ga Arimashita (NDS, Success): 7 / 7 / 7 / 6 – (27/40)


What hasn't Google done these days? They have their own email service, immensely popular search engine, translator, and much, much more. Google might be expanding their territory even more as the future approaches by publishing games. As 1UP points out, Google is full of money and could easily buy out any number of casual game developers. Google continues to change its approach as can be seen with the release of their own Internet browser, Google Chrome. The only question is, will Google have the guts to take a step into the gaming industry?

Austin, TX – September 9, 2008 – Upshot Games announced today an elegant, yet ruggedly built, "RealMotion Pool Cue" companion accessory for their upcoming professional pool game for Wii™, American Pool Deluxe. This is not your average controller peripheral – it is a meticulously crafted cue built specifically to take advantage of the Wii remote's accelerometer technology for real precision and fun.

"It is the dedication to realism that led to the development of the RealMotion Pool Cue for American Pool Deluxe," said Eric 'The Preacher' Yow, World Pool-Billiard Association Masse World Champion. "Tested extensively by real billiards pros like me, you can be assured this is the only real pool game for Wii™."

From 8-ball to 9-ball to snooker, American Pool Deluxe features head-to-head and four person multiplayer, trick-shot challenges, as well as a complete tournament mode. Players in a tournament can face off against other pool champions from around the world. Three professional commentators analyze the action as players walk around the table and plan their shots from any angle.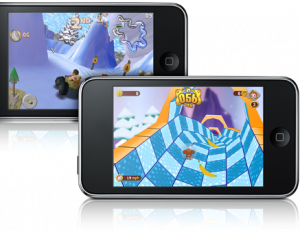 The PSP and DS have become long-established portable gaming devices. It has only been considerably recent that the iPod Touch became a competing system. However, Steve Jobs is trying to make a case that it's the best portable device for gaming. "Now you can make a pretty good argument that it is the best portable device for playing games on – and a whole new class of games."