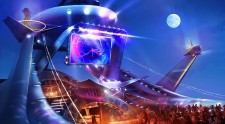 11 minutes ago
By
Brian
(
@NE_Brian
)
0 Comments
Zoë Mode, in partnership with Activision, was once working on DJ Hero: After Party. The game was slated for Wii, PlayStation 3, and Xbox 360.
DJ Hero: After Party was intended to be "an alternative approach to the formula", according to Unseen64. A developer who worked on the project said that it "had a very different vibe to it than the other games", with a more " relaxed and laid back" vibe.
For whatever reason, Activision did not go further with DJ Hero: After Party and rejected the pitch in October 2009. However, the publisher held on to their concepts – some of which were used in DJ Hero 2.