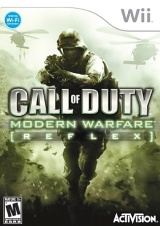 Game Info:
Genre: First Person Shooter/Action
Available: Now
Video: 16:9/480p
Audio: Dolby Pro Logic II
Players: 1-2 (Campaign)
Nintendo Wi-Fi: Online Multiplayer
ESRB: Mature
Treyarch and Activision finally bring 2007's "Game Of The Year" to the Wii. Staying true to the Call Of Duty formula, the title places you in the fatigues of mainly two soldiers; a Sergeant from the USMC, and a British SAS operative. The games acts (levels) will have you switching back and forth between the two soldiers; offering you a different view of their distinctive story lines and the war they fight.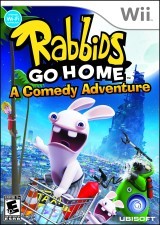 Game Info:
Genre: Action/Adventure
Available: Now
Video: 16:9/480p
Audio: Dolby Pro Logic II
Players 1-2
Nintendo Wi-Fi: Yes (No Gameplay)
ESRB: Everyone 10+
In Ubisoft Montpellier's comedy adventure the Rabbids find themselves homeward bound; in which case their destination is the moon. You take control of a few rabbids as you push a shopping cart around various environments collecting as many items as possible so that the rabbids can build a big enough junk pile to make their way home.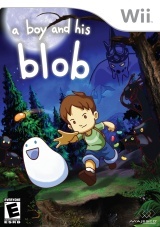 Game Info
Genre: 2-D Puzzle/Adventure
Available: Now
Video: 16:9/480p
Audio: Stereo
Players: Single player only
Nintendo Wifi: None
ESRB: Everyone
In "Way Forward Technologies' " re-imagining of the NES original, you once again play as a young boy, who upon being awoke by an earth shaking crash; goes out to investigate. Upon investigating the source of the calamity, he finds the blob; puzzle-solving adventures ensue.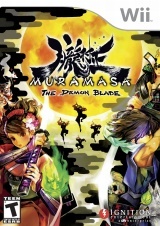 Game Info
Genre: 2-D Action/Adventure/RPG
Available: Now
Video: 16:9/480p
Audio: Stereo
Players: 1
Nintendo Wiifi: None
ESRB: Teen
In Vanillaware's new 2-D Epic time-piece set in feudal era Japan; "Muramasa: The Demon Blade", is a side-scrolling action/adventure/RPG, which tells the stories of its two playable protagonists: Kisuke and Momohime. Both have their own individual story-lines, weapons and boss encounters; which provides players with two distinct experiences.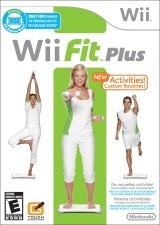 Game Info

Genre: Fitness/Activity
Available: 10/04/2009
Video: 16:9/480p
Audio: Stereo
Players: 1-2 (Depending on activity)
Nintendo Wi-Fi: None
ESRB: Everyone
With "Wii Fit Plus" Nintendo re-offers players a unique way to become active and introduce exercise with a gaming approach.
For owners of the original Wii Fit, Plus offers 15 *new* activities (some are new takes on older ones), 5 new balance tests, 3 new exercises in the Strength and Yoga categories and a lot of new improvements and additions overall.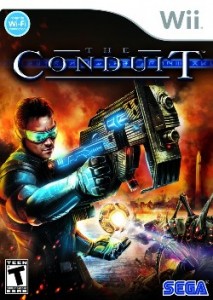 Game Info
System: Nintendo Wii
Genre: First Person Shooter/Action
Players: 1 Local, 12 Online
Release Date: June 23, 2009
Publisher: Sega
Developer: High Voltage Software
The excitement surrounding the Wii and its launch was, to put it bluntly, huge. The idea that games could be controlled by the movements of the player was mesmerizing and on top of that the price of admission was cheap. But this bliss faded quickly when Wii owners came to realize that the revolutionary motion controller was not as perfect as many had hoped, the only flawless feature being the Wii's IR sensor. This sensor, however. would spawn a new following as the possible innovator of the increasingly popular FPS genre, idealistically offering precision aiming and a more natural feeling for shooting than the clunky (albeit improving) dual analog control scheme. Sadly, games came and went and one poorly designed FPS after another went from development to shelf to bargain bin. It has been nearly three years since the Wii's launch, and the number of FPSs worth playing on the system can be counted on half of one hand. This begs the question, why? Could it be that the Wii is simply so underpowered that it can't handle the prowess of modern FPS games? Many would have held that as the truth, that is, until High Voltage Software stepped in to take the reigns of the genre and show every other third parties how it's done.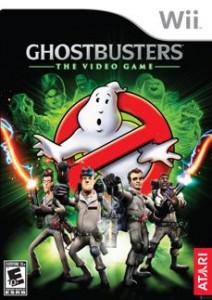 System: Nintendo Wii
Category: Action
Players: 1-2
Release Date: June 16, 2009
Publisher: Atari
Developer: Red Fly Studios

Ghostbusters is considered to be, by many, one of the most recognized movie franchises to have surfaced over the last few decades. Not too many people can claim that they have never heard the film's main theme song or, at the very least, the phrase, "Who you gonna call? Ghostbusters!" It's been over fifteen years since a video game based on the series was released and with the track record that Ghostbusters possesses, it's surprising that it has taken so long for a new video game to be released. But it's finally here – A new ghost-busting game is out and fortunately, the Wii version isn't too shabby.
It's important to note right off the bat that this is not a gimped Ghostbusters title. Unlike many publishers who ignore the Wii when it comes to multiplatform titles, it is very clear that Red Fly Studios, in charge of the Wii version, put in a lot of effort in creating a bona fide experience. You'll see familiar faces along with their original voice actors, you'll hear the famous Ghostbusters song (although it is underused) and you'll recognize unique weaponry. No, the Wii version does not feature realistic graphics (which is actually an intelligent design choice). However, the game still manages to hold its own when compared to the Xbox 360 and PlayStation 3 versions.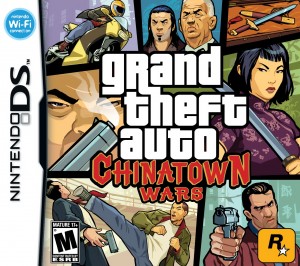 System: Nintendo DS
Category: Sandbox, Action-Adventure
Players: 1
Release Date: March 17, 2009
Publisher: Rockstar Games
Developer: Rockstar Leeds
When Grand Theft Auto originally released for the PlayStation, the title completely redefined what sandbox gaming meant for the industry. Then with each sequel came another innovation that raised the bar for the genre. The most recent entry in the series, "Grand Theft Auto: Chinatown Wars", differentiates itself from more recent Grand Theft Auto games, and in doing so, takes many key steps forward for not only handheld versions of the game, but also for the series and genre as a whole.
Some would argue that comparing Grand Theft Auto: Chinatown Wars to console iterations in the series is unwarranted due to natural limitations of the DS. However, the truth is that in many ways, Chinatown Wars surpasses even the likes of Grand Theft Auto IV in terms of content, playability and gameplay, something that nobody would have expected from such an underestimated system. The biggest and perhaps most impressive feature that the game boasts is the engine.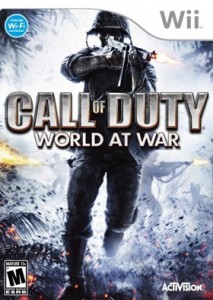 Game Info
System: Nintendo Wii
Genre: First Person Shooter/Action
Players: 1-2
Release Date: November 11, 2008
Publisher: Activision
Developer: Treyarch
The plethora of Wii games has grown ever since the console's release, but one genre more than any other seems to have suffered on a system where it should have benefited from the unique control scheme: Shooters. From Metroid Prime 3 to Medal of Honor Heroes 2, the Wii has seen many attempts at making a quality shooting game. With the Wii, however, when developers excelled in one area, they lacked in another. EA's Medal of Honor Heroes 2 had some quality online multiplayer, but felt all over dated in comparison to more current shooters. Retro Studio's Metroid Prime 3 had great story, control and graphics, but it lacked online and multiplayer options – though it should also be remembered that Prime 3 is an adventure at heart. The newest installment in the shooter genre on the Wii is Treyarch's "Call of Duty: World at War", which, utilizing the Call of Duty 4 engine, has proven itself to be one of the best shooting options on the console to date.
There is no one thing that stands out about World at War because the game is so well rounded. From the graphics to the controls to the online, each and every aspect of the game trumped nearly every predecessor on the system to date (with the exception being the story and graphics of Metroid Prime 3). One thing players will notice upon first glance, are the visuals.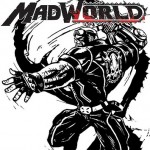 Game Info
System: Nintendo Wii
Genre: Beat em up
Players: 1-2
Release Date: March 10, 2009
Developer: Platinum Games
Publisher: Sega
Ever since its launch, the Nintendo Wii has served as the pinnacle of casual gaming for the modern industry. People who once overlooked video games were playing Wii Sports and working out with Wii Fit, and those who already played games were drawn in by the intuitive controls and party-style gameplay. For the more mature gamers, however, the novelty soon wore off and countless Wiis were found gathering dust in closets and on unused TV stands. While Nintendo continued to release and re-make more and more casual-style games, hardcore gamers abandoned Wii altogether, often selling their systems in order to purchase another. The lack of more mature and hardcore titles on the system has served to be one of its major catastrophes, and also its biggest pitfall. But of course, with a new year comes a new mentality, and game developer/publisher Sega has strayed into all but untouched snow with their stylized black and white beat em up, Madworld which has proven to be not only the Wiis first big blockbuster of the year, but also the most fun I have had playing video games in a long time.