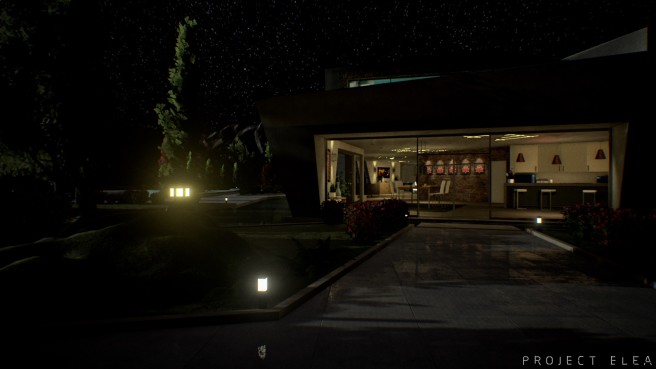 Bulgaria-based game studio Kyodai is developing Project Elea, a new first-person sci-fi interactive storytelling adventure. The game focuses on "humanity's place in the universe, the nature of intelligence and the meaning of faith."
Here's an overview of Project Elea:
Playing as Elea, you will navigate the hallways, control rooms and ecosystems of Pilgrimage II, the ship set to colonize Solace, a yet unexplored Earth-like exoplanet. In order to save the ship and uncover the mystery behind the disappearance of pioneering mission Pilgrimage I 15 years ago, you'll have to aid crippled Kazumi in fighting off an eccentric invasive intelligence that wants to take control, that has been waiting in the darkness of space, preparing…

As Elea explores clues and executes manual overrides to restore Kazumi's hijacked virtual memory, she will slowly come to realize it's the lapses in her own memory and the imprints of a personal tragedy that she must deal with first.
Project Elea, made with Unreal Engine 4, has a "fully explorable and beautifully created fictional world" ranging from claustrophobic space environments to open vistas and detailed interiors. Kyodai promises "a rich and unsettling narrative" and plenty of original gameplay scenarios. Interaction "with almost anything in the game" will be possible, and there will be logic puzzles to take on such as "periodic physically based distractions."
Project Elea is targeted for a few platforms, including NX. You can check out the first teaser below.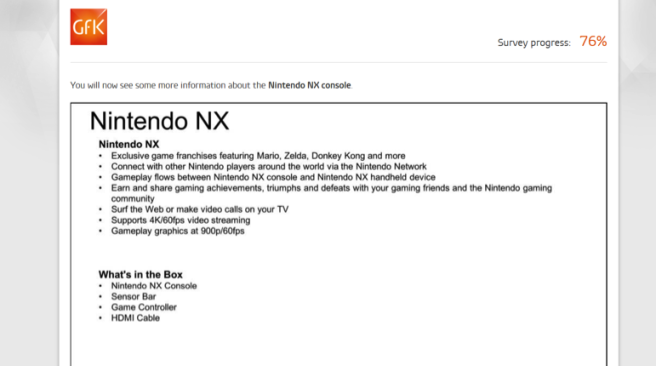 Well before Wii U was announced, plenty of rumors about the console popped up on a regular basis. Some were true while others were not. We're now in a similar situation with NX, Nintendo's next system.
If the latest rumors are to be believed, some information about NX has leaked through a GFK survey. It's worth mentioning that GFK is a client of Nintendo, and the survey has been verified. However, that doesn't necessarily mean that the information is legitimate. This could be a means of simply gauging how consumers would react to certain elements included in the survey.
The survey slide mentions a few notable aspects about NX. Achievements, 4K/60FPS video streaming, 900p/60FPS gameplay, and connectivity between a console and handheld device are all mentioned. However, to reiterate, there's no guarantee that any of the points listed here are true.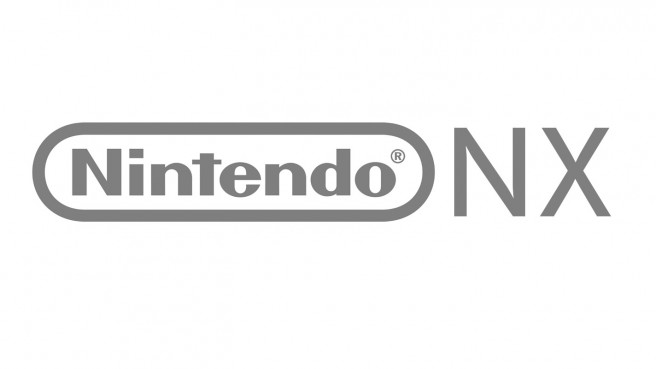 Nomura Securities has shared some speculation about the timing of NX's reveal. The concept could be announced between March and May, followed by an actual unveil in June. It may then launch between October and November.
Here's a notable excerpt from Barrons' article:
According to analyst Junko Yamamura, Nintendo will make NX available by 2016 year-end's shopping season. Nomura expects Nintendo to announce the "concept" sometime between March and May, unveil the actual console in June, and launch it between October and November. "We think the NX will start to boost operating profits in 18/3, when it will have been on the market for a full year and will have a line-up of software titles, which carry high operating margins."
Today's news comes as Nintendo stock dipped by 5 percent. Nomura Securities feels that NX will cannibalize the existing sales of Wii U and 3DS.