"We're not making one at the moment, but we will have to see what comes out in the future. We will always try to make LEGO Games that people love, so keep your eyes peeled." – Luk Cashmore, TT Games representative
I can actually imagine a Harry Potter LEGO video game. There's already Star Wars and Indiana Jones variations, so why not Harry Potter? Obviously though, it's not happening, but there more LEGO video games will arrive in the future.


"I think it's time for No More Heroes to become serious. But it's going to have humour, don't worry. It won't be too serious…I wasn't that satisfied with the open world. I wanted to make a lot more stuff, more detail. So this time in No More Heroes 2, I want to take my revenge. And actually, the theme of No More Heroes 2 is revenge, so…" – Suda51
It's good to know that No More Heroes 2 will take a more serious approach, though Suda seems to understand that there needs to be a balance between being serious and having some humor in the game. The first No More Heroes title was hilarious, so let's hope that the sequel will provide a similar quality of humor.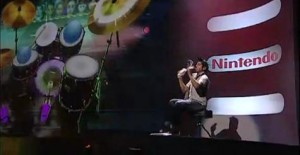 The big question when Wii Music was announced was whether or not the title would see the same success that Wii Sports and Wii Fit have experienced. After all, Wii Music follows in the steps of the other two titles in that they're simple and casual fun that anyone can pick up and play. First day sales of Wii Music from Japan are in, and the numbers should be fairly encouraging for Nintendo. According to Enterbrain, the game has sold about 50,000 copies in its first day. That's not too shabby at all, and there's a chance that Wii Music may top the charts in Japan next week.



– LittleBigPlanet – 10
– Fable II – 9
– Far Cry 2 – 8
– Dead Space – 8
– Rock Band 2 – 9
– Midnight Club: Los Angeles – 7
– Motorstorm: Pacific Rift – 7
– Lego Batman – 4
– Fracture – 4
– Saints Row 2 – 5
– Wipeout HD – 8
– Baja : Edge of Control – 5
– Mega Man 9 – 6
– Captain Rainbow – 7
– Flower, Sun and Rain – 4
– Sonic Chronicles: The Dark Brotherhood – 6
– Disgaea 3 – 8
– Tales of Vesperia – 8
– Legendary – 4
– World of Goo – 8
– Trackmania DS – 8
– Line Rider 2: Unbound – 5