1 1 FIFA 09 EA CANADA EA SPORTS ELECTRONIC ARTS
2 2 CALL OF DUTY: WORLD AT WAR TREYARCH ACTIVISION ACTIVISION BLIZZARD
3 3 NEED FOR SPEED: UNDERCOVER EA BLACK BOX EA GAMES ELECTRONIC ARTS
20 4 WII FIT NINTENDO NINTENDO NINTENDO
6 5 WII PLAY NINTENDO NINTENDO NINTENDO
4 6 GUITAR HERO: WORLD TOUR NEVERSOFT REDOCTANE ACTIVISION BLIZZARD
5 7 MARIO & SONIC AT THE OLYMPIC GAMES SEGA SEGA SEGA
9 8 QUANTUM OF SOLACE TREYARCH ACTIVISION ACTIVISION BLIZZARD
17 9 LEGO INDIANA JONES: ORIGINAL ADVENTURES TRAVELLER'S TALES LUCASARTS LUCASARTS
8 10 MARIO KART WII NINTENDO NINTENDO NINTENDO

Wii-kly Update

Two WiiWare Games and One Virtual Console Game Added to Wii Shop Channel

What's your weapon of choice? Is it a laser gun? Or maybe just a simple deck of cards? No matter what type of game gets you fired up, the latest additions to the Wii™ Shop Channel are sure to add something new and exciting to your arsenal. With fast-flying cards, tumbling pachinko balls and sinister vampires in your midst, you'll need every tool at your disposal.

Nintendo adds new and classic games to the Wii Shop Channel at 9 a.m. Pacific time every Monday. Wii owners with a high-speed Internet connection can redeem Wii Points™ to download the games. Wii Points can be purchased in the Wii Shop Channel or at retail outlets. This week's new games are:

The latest EDGE review scores are as follows:
Rise of the Argonauts (PS3/Xbox 360, Codemasters): 3
Mushroom Men:The Spore Wars (Wii, Gamecock Media Group): 6
Destory All Humans: Path of the Furon (PS3/Xbox 360, THQ): 3
Persona 4 (PS2, Atlus): 9
Fire Emblem: Shadow Dragon (NDS, Nintendo): 7
Skate 2 (PS3/Xbox 360, EA): 7
Away Shuffle Dungeon (NDS, AQ Interactive): 5
Space Invaders Get Even (Wii, Taito): 5
Big Bang Mini (NDS, SouthPeak Games): 6
Burn Zombie Burn (PS3, Pinnacle): 6

New Range of Titles for Aspiring Fabulous Fashionistas and Wannabe Make-up Masters
Milton Keynes – 505 Games is today pleased to announce the launch of a new range of games aimed at aspiring girl gamers, who have a passion for fashion or are budding beauticians. An extension of the successful Fashion Designer: Style Icon, The Academy is a selection of titles that will initially see players taking over their own beauty salon and entering the world of haute couture.

Alongside the previously announced Diva Girls brand, The Academy is an example of 505 Games' continued commitment to providing female console owners with interesting titles that feature characters that are realistic and provide inspirational role models. The range is also based around real world vocations, which are brought to life in imaginative and enjoyable ways.

Konami and Hudson Soft unveil new Balance Board title
Konami Digital Entertainment GmbH has announced its first Wii Balance Board-compatible title. Marbles! Balance Challenge has been devised by Hudson Soft and will be released for Wii in April, 2009.

Marbles! Balance Challenge is a skill-based action title where the player helps an Ant called Anthony save his colony via a series of physical tests. Wii Balance Board users can access Marbles! Balance Challenge's 100 specially-created stages where the players steer a ball using the shifting weight of their physical movements. This unique way to control the game offers a new experience and combines fun and physical exercise. Players can also use gentle movements of the Wii Remote, with steering the ball through 200 different stages in a quest to locate the mythical 'Golden Sunflower Seed.'


This was an email which was sent to XSEED, and Ken who has always responded to emails such as these replied:
1. Is Little King's Story indeed releasing on January 6th in Canada?! My local Best Buy had the game on that date on their release schedule board in front of the store! Strange! O_o I was under the impression it was coming out on Feb 17th.
No, Little King's Story is not releasing on January 6th. We were shooting for a February release date, but good chance that it will be delayed past that right now.
2. How goes the localizations on your Wii games and such? Run into any problems? Hope everything is going smoothly!
Localization is going well on most everything we're working on, Retro Game Challenge is done and will ship in February, Avalon Code and Rune Factory: Frontier are both wrapping up now so shouldn't be too long after Retro Game when they come out.
3. Is it possible at this stage to say what the framerates of each of your's and MMV's Wii games? Are all games going to have silky smooth framerates? Is XSEED able to smoothen any framerate problems if there are any?
Of what we've seen, all the MMV titles are moving at a smooth framerate so no concerns at this point.

BBFC recently rated Grand Theft Auto: Chinatown Wars for the DS. The game was given an "18" rating to no surprise. There was one notable tidbit that was included alongside the rating though – The game will include 168 minutes of cut scenes. Rockstar Leeds certainly wasn't lying when it was said that Chinatown Wars is huge.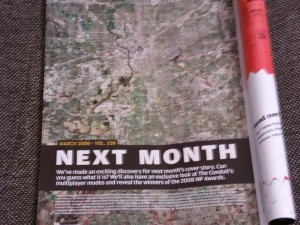 Nintendo Power usually has a few tricks up their sleeves for most of their issues. The March 2009 volume of the magazine will follow in the same tradition – the magazine is claiming an "exciting discovery" will be present in their next issue. Nintendo Power states, "We've made an exciting discovery for next month's cover story. Can you guess what it is? We'll also have an exclusive look at The Conduit's multiplayer modes and reveal the winners of the 2008 NP Awards." The picture included with the tease is just a map (see above), which might cause any guessing to be difficult. Anyone want to take a gander?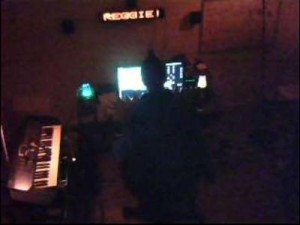 All insanity seemed to had ended yesterday when Robert Pelloni, who has been desperately pleading for a SDK for Bob's Game, said that his 100-day protest was over. Well folks, that actually isn't the case.
The website for Bob's Game has been updated and he has in fact resumed his protest. Oddly enough, police apparently checked in on Pelloni after it was thought that he had committed suicide. No movement had been seen on his camera for a number of hours and the room in which he was maintaining his protest was a complete mess. Though there's doubt that the latest stunt was accidental, it is clear that the insanity set in motion over Bob's Game will continue. Viral marketing or not, Nintendo must be rolling their eyes at this point granted they are aware of the situation.