New Line Up Released!
Northamptonshire, UK 5th March 2009

Fancy being a top darts player? Or would you prefer to match yourself up against the Pros? In this year's PDC World Championship Darts 2009 game on Wii, you can do both! Either create your own male or female characters with your very own, barrel weights, flights, darts shirts and walk-ins or choose to move up the rankings by playing as (or against) one of 18 professional PDC players.

Will you play as ex-postman and five times World Championship winner, Raymond 'The Man' Van Barneveld or compete using the unique dart throwing style of Phil "The Power" Taylor, the sporting legend who has notched up an incredible 14 World Championship wins?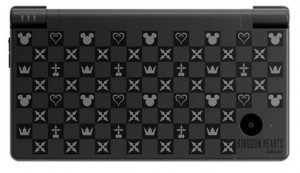 The special DSi will go on sale on May 30 in Japan. Kingdom Hearts 358/2 Days will also launch on the same day.

– "Them Bones" by Alice in Chains
– Queen's "Killer Queen,"
– "Nothin' But A Good Time" by Poison,
– Rage Against The Machine's "Killing in the Name,"
– "I Wanna Rock" by Twisted Sister,
– Joan Jett and The Blackhearts's "I Love Rock N Roll,"
– Heart's "Barracuda"
– Dragonforce's "Through the Fire and Flames"

01. [PS3] Yakuza 3 (SEGA) 372,000 / NEW
02. [PSP] Shin Sangoku Musou MULTI RAID (KOEI) 219,000 / NEW
03. [NDS] Mario & Luigi RPG 3 (Nintendo) 52,000 / 307,000
04. [WII] One Piece Episode 2 (Namco Bandai) 45,000 / NEW
05. [NDS] Game Center CX: Arino no Chousenjou 2 (Namco Bandai) 44,000 / NEW
06. [NDS] Shounen Sunday x Shounen Magazine Nettou! Dream Nine (Konami) 23,000 / NEW
07. [PS2] King of Fighters 2002: Unlimited Match (SNK Playmore) 19,000 / NEW
08. [360] Star Ocean 4: The Last Hope (Square Enix) 17,000 / 179,000
09. [WII] Taiko no Tatsujin Wii (Namco Bandai) 16,000 / 400,000
10. [WII] Wii Fit (Nintendo) 16,000 / 3,277,000

Meet the new Yu-Gi-Oh!™ Gang!
Konami deals new Nintendo DS game featuring the all-new Yu-Gi-Oh! 5Dfs universe
Konami Digital Entertainment GmbH has announced its first Yu-Gi-Oh!™ title for 2009, in the form of Yu-Gi-Oh! 5D's Stardust Accelerator – World Championship 2009 for Nintendo DS scheduled for release in 2nd Quarter 2009.

The first game based on the new Yu-Gi-Oh! 5D's TV show, the DS game allows up to four players to compete within two distinctly different ways. The 'Story Mode' lets single players explore the world of Yu-Gi-Oh! 5D's world and meet its all-new dueling stars in a series of thrilling card games. Secondly, Yu-Gi-Oh! 5D's Stardust Accelerator – World Championship 2009 will act as the basis for 2009's Yu-Gi-Oh! World Championship, and boasts an enhanced dueling system, larger card images and more cards than ever before – with 2500 in total.

– Ideas started after Contra 4 was completed
– Actually not a remake – "inspired by" the original
– Started from a pitch – Majesco wanted to breathe new life into it for a long time
– David Crane not directly involved
– There are "a good mix of blob transformations that should each be useful in their own context" – there are classic and new transformations
– Looks fully 2D but uses 3D for things like effects
– No waggle or IR in the game
– Looking into GameCube controller support
– Game has a lot of unlockables and secrets
– A lot of gameplay variety
– No multiplayer – perhaps for A Boy and His Blob 2
– Runs in 480p, 16:9
– Game is for everyone

Sonic and the Black Knight
– People have been complaining about the review, saying IGN is biased, etc.
– Not so hot – 3.9
– Matt says he gives bad Sonic games bad scores
– Just not a good game
– Can look at it as not a good Sonic game or not a good game in general (both are true)
– Doesn't have any of the trademarks from the Sonic games
– Matt can't remember a single loop in the game
– Always at a dead stop fighting enemies, stopped a lot
– Sword-play is just one move – mapped to waggle
– Basic game is running forward for a second, stopping for 30 seconds, fighting off enemies
– Secret Rings did have its issues but it was still a fun game
– By design they're trying to slow you down
– Actually have to stop, walk up to a townspeople clumbsily to interact with villagers
– Don't really collect rings so much either
– When you stop you realize how bad the controls are
We Ski and Snowboard
– Very mediocre game
– Pretty much the same game as last year, looked like the same game
– Added the ability to snowboard but have the same controls as skiing
– Does support the balance board
– Balance board controls work
– Nothing else to do in the game
– Everything is unlocked from the very beginning
– Nothing to entice you to move forward
– No goal or objective you're working towards
– Visually not too bad
– Framerate chugs in multiplayer