DSiWare
Mario vs. Donkey Kong: Minis March Again! – 800 Points
Pop Plus: Solo – 500 Points
WiiWare
Arkanoid Plus! – 800 Points
Bit.Trip Core – 600 Points
VC
Pilotwings – 800 Points


Mad Catz Signs an Accessory Licensing Agreement with Nintendo of America Inc. for Rights to Develop and License Videogame Accessories for the WiiTM, Nintendo DSTM and Nintendo DSiTM

SAN DIEGO – Mad Catz Interactive, Inc. (AMEX/TSX: MCZ), a leading third-party interactive entertainment accessory provider, announced today that it has secured an accessory license from Nintendo of America Inc., a leading developer and publisher of videogames and videogame consoles and handheld devices, to produce licensed videogame accessories utilizing select Nintendo intellectual property.

Pursuant to the terms of the agreement, Mad Catz has obtained non-exclusive rights to develop and market a range of accessories for the Wii, Nintendo DS and Nintendo DSi systems. Territories covered in the agreement include select countries within North America, South America, Europe, Africa, Australia, New Zealand and the Middle East. The agreement includes the select use of Nintendo's intellectual property such as the popular Nintendo characters Donkey Kong™, Zelda™, Link™, Mario™, Luigi™, Wario™, Yoshi™, Bowser™, Toad™, Princess Peach™ and Samus™.

Back in May, Bethesda Europe managing director Sean Brennan teased that the company would be making a "really big" mature Wii announcement this year. But we actually already know what that title is. A few weeks ago, Bethesda Europe revealed Wheelspin. And even though the game may be of high quality, I'm a bit disappointed to say that Wheelspin is Bethesda's big surprise for Wii.
"[Sean] was referring to the Wheelspin Wii game Bethesda is publishing in Europe (only) and that is being shown in our booth at GamesCom this week." – Bethesda VP Pete Hines


There has been a lot of buzz this week surrounding Sony's Mini service for the PSP over the past few days. In some ways, the program is comparable to DSiWare, but Sony seems to be providing stronger support for developers. But rumor has it that Nintendo will be taking a similar approach.
The biggest improvement to DSiWare will allow developers to release their titles in an easier fashion. There will not be any changes in terms of pricing for content, but Nintendo will still have indirect control due to royalty rates. If, for instance, a developer were to create a game larger than 20MB for 500 points, then there would be a much higher royalty rate than if the size was under the 20MB restriction. Keep in mind that this is still speculation since Nintendo has not officially confirmed anything, though this would be a much welcomed advancement for DSiWare.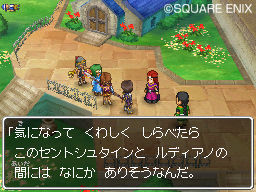 – First quest is Moya Moya Yuurei Life (130)
– Go to the hill west of Kubiana Castle
– Need to finish the game first
– Have to take magic flying train
– Second quest is Rudiano wo Kirei ni (131)
– Story quest
– Go to Shutein
– Need to finish the game and quest 129
– Builds of the sub story from quest 127
– Talk to Melissa to start the quest
– Note: If you connect online, Kukule from DQVIII will appear in Rikka's Inn, can obtain goods

WARNER BROS. INTERACTIVE ENTERTAINMENT, TT GAMES, THE LEGO GROUP, HARMONIX AND MTV GAMES REVEAL LEGO® ROCK BANDTM FOR NINTENDO DSTM DETAILS

Invite Friends to Rock On-the-Go and Leave the Peripherals at Home!

London, UK, Aug. 20, 2009 – Warner Bros. Interactive Entertainment, TT Games, the LEGO Group, Harmonix and MTV Games, a part of Viacom's MTV Networks (NYSE: VIA and VIA.B), are building an all-new handheld music gaming experience that lets fans of all ages "Build a Band and Rock the Universe" wherever and whenever they want with LEGO® Rock Band™ for Nintendo DS™. Published by Warner Bros. Interactive Entertainment, LEGO Rock Band for DS combines the LEGO style of humour with Rock Band gameplay to introduce a portable Rock Band experience that anyone can play without the need for peripherals to be purchased. The game also includes a multiplayer feature that allows up to four players to participate in local wireless multiplayer gameplay.

LEGO Rock Band for DS is developed by Backbone Entertainment, a Foundation 9 Entertainment studio, and will be compatible with the Nintendo DS, Nintendo DS Lite and Nintendo DSi™. LEGO Rock Band for Xbox 360® video game and entertainment system from Microsoft, PLAYSTATION®3 computer entertainment system and Wii™ system is in development by TT Games in partnership with Harmonix. All versions are scheduled for release holiday 2009.

Soul Calibur: Broken Destiny (PSP) – 7/8/8/8
Nanashi no Game Me (DS) – 7/7/8/8
F.E.A.R. 2: Project Origin (PS3/360) – 8/6/7/8
SupaRobo Gakuen (DS) – 7/7/7/7
Dream Club (360) – 6/6/6/6
Gendai Daisenryaku: Isshoku Sokuhatsu – Gunji Balance Houkai (PSP) – 6/5/5/5
Gendai Daisenryaku: Isshoku Sokuhatsu – Gunji Balance Houkai (PS2) – 5/4/4/4