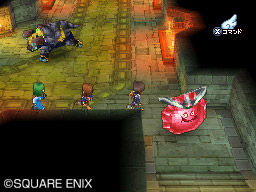 – First DLC quest is Buchi Kowase Sukima wo (128)
– Need to clear the game and finish normal quest 007 to go through the quest
– Quest is in St. Shutein, from a man at the bottom of a well
– Second quest is Shomotsu no Kagi wo Sagase (129)
– Located in St. Shutein
– Need to finish the game, complete normal quest 23 (Rekishisho wo Sagase), and finish add-on quest 127 (Ou no Miru Yume)
– Builds off of quest 127
– New gesture when you clear the quest

01./00. [PS2] SD Gundam G Generation Wars (Bandai Namco) – 175,000
02./01. [WII] Monster Hunter Tri (Capcom) – 137,000 / 657,000
03./02. [NDS] Dragon Quest IX (Square Enix) – 136,000 / 3,517,000
04./00. [PSP] Tales of VS. (Bandai Namco) – 133,000
05./03. [NDS] Tomodachi Collection (Nintendo) – 91,000 / 602,000
06./04. [WII] Wii Sports Resort (Nintendo) – 73,000 / 901,000
07./00. [PS2] Kamen Rider: Climax Heroes (Bandai Namco) – 52,000
08./00. [WII] SD Gundam G Generation Wars (Bandai Namco) – 33,000
09./00. [NDS] Color Changing Tingle's Balloon Trip of Love (Nintendo) – 33,000
10./00. [PS2] J-League Winning Eleven 2009: Club Championship (Konami) – 33,000

Hey guys!
Just wanted to let you all know that I have returned from my trip. Although I did have a pretty good time, it made me realize how much the site has become such a big part of my life. Honestly, I did miss updating the site and maintaining my regular schedule. I'm just glad Austin did an admirable job while I was gone…And I'm also happy the site didn't experience any technical issues.
In any case, I'm not going to drag this on long…I'll get back to updating NE in a few short minutes.





In a recent interview, head of SEGA West, Mike Hayes, told Kotaku that SEGA is "very keen" on bringing old Dreamcast games to players this gen.
"I can't give you any details. Suffice to say, there's a lot of technical issues, a lot of licensing issues. But we are very keen to bring [them] to players in the way we've done with Genesis games. We want to do it, but it's hard work to get there. Hopefully we can build on that quite soon." – Mike Hayes
I don't know about any of you guys, but I loved the Dreamcast and would be immeasurably happy if SEGA was able to bring any of the fantastic games on that system to new gamers. I personally would like to see Rez on the Wii, Jet Grind Radio and Virtua Tennis come to current gen consoles. What about you guys? What Dreamcast games do you want to see ported to newer systems?